Mon, 09 Mar 2020, 21:13 PM



Bynum, Wittenberg, Capps, and McDevitt Make the Nitro Noise at 2020 March Meet



Courtesy of NHRA


Photo copyright 2020 Auto Imagery, Inc.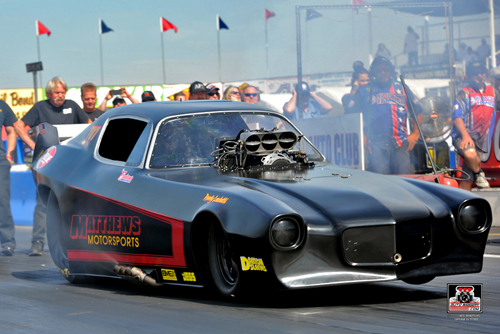 Matt Bynum
Auto Club Famoso Raceway has been hosting the Good Vibrations March Meet presented by Lucas Oil for 62 years. The nitro classes are the bedrock of this classic event which now boasts four categories since the addition of Nitro Pro Comp (dragsters, altereds, and funny cars on a 5.90 index). If there was any question about the current health of nostalgia drag racing, this race put that concern to rest. Over 500 race cars jammed the facility to capacity, and the spectator turnout was such that cars were parked all the way back to Zerker Rd. on both sides of Famoso Rd. The event from Wednesday's test-n-tune to Sunday's final rounds is deserving of any superlative you want to give it, but best March Meet in years would be an easy way to sum it up.
This year's 16-car open Funny Car field attracted 23 entries paced by Dan Horan Jr.'s track record-setting 5.547/264.49 while qualifying his '69 Camaro number one. But his domination ended right there. In round one of eliminations Saturday, Horan Jr. saw his chances of winning a Wally evaporate in the warm Bakersfield sun when #16 qualifier Matt Melendez zapped him with a 5.709/245.27 to Dan's off-pace 6.349/242.32. Matt made it all the way to the final round before succumbing to Cecil Matthews' jockey Matt Bynum. Speaking of Bynum, he was the class of the field in eliminations, posting the quickest winning run in all four rounds of eliminations. After qualifying #3 at 5.575/261.98, Bynum never ran slower than a 5.621 and averaged 5.602 for all four rounds of eliminations.
If Matt Bynum was dominant in Funny Car, the same can be said for Pete Wittenberg in Top Fuel Dragster. The 2018 March Meet winner qualified number one with a 5.607/254.81 and never ran slower than 5.865 in eliminations. With the exception of Bryan Hall's 263.72 for Top Speed, it was the "Pete Wittenberg Top Fuel Show". In the final round against an upset-minded Tyler Hilton (#7 qualifier), Wittenberg ran down the quicker-leaving Hilton (.085 to .117) to claim his second March Meet victory with a run 0f 5.678/254.49 to Tyler's game 5.927/229.20.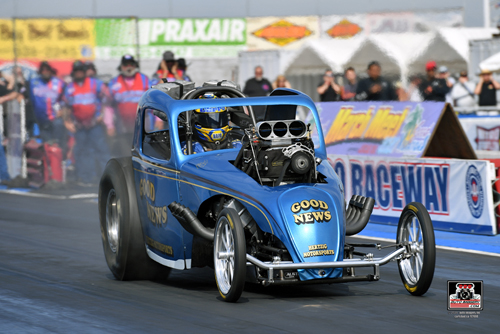 Ron Capps
Those fabulous fuel altereds have been a fan favorite since the time of the Standard 1320 record days (as far back as 1959), and their popularity has continued to grow. Why? It is the wow factor: open-wheel, short wheelbase, tire blazing, flame-throwing coupes, sedans, and roadsters on a 6.00 index. Sixteen entrants fought over the eight spots paced by James Generalao's 6.037. There is simply nothing ever predictable about what might occur when fuel altereds line up to duke it out in eliminations. Number one qualifier Generalao Jr. found himself paired up with NHRA Funny Car superstar Ron Capps driving Roxie Hertzig's "Good News" Fiat '33 coupe in round one of eliminations. Ron hit James with a much better RT at the start (.085 to .115) and simply out-drove him to the finish line. The veteran Capps did not stop there, posting the quickest time of eliminations (6.123) against the always dangerous Mark Whynaught in round two, and polished off a red-lighting Robert Winefsky in the final round to realize a life-long dream of winning a March Meet event. The best (and closest) final round among the nitro classes went to Nitro Pro Comp. This would be the only instance where the qualifying order held up during eliminations to determine the finalists. Number one Chris Davis with his '77 Arrow funny car was matched against Billy McDevitt driving Mark Borjon's rear engine top fuel dragster. McDevitt got away first and took the win with a 6.089/206.35 to Davis' 6.097/243.77.
Never has a team dominated a Heritage Racing Series class in the manner like Adams-Bates has done in A/Fuel Dragster. But that may be coming to an end or at the very least no longer a foregone conclusion. There is this team from Tacoma, Washington, and they are definitely ready to tangle for the mantle of best in this class. The 2019 Heritage Racing Series A/Fuel Dragster champion, Drew Austin, showed up at Famoso Raceway to show that the new kid on the block was not to be taken lightly. Austin was the only competitor in the 5.8s (which he did twice) and completely steamrolled over the competition including Kin Bates in the final round. Brad Woodard similarly dominated the Jr. Fuel Dragsters. The No. 1 qualifier ran 6.931, 6.934, and 6.998 and was never seriously challenged on Sunday. Derrick Moreira came out on top over a 24-car field in 7.0 Pro. The moment of truth for Moreira came in round three against number one qualifier (7.003) and 2019 Heritage Racing Series champion Steve Faller. Despite Faller's quick start, Moreira ran him down with a superb 7.021/180.40 to Faller's 7.063/175.14. At the 2019 March Meet, George Vanderpool was runner-up to Steve Faller. George will have to wait to next year's March Meet for that Wally as Derrick tattooed him on the light and was able to hold off the hard-charging dragster 7.082 to 7.040 in the final round.
Lloyd Harder survived five grueling rounds of eliminations to win Nostalgia Eliminator 1 thus making the long tow from Saskatoon, Saskatchewan, Canada a worthwhile one. Harder won over #2 qualifier Hans Jakob after number one qualifier Jason Barta (7.600) fouled out in the quarter finals. Frequent NorCal pals and rivals, Terry Lindblad and Jeff Brochheuser, squared off in the Nostalgia Eliminator 2 final with Terry taking the win Jeff fouled deep. Nostalgia Eliminator 3 went to Ed DeStaute over Dennis Keck on a double breakout 9.571 to 9.541.
Rounding out the 15-class March Meet itinerary was A/G-D/G and Hot Rod. Wesley Eisenga survived seven grueling rounds of eliminations to win Hot Rod over Colorado's Travis Podratz, and B/G went to Brent Handley when opponent Rich Zonverdan broke out. Other highlights included Trey Sommers and his crowd-pleasing (think wheelstanding) '56 Chevy over Gary Lynch in C/G, and longtime (now retired) NHRA tech man Cloy Fitzgerald's grandson's (DeAndre) win over Frank Merenda in D/G. Brian Rogers needed every bit of his .012 RT to beat Tom Fowler in the A/G final when both drivers ran 7.617 to 7.615, respectively.
NOSTALGIA FUNNY CAR
Matt Bynum, Ypsianti, Mich., '70 Camaro, 5.617, 250.13 def. Matt Melendez, Glen Ellen, Calif., '70 Challenger, 5.749, 224.73.
NOSTALGIA TOP FUEL
Pete Wittenberg, Anaheim, Calif., '01 Stirling, 5.678, 251.49 def. Tyler Hilton, Cincinnati, Ohio, '19 Horton, 5.927, 229.20.
AA/FUEL ALTERED
Ron Capps, Carlsbad, Calif., '38 Fiat, 6.637, 158.93 def. Robert Winefsky, El Mirage, Calif., '32 Bantam, foul.
NITRO PRO COMP
Billy McDevitt, Concord, Calif., '10 Victory, 6.089, 206.35 def. Chris Davis, Spokane, Wash., '77 Arrow, 6.097, 243.77.
JUNIOR FUEL
Brad Woodard, Oceanside, Calif., '17 FED, JF/A, 6.998, 187.89 def. Don Enriquez, Misson Viejo, Calif., dragster, JF/C, 7.913, 152.59.
A FUEL
Drew Austin, Tacoma, Wash., '13 Parker, 5.907, 233.16 def. Kin Bates, Anderson, Calif., '06 Tuttle, 16.463, 57.52.
7.0 PRO
Derrick Moreira, Keaau, Hawaii, '32 Bantam, 7.082, 167.14 def. George Vanderpool, Redding, Calif., '08 Uyehara, 7.040, 193.60.
A GAS ELIMINATOR
Brian Rogers, Rowland Heights, Calif., '67 Nova, 7.617, 175.34 def. Tom Fowler, Paso Robles, Calif., '70 Camaro, 7.615, 176.05.
B GAS ELIMINATOR
Brent Handley, Visalia, Calif., '72 Nova, 8.633, 156.72 def. Rich Zondervan, San Jose, Calif., '72 Camaro, 8.564, 144.97.
C GAS ELIMINATOR
Trey Sommors, Escondido, Calif., '56 Chevy, 9.617, 136.36 def. Gary Lynch, Sylman, Calif., '58 Austin A40, 9.576, 138.48.
D GAS ELIMINATOR
Deandre Fitzgerald, Sacramento, Calif., '66 Chevelle, 10.576, 121.56 def. Frank Merenda, Paso Robles, Calif., '65 Nova, 10.572, 123.86.
NOSTALGIA ELIMINATOR I
Lloyd Harder, Saskatoon, Sask., '00 FED, 7.620, 172.78 def. Hans Jakob, Ontario, Calif., '02 Hansen, 7.588, 168.87.
NOSTALGIA ELIMINATOR II
Terry Linblad, Chico, Calif., '66 Williams, 8.599, 153.63 def. Jeff Brochheuser, Durham, Calif., '32 Bantam, foul.
NOSTALGIA ELIMINATOR III
Ed Destaute, Rosemeade, Calif., '62 Corvette, 9.579, 139.41 def. Dennis Keck, Wheatland, Wyo., '7t Ford, 9.541, 135.41.
HOT ROD ELIMINATOR
Wesley Eisenger, Ripon, Calif., '69 Valiant, 9.583, 138.66 def. Travis Podratz, Northglenn, Colo., '65 El Camino, 10.099, 128.97.




Drag News: 10 Most Recent Entries [ top ]

Sep 25- Historic Final Settles Thursday's Fling
Sep 24- DIV 4 ET Finals - Event Wrap Up
Sep 24- Fall Fling FST Wednesday Results
Sep 24- Fall Fling Day 1 Results
Sep 23- Fall Fling Pre-Race
Sep 21- DIV 3 ET FINALS - Super Pro Final, Round 8 Eliminations
Sep 21- DIV 3 ET FINALS - Pro Final, Round 8 Eliminations
Sep 21- DIV 3 ET FINALS - Sportsman Final, Round 7 Eliminations
Sep 21- DIV 3 ET FINALS - Bike/Sled Final, Round 6 Eliminations
Sep 21- DIV 3 ET FINALS - High School Race Of Champions Final, Round 4 Eliminations