Wed, 12 Feb 2020, 11:01 AM



John Force and Austin Prock Finish Runner-Up at the NHRA Winternationals



Courtesy of Sara Slaughter


Photo Credit: Gary Nastase and Ron Lewis





POMONA, Calif. --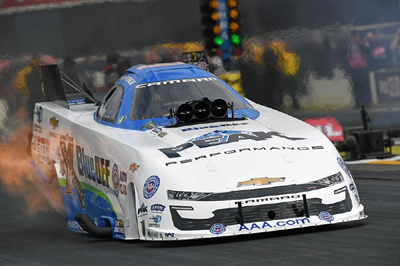 John Force
POMONA, Calif. -
John Force and the BlueDEF Chevrolet Camaro SS Funny Car team and Austin Prock with his Montana Brand / Rocky Mountain Twist dragster each had runner-up finishes Sunday at the Lucas Oil NHRA Winternationals at Auto Club Raceway at Pomona. Teammates Brittany Force and the Monster Energy team exited in the semifinal while Robert Hight had a second-round exit with his Automobile Club of Southern California Chevy Camaro SS crew.
Beginning the chase for his 17th Funny Car world championship, John Force handled his BlueDEF Chevrolet Camaro SS to a 3.875-second pass at 329.02 mph to defeat Bob Bode's 10.726 at 85.45 after he smoked the tires. Force's win would put him against familiar foe Tommy Johnson Jr. in the quarterfinal. After both drivers dropped cylinders down track, Force and his 4.011-second pass at 275.06 mph powered past Johnson Jr.'s 8.431 at 80.69.
Racing against No. 1 qualifier Matt Hagan in the semifinals, Force would drive around the 2014 world champion for a 3.923-second pass at 331.28 mph as Hagan lost traction for a 8.859 at 78.06. Making the 256th final round appearance of his career, Force would fall short to longtime rival Jack Beckman after a close side-by-side drag race. The legend crossed the finish line with a solid 3.897-second pass at 332.34 mph while Beckman ran 3.837 at 333.33.
"It was a really good weekend. I didn't win but I've got a real hot rod with my son-in-law Daniel Hood and Ronnie Thompson and Tim Fabrisi. Boy, to come out of the box and go to the finals. I have to congratulate Beckman, he did a great job up there with Dean Antonelli, they're family," Force said. "Jimmy Prock and Chris Cunningham always show us with Robert's Auto Club car what they can do but you know, stuff happens, you can't win them all. To see my dragsters do so well, Brittany with Monster running the way they are running, Montana Brand car with Austin Prock is really impressive. Frank Tiegs, who owns Montana Brand and Brittany's other sponsor Flav-R-Pac, gave us some more good news, picking up the last two races with Brittany. You'll see Flav-R-Pac in yellow next weekend and then it goes back to Monster and that's just really exciting. We're all just a big family out here and everything is really coming together. Sponsors are stepping up, our marketing is working hard, and our PR and social team are doing what they do. Excited to get to Phoenix."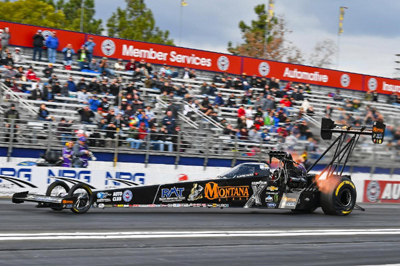 Austin Prock
Austin Prock and the Montana Brand Rocky / Mountain Twist team opened race day at Auto Club Raceway at Pomona with a round one win over Cameron Ferre. Prock crossed the finish line with a 4.004-second pass at 316.15 mph bettering Ferre's 5.164 at 143.60. On a solo run in the second round, the 2019 Auto Club Road to the Future award winner laid down a career-best 3.678-second pass at 330.96 mph and headed to the semifinals where he matched up with Leah Pruett.
With identical reaction times, a .062 light, Prock blasted to a 3.678-second pass at 330.63 mph defeating Pruett's 4.927 at 140.69 after she went up in smoke. The semifinal win would put Prock against racing veteran and eventual event winner Doug Kalitta in the final. After having a consistent car throughout race day, Prock's Montana Brand machine overpowered the track and immediately smoked the tires for a 10.939-second run giving Kalitta's 3.698 at 330.23 the win.
"This Montana Brand / Rocky Mountain Twist team had a really good day and it was a great way to start off the season. Both of our John Force Racing dragsters were running on mean today. We had ourselves a bracket car there in the second round and semis and that is just kudos to the crew chiefs and the guys putting the car together," said Prock. "You know, exactly the same every time makes it easy on Mike (Green) and Joe (Barlam). So, I had a lot of fun today because this thing is hauling ass and I am having a lot of fun driving it. Its reacting quick and allowing me to leave the starting line good so, I'm looking forward to Phoenix."
The four John Force Racing drivers head to the NHRA Arizona Nationals at Wild Horse Pass Motorsports Park in Phoenix, Ariz., Feb. 21-23 for the continuation of the NHRA Mello Yello Drag Racing Series.




NHRA: 10 Most Recent Entries [ top ]

Aug 10- INDY 3 - Pro Mod Championship Points
Aug 10- INDY 3 - Top Fuel Harley Championship Points
Aug 10- NHRA Southern Nationals Canceled Due to Covid-19 Concerns
Aug 09- INDY 3 - Sunday Wrap Up
Aug 09- INDY 3 - Summary of Eliminations in Top Fuel
Aug 09- INDY 3 - Summary of Eliminations in Funny Car
Aug 09- INDY 3 - Summary of Eliminations in Pro Stock
Aug 09- INDY 3 - Summary of Eliminations in Pro Stock Motorcycle
Aug 09- INDY 3 - Summary of Eliminations in Top Fuel Harley
Aug 09- INDY 3 - Summary of Eliminations in Pro Modified