Sun, 02 Feb 2020, 11:56 AM



J.R. Todd Spring Training Quotes



Courtesy of John Procida


Photo copyright 2020 Bob Johnson Photography





LAS VEGAS --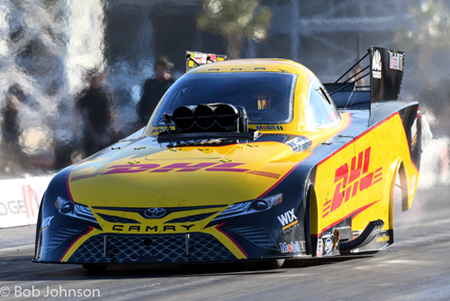 J.R. Todd
J.R. Todd enters the 2020 campaign looking for his second Funny Car world championship in the last three years after winning the title in 2018.
Todd currently has 18 victories in the two NHRA nitro classes, having won nine races in both Funny Car and Top Fuel. Among his Top Fuel wins was the 2007 Winternationals at Pomona. He also won the NHRA Finals at the track in Funny Car in 2018. A win at the season opener would make him just the second driver in history to win the Winternationals in both Nitro classes, joining Don Prudhomme. Quotes:
What are you looking for in 2020?
We have the same goal we start every season off with - looking for another shot at the championship like we won with the DHL Toyota in 2018. We didn't have the season we were hoping for last year, but we've regrouped. We have some new crew guys this year and we've added some key associate sponsors on board. Things are looking up and we're hoping on hitting the ground running in Pomona.
Will Kalitta Motorsports move to a one-car Funny Car team this year have any effect on your program? There are pros and cons of multi-car teams. I think for us, with Toyota and TRD's support and their focus on our DHL Toyota Camry, that's a good thing for us. I don't think it will hinder our performance being a one-car Funny Car team. We have two great dragster teams here at Kalitta Motorsports that we work really well with.
How important is your relationship with TRD and Toyota?
It's great. We have a TRD-support center parked right next to us at every race. The information they provide us, whether it's track conditions or different ideas on things we can try with the body and chassis, is great. I don't think there's any other manufacturer that provides support like that to the other teams out here. I'm really looking forward to this season. We have some things in the works with Toyota and TRD for 2021, so I expect to be testing some new things later this season.
What would a win at the Winternationals mean to you?
With the 60th anniversary of the Winternationals this year, it's a big race where everyone wants to get a win under their belt. I've been fortunate to win the Winternationals in dragsters, so if I could add my name to that list to win in both nitro classes that would be pretty special. You always want to start the season off with good momentum going into the year. It's a long season, but if we can come out of Pomona with a win, it will set the bar high for us.
Can you speak more on the new sponsorship partnerships for 2020 that you mentioned earlier?
It's great because the products they supply to us our exclusive to Kalitta Motorsports. Getting NGK on board is huge. They've been around the sport for a long time and have a great history. Mobil 1 has already put a lot of blood, sweat and tears into making sure this product was right. We did some testing with it last season and they perfected it. It's a great product and exclusive to our team, so I think that could be crucial for us in the performance area. We've seen the benefits of their oil by not tearing up parts with issues we've had in the past. When you look at things like that in the long run, it's going to save our teams money and gives the crew chiefs a bit of advantage where they can stand on the tune-up a little harder because they know the oil is going to hold up to whatever they're giving it. That can make hundredths or thousandths of a second difference at the finish line. Little things like that can mean a lot and go a long way in this sport.




NHRA: 10 Most Recent Entries [ top ]

Jun 30- Lucas Oil to Sponsor Summernationals at Indianapolis
Jun 25- Tickets on Sale for 2020 Southern Nationals
Jun 25- Houston Raceway Park to Transform into Drive-In Theater for First NHRA Race Since Lockdown
Jun 25- NHRA Northwest Nationals Canceled Due to State and County Restrictions
Jun 25- Toyota to Serve as Associate Sponsor of Tony Schumacher in Indianapolis
Jun 25- Wally Parks NHRA Motorsports Museum to Reopen July 1
Jun 24- E3 Spark Plugs Named Title Sponsor of July 11-12 NHRA Indianapolis Event
Jun 24- Cory McClenathan to Return for NHRA Indy Double-Header with DSR
Jun 22- AAA Texas Fall Nationals Expects Championship Field In October
Jun 22- Crew Chief Doug Kuch Returning to Foley Lewis Racing