Sun, 02 Feb 2020, 11:46 AM



Alexis DeJoria Spring Training Quotes



Courtesy of John Procida


Photo copyright 2020 Bob Johnson Photography





LAS VEGAS --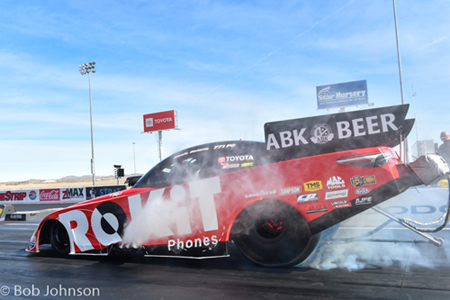 Alexis DeJoria
Following a two-year hiatus after retiring to spend more time with her family, Alexis DeJoria will make her return to the seat of the ROKiT Toyota Camry Funny Car at the season-opening 2020 NHRA Lucas Oil Winternationals in Pomona with DC Motorsports.
The five-time Funny Car winner will have legendary racer Del Worsham and Nicky Boninfante serving as co-crew chiefs on the car. Worsham was her crew chief in her first full NHRA Nitro Funny Car season in 2012. He then was her teammate from 2013-2016. Boninfante worked on her car for several years and was her chief tuner in 2017.
With five career victories, DeJoria is one of three women to win in the Funny Car ranks. Among her wins was the 2014 U.S. Nationals crown.
At the 2014 Winternationals, she became the first woman in history to make a sub-four second pass in a Funny Car
Quotes:
Alexis, what are your thoughts on returning to the Funny Car?
I'm so excited to be back in the ROKiT Toyota Camry. There's not much that has changed car-wise, but I think my outlook on the year is a bit different. I'm coming back a seasoned driver. There are no questions anymore. It's just getting out here and doing what I love to do and being what I know I was meant to be. We've had a couple of test sessions, but I haven't been in competition in over two years. I'm getting acclimated to the speeds again, but as far as being in the car and working with the crew, everything else goes, I definitely feel at home. This is an incredible sport where I'm able to make a comeback and pick up where I left off.
This is where I belong. I knew I would come back at some point. It was just a matter of when. It all came together pretty quickly, but I'm very grateful to have the support of my peers, my fans, my sponsors - ROKiT Phones, ABK Beer, Toyota. It's been a nice welcome home.
Your thoughts on the new team?
The new ROKiT Toyota team is really made up of some of the old players. Del Worsham, who is my mentor, was my first crew chief and teammate and we started DC Motorsports together. Nicky Boninfante came over and we started putting our team together. I have this incredible opportunity with two of the people who were by my side when I started my nitro Funny Car career. It's a new team and we've been getting everything together for the last two months trying to get ready for Pomona. It's been a thrash, but we do well under pressure, so I'm not worried.
Not only do you have a new team, but you're also debuting a new sponsor, can you tell us about some of the innovations that they will be bringing to NHRA?
Our sponsors are ROKiT Phones and ABK Beer. ROKiT Phones are the first mobile phones that offer a glasses-free 3D experience. We're going to be recording a lot of footage out at the track that you can exclusively see on their ROKiT Phones in 3D without glasses. It's just amazing. And fans will be able to sample the delicious Bavarian ABK Beer at the races.
You retired after 2017 to spend more time with family, can you talk about that?
In 2017, it was a pivotal moment in my daughter's life. She had just gotten her driver's permit and was going to get ready to begin driving and there's just so much that goes on at that age. I wanted to be there for her, to teach her how do drive - she drives a Toyota Prius - and I just really needed to be there for her in-person. It's hard to parent by proxy. I've really been blessed spending time with my family these past two years off.
And what was the reaction to your returning to the NHRA?
With my daughter being the reason I did step out of the car in the first place, I had to get her approval before I came back and she was thrilled. She said to me, 'mom, I didn't want you to stop racing anyway' and I said, 'I know, but I did it for you and when you're older, you'll appreciate why.' She was thrilled. She's taking AP on-line classes - she's a straight A student and so incredible. She's going to go on the road with me and we're going to travel the United States and see the sights. I'm excited to have her on board with me.
How do you feel about making your return at Pomona?
The first race of the year is the Winternationals at Pomona and being from Los Angeles originally, that's my home track. Going back to that track is big. I have so many family and friends that come out and I love all the fans. It's a place where I was able to run the first sub-four second pass by a female and I was able to get a number one qualifier there, which was a dream come true. It's exciting. You have to be on your game, even in the first race, because that's what sets everything off.
The first time I ever went to Auto Club Raceway in Pomona was the first time I saw nitro Funny Cars in person. I was 16 years old and that's when I fell in love with the sport and the nitro ranks. I knew on that day, that I was going to be piloting one of these cars at some point.
Nicky Boninfante, DC Motorsports, co-crew chief (Boninfante was among the first to work with DeJoria when she announced her move over to Nitro Funny Cars in 2011, as well as working on her car at Kalitta Motorsports, serving as chief tuner of her 2017 Toyota)
How have things progressed early on with Alexis and the new team?
Alexis is a proven winner. She won the biggest race in the sport at Indy and definitely did her share of winning. She has a lot of fire in her right now. She really wants to come out and race to win. We have a lot of confidence in her. Del and I have both worked with her before at Kalitta and it's like we never stopped working with her.
We've actually made quite a few test runs already this year - we tested at Pomona after the finals, then we tested at Tucson. Things have been going pretty good. We had a pretty good set-up coming out of 2019 and Alexis hopped right into the car and we're comfortable with our set-up and tune-up. She's really feeling comfortable in the car.




NHRA: 10 Most Recent Entries [ top ]

Jun 30- Lucas Oil to Sponsor Summernationals at Indianapolis
Jun 25- Tickets on Sale for 2020 Southern Nationals
Jun 25- Houston Raceway Park to Transform into Drive-In Theater for First NHRA Race Since Lockdown
Jun 25- NHRA Northwest Nationals Canceled Due to State and County Restrictions
Jun 25- Toyota to Serve as Associate Sponsor of Tony Schumacher in Indianapolis
Jun 25- Wally Parks NHRA Motorsports Museum to Reopen July 1
Jun 24- E3 Spark Plugs Named Title Sponsor of July 11-12 NHRA Indianapolis Event
Jun 24- Cory McClenathan to Return for NHRA Indy Double-Header with DSR
Jun 22- AAA Texas Fall Nationals Expects Championship Field In October
Jun 22- Crew Chief Doug Kuch Returning to Foley Lewis Racing