Mon, 27 Jan 2020, 12:45 PM



Meziere & Forsyth Win K&N 890 Series Events at Fontana



By Bob Johnson


Photo copyright 2020 Bob Johnson Photography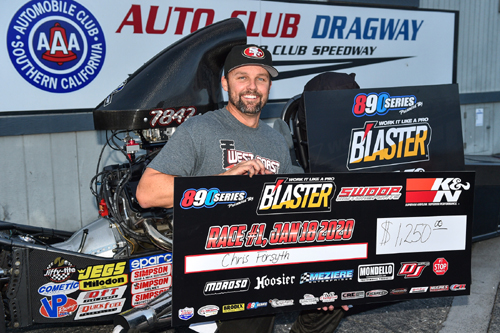 Chris Forsyth
FONTANA, Calif. (January 18-19, 2020) - Don Meziere and Chris Forsyth were the winners of the first two races of the K&N 890 Series presented by Blaster at Auto Club Dragway. Beautiful 70 degree weather greeted racers from as far away as Indiana and Kansas, as they prepare for the NHRA Lucas Oil Winternationals at Pomona.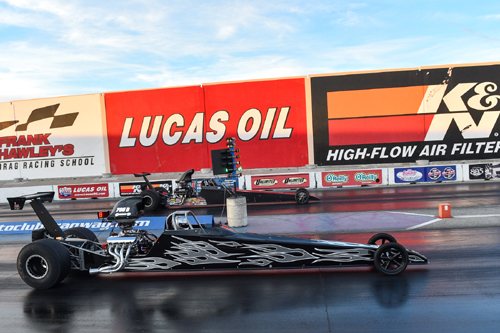 Chris Forsyth defeated Damon Bustamante
Forsyth won the opening day race with round wins over Marty Clevenger, '19 champion Ryan Diosdado, and Lori Warden before getting a bye into the final. Rookie Super Comp racer Damon Bustamante got to his first final with wins over Ray Medrano, Bob Van Popering, Travis Richardson, Matt Fischle, and Don Meziere in the semifinal. Forsyth had a .017 better light in the final--.006 to a .023-and took the win at 8.909, 164.45 to Bustamante's losing 8.903, 175.41.
Don Meziere
Race number two of the 8-race series saw Don Meziere defeat Jason Rosenbaum in the semifinals while Steve Hamilton advanced to the final with a win over James Warden. Hamilton had a better light than Meziere in the final--.003 to a .021-but Meziere got the win with an 8.903, 167.26 to a too quick 8.894, 173.07.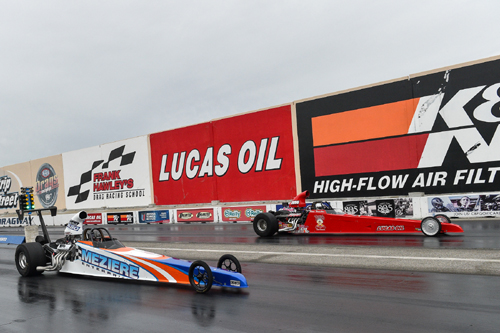 Don Meziere defeated Steve Hamilton
The K&N 890 Series presented by Blaster resumes May 2-3, 2020 at Auto Club Dragway.




Drag News: 10 Most Recent Entries [ top ]

Sep 25- Historic Final Settles Thursday's Fling
Sep 24- DIV 4 ET Finals - Event Wrap Up
Sep 24- Fall Fling FST Wednesday Results
Sep 24- Fall Fling Day 1 Results
Sep 23- Fall Fling Pre-Race
Sep 21- DIV 3 ET FINALS - Super Pro Final, Round 8 Eliminations
Sep 21- DIV 3 ET FINALS - Pro Final, Round 8 Eliminations
Sep 21- DIV 3 ET FINALS - Sportsman Final, Round 7 Eliminations
Sep 21- DIV 3 ET FINALS - Bike/Sled Final, Round 6 Eliminations
Sep 21- DIV 3 ET FINALS - High School Race Of Champions Final, Round 4 Eliminations