Mon, 27 Jan 2020, 12:45 PM



McClelland, Giacalone, and Snow Highlight Super Street 30th Anniversary Races at Fontana



By Bob Johnson


Photo copyright 2020 Bob Johnson Photography





FONTANA, Calif. (January 18-19, 2020) --
The Southern California Super Street Assoc. is celebrating its 30th anniversary in 2020, and Daniel McClelland and PJ Giacalone opened the new year by winning the first two races of the season. Kenny Snow had a great weekend also, going to both final rounds with his '69 Chevelle.
Dennis Blehm was the qualifying leader for the Val Houmard Memorial Race that drew 22 super street cars. Following Blehm's Nova was Brian Kelley, Brandyn Willoughby, and '18 champion Fred Murphy.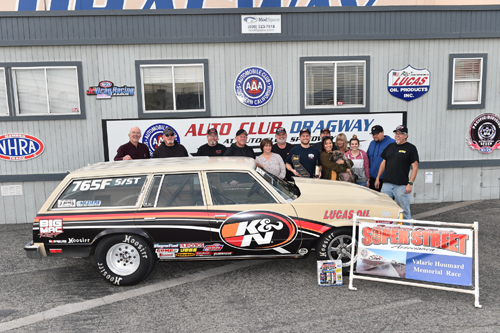 Daniel McClelland
McClelland defeated Brooke Snow to open the quarterfinals as Snow's Mustang was -.012 too quick at the line, Brandyn Willoughby ran 10.916 to beat Craig Whelen's Vega, and Snow posted a 10.906 to beat Brian Kelley's 10.919. McClelland had a .010 starting line advantage over Willoughby in the semifinals--.005 to a .015- and got the double-breakout win 10.869 to a 10.859. Snow got a bye into the final round.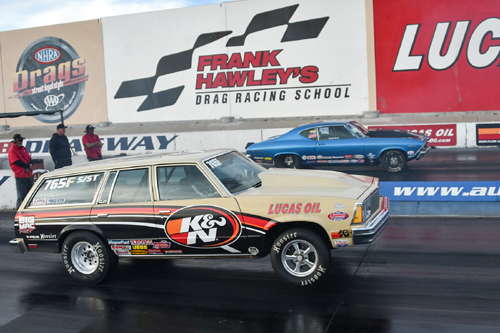 Daniel McClelland defeated Kenny Snow
Kenny Snow had a .002 better light than McClelland in the final, but the 2017 series champ took the win with a 10.913, 128.25 with his Malibu wagon to Snow's 10.925, 136.59.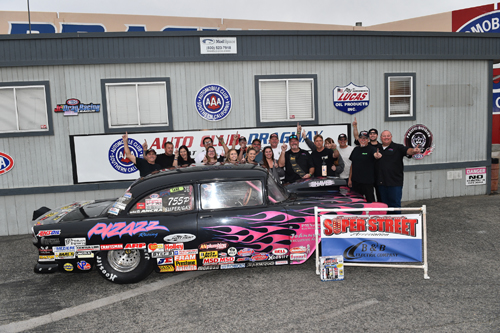 PJ Giacalone
PJ Giacalone recovered from his first round loss on Saturday to put his '55 Chevy in the winner's circle on Sunday. PJ got round wins over Greg Ventura, Brian Kelley, and John Parrino before getting a bye into the final. Kenny Snow used a .005 light in round one to beat Davey Adams, then took out Fred Murphy in round two and top qualifier John Sapone in the quarterfinals. A huge race took place in the semifinals where Snow and McClelland faced off, with Snow getting the win at 10.900 and a .003 light while McClelland cut a perfect light and ran 10.928.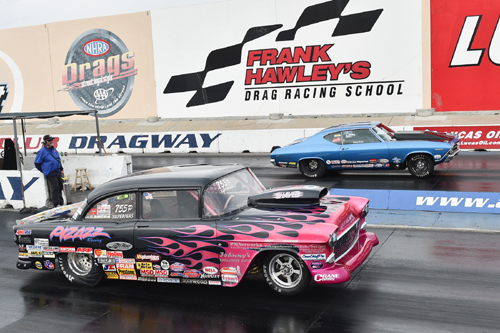 PJ Giacalone defeated Kenny Snow
The final round was decided by less than .001 seconds, as Giacalone ran 10.915, 140.74 (.004 r.t.) with his shoebox Chevy, and Snow settled for his second runner-up of the weekend with a 10.901, 135.48 (.018 r.t.). The event was sponsored by Gary and John Ross of B&B Electric.
With two of the series 8 races completed, McClelland has 1421 points, Snow is 8 points behind at 1413, and Giacalone is third with 1110. The third and fourth races of the season will take place on May 2-3, 2020 at Auto Club Dragway.




Drag News: 10 Most Recent Entries [ top ]

Sep 25- Historic Final Settles Thursday's Fling
Sep 24- DIV 4 ET Finals - Event Wrap Up
Sep 24- Fall Fling FST Wednesday Results
Sep 24- Fall Fling Day 1 Results
Sep 23- Fall Fling Pre-Race
Sep 21- DIV 3 ET FINALS - Super Pro Final, Round 8 Eliminations
Sep 21- DIV 3 ET FINALS - Pro Final, Round 8 Eliminations
Sep 21- DIV 3 ET FINALS - Sportsman Final, Round 7 Eliminations
Sep 21- DIV 3 ET FINALS - Bike/Sled Final, Round 6 Eliminations
Sep 21- DIV 3 ET FINALS - High School Race Of Champions Final, Round 4 Eliminations