Thu, 23 Jan 2020, 12:00 PM



FastNews Network Acquires Race-results Powerhouse DragRace Central



Courtesy of Kelly Wade


Photo copyright 2020 Auto Imagery, Inc.





DALLAS -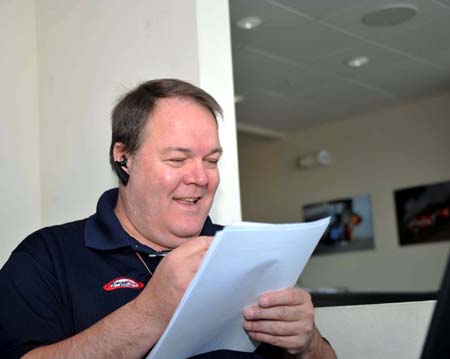 Rick Green
It was announced today that Texas-based FastNews Network, Inc., has acquired DragRace Central and its website,
dragracecentral.com
. Through the acquisition, DragRace Central will continue to generate reliably fast and accurate race results from events across the nation. Content on the widely known and frequently visited website will also continue to include feature stories and captivating images provided by well-known motorsports journalists and legendary drag racing photographers.
"I'm excited about this new chapter for FastNews Network," said the company's president and one of its founders, Rick Green. "Over the years, we've seen dragracecentral.com grow in popularity, and we expect that trend to continue. This website has become a destination for anyone looking for detailed results, whether it's in the Sportsman or Pro ranks. There is no other website or social media outlet that offers this much detail so quickly and without charge."
FastNews Network was established as an internet-based drag racing news source by Green, Ed Dykes, and Larry Sullivan in 1998, when they began providing round-by-round results to DragRace Central from events. Prior to that, the trio reported results by the numbers in the drag racing section of a forum on CompuServe. Green is the only surviving member of the original FastNews Network team with the passing of Dykes in 2000 and Sullivan in 2016.
FastNews Network had previously been contracted by Summit Racing to cover the events for DragRace Central, and when ownership of the website became available during the off-season, the longtime drag racing and motorsports enthusiast was presented with an opportunity that he simply could not pass up.
"DragRace Central has been a big part of my life for a long time," said Green, who has traveled to nearly every NHRA national event, plus divisional races and events held by other sanctioning bodies, for two decades to report the results from on-site.
"What we do is more than business; it's about documenting this sport that people devote their time, money, and energy to. It's really made an impact on me to hear, over the years, how much what we do matters, and you can see it in how many people visit the website regularly. We have a unique product, and it's one that appeals to just about everyone who loves drag racing. I'm looking forward to what the future holds for DragRace Central."
To be considered as a marketing partner, or to advertise on dragracecentral.com, contact Rick Green at rick@fastnews.net.




NHRA: 10 Most Recent Entries [ top ]

Sep 26- GAINESVILLE - Top Dragster presented by Vortech Superchargers Round 1 Eliminations
Sep 26- GAINESVILLE - Super Stock Round 2 Eliminations
Sep 26- GAINESVILLE - Super Comp Round 2 Eliminations
Sep 26- GAINESVILLE - Stock Eliminator Round 2 Eliminations
Sep 26- GAINESVILLE - Super Street Round 2 Eliminations
Sep 26- GAINESVILLE - Saturday Schedule
Sep 25- EPPING - Competition Eliminator Final, Round 4 Eliminations
Sep 25- EPPING - Super Stock Final, Round 6 Eliminations
Sep 25- EPPING - Super Gas Final, Round 6 Eliminations
Sep 25- EPPING - Super Gas Round 5 Eliminations