Thu, 16 Jan 2020, 15:25 PM



Taylor Motorsports Renews as Official Safety Supplier of Funny Car Chaos



Courtesy of Chris Graves



Funny Car Chaos is proud to welcome back Taylor Motorsports as 'Official Safety Supplier' of the series for the 2020 season! For over 30 years, Dennis Taylor has been on the leading edge of safety innovation combining his eye for detail, perfection and quality with the most challenging safety needs of competitors in drag racing to open wheel to off road and more. Today, Taylor Motorsports Products has a comprehensive line of hundreds of custom designed and hand made products from driver's suits to complete restraint systems. Why choose Taylor? Simply… "We build and supply the best safety equipment you can buy, I bet my life on it. I have trusted my life with these products in my own race cars and so should you," says Taylor.
Series director Chris Graves states, "We are very proud to continue our relationship with Taylor Motorsports and the Funny Car Chaos series this season. Dennis and his son Justin share a deep passion for the sport and are funny car racers themselves. Having the perspective as not only a business owner, but also a racer, I feel is a great strength and that is shown in the quality of their reputable product line. I wear a custom fitted Taylor fire suit when I drive my blown front engine dragster and it's an assuring feeling to know you are protected by top quality products. Safety is a top priority for us and we can rest assured knowing the team at Taylor Motorsports will be there for the safety equipment needs of our racers."
With an extensive inventory of driver, racecar and even pit crew safety equipment available, Taylor Motorsports is the place to shop for your safety needs from top to bottom. To see a full inventory of Taylor Motorsports products visit their website at https://www.taylormotorsports.com. The staff is ready for your call at (800) 320-2988 or available by email at dennis@taylormotorsports.com. Shop the best, shop Taylor Motorsports, 'Official Safety Supplier' of FCC!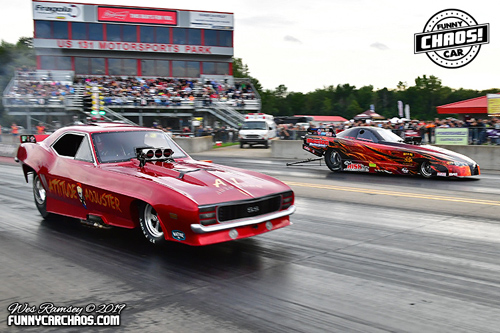 Drag News: 10 Most Recent Entries [ top ]

Sep 25- Historic Final Settles Thursday's Fling
Sep 24- DIV 4 ET Finals - Event Wrap Up
Sep 24- Fall Fling FST Wednesday Results
Sep 24- Fall Fling Day 1 Results
Sep 23- Fall Fling Pre-Race
Sep 21- DIV 3 ET FINALS - Super Pro Final, Round 8 Eliminations
Sep 21- DIV 3 ET FINALS - Pro Final, Round 8 Eliminations
Sep 21- DIV 3 ET FINALS - Sportsman Final, Round 7 Eliminations
Sep 21- DIV 3 ET FINALS - Bike/Sled Final, Round 6 Eliminations
Sep 21- DIV 3 ET FINALS - High School Race Of Champions Final, Round 4 Eliminations