Thu, 16 Jan 2020, 15:05 PM



Good Vibrations Motorsports Renews Title Sponsorship of Outlaw Fuel Altereds



Courtesy of Chris Graves



The Outlaw Fuel Altered Association is proud to welcome back Good Vibrations Motorsports as title sponsor of the series in 2020, the twenty fourth consecutive season of racing for the southwest based series. The Outlaw Fuel Altereds and Good Vibrations Motorsports have a long history together and will continue that relationship which also includes the "Quick Light" bonus award for each race this season.
Good Vibrations Motorsports, based in Whittier, California, is one of the nation's leading performance shops with a huge selection of products in stock for those with a big interest in fuel injection and blowers. You can shop online and view their catalog, score tech tips, check out the used parts listing, view their photo gallery and more. Good Vibrations customers benefit from personal service and discount prices on name brand performance products. From mild blown street rods to blown alcohol and nitro racing - the Good Vibes team speak your language! "Our ultimate goal is your success," says Good Vibrations President Jim Maher. Visit their website at www.goodvibesracing.com or call 800-576-7661 to let the quick and professional staff at Good Vibrations get you what you need to perform your best on the drag strip!
The 2020 Good Vibrations Motorsports Outlaw Fuel Altered Association, presented by Lone Star Forklift, will kick off April 10th & 11th Evadale Raceway in Evadale, Texas. Two events are confirmed at Xtreme Raceway Park in Ferris, Texas in May and October with additional events confirmed at Mo-Kan Dragway in June and Ardmore Dragway in September. The 2020 season will also mark the debut of the new two day race format that brings more fuel altered action to each host facility on Outlaw Fuel Altered weekend. Several new teams are set to make their OFAA debut in 2020 as anticipation mounts for the season opener. Mary Reep and team "Grim Reeper" will look to defend their historic 2019 Championship with plenty of stiff competition ready for the challenge. Follow along by visiting www.ofaa.net and check the schedule to see when the Good Vibrations Motorsports OFAA series will be thundering into a drag strip near you!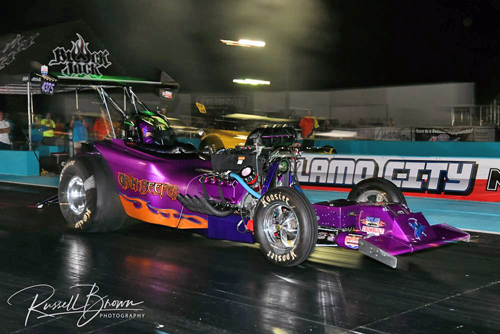 Drag News: 10 Most Recent Entries [ top ]

Sep 25- Historic Final Settles Thursday's Fling
Sep 24- DIV 4 ET Finals - Event Wrap Up
Sep 24- Fall Fling FST Wednesday Results
Sep 24- Fall Fling Day 1 Results
Sep 23- Fall Fling Pre-Race
Sep 21- DIV 3 ET FINALS - Super Pro Final, Round 8 Eliminations
Sep 21- DIV 3 ET FINALS - Pro Final, Round 8 Eliminations
Sep 21- DIV 3 ET FINALS - Sportsman Final, Round 7 Eliminations
Sep 21- DIV 3 ET FINALS - Bike/Sled Final, Round 6 Eliminations
Sep 21- DIV 3 ET FINALS - High School Race Of Champions Final, Round 4 Eliminations