Wed, 15 Jan 2020, 16:16 PM



Duane Shields and Muscle Milk Team Up for 2020



Courtesy of Rich Bailey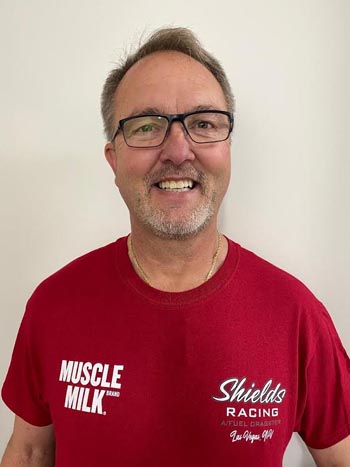 Duane Shields
Duane Shields, the 2011 NHRA Top Alcohol Dragster National Champion, is excited to team up with Muscle Milk for the 2020 season. The multiyear agreement will allow Shields to showcase the Muscle Milk brand to fans on the NHRA national and regional circuit. With 20 races planned in 2020, the goal is to put the 280 mph, #poweredbymusclemilk, A-fuel dragster in the winner's circle.
"I'm proud to bring a new partner to NHRA drag racing. It's great to team up with the company that helped build the protein category and that remains a leader in the industry." Duane said. Muscle Milk is a line of protein products that include ready-to-drink shakes, powders and bars that are designed for anyone looking to help optimize their athletic performance on or off the field.
CleanBoost Performance Motor Oil (https://www.combustionusa.com/70w-racing-oil.html) has also joined the team. "Brett Winberg, with CleanBoost was one of the first people I called, he has the performance oil to get us in the winner's circle. They make motor oil that simply is the best for nitro cars. We have used CleanBoost and found that our bearings look like new. With better lubrication, we will certainly reduce parts attrition." Duane said.
Long-time sponsors, Brad Anderson Enterprises, NGK Sparkplugs, and GRP Connecting Rods are all returning this season. "I'm grateful that I'm surrounded by the premier manufacturers in the racing industry. They provide the parts we need and give their customers first class service" Duane added.
With seven Regional/Division Championships combined with his National Championship, Duane and his Dana Hopewell led team have proven they know how to win. "In 2020, we have the funding, we have the right parts, and we have the best team to compete for another NHRA Top Alcohol championship" Duane said.




LODRS: 10 Most Recent Entries [ top ]

Feb 25- LODRS 2-2 - Special Awards
Feb 25- LODRS 2-2 - Event Wrap Up
Feb 23- LODRS 2-2 - Competition Eliminator Final, Round 4 Eliminations
Feb 23- LODRS 2-2 - Super Stock Final, Round 6 Eliminations
Feb 23- LODRS 2-2 - Stock Eliminator Final, Round 6 Eliminations
Feb 23- LODRS 2-2 - Top Dragster Final, Round 5 Eliminations
Feb 23- LODRS 2-2 - Top Sportsman Final, Round 5 Eliminations
Feb 23- LODRS 2-2 - Super Comp Final, Round 6 Eliminations
Feb 23- LODRS 2-2 - Super Gas Final, Round 6 Eliminations
Feb 23- LODRS 2-2 - Super Street Final, Round 6 Eliminations