Sun, 29 Dec 2019, 10:16 AM



Remember When? Part I



By Steve Reyes


Photo copyright 2019 Steve Reyes





| | |
| --- | --- |
| | |
Like any sport, the sport of drag racing is a vast mix of facts and figures. However, for me it is a gathering of memories to share with long time friends or newbies that are becoming hard core fans of drag racing. I enjoy gathering a few of these "Remember When" items and sharing them with funny car driver Jack Beckman and NHRA statistician Louis Bloom. Both of these gentlemen are historians of the sport and appreciate the memories. It gives me great pleasure to put a smile on their faces with a new unknown fact of their favorite subject - drag racing. Most of my "Remember When" pieces are from my memories over the last fifty years of being around drag racing. Quite a few have come from research that I have done for the six books published on drag racing over the past twelve years. These small pieces of knowledge are just a small part of the history of drag racing. Please enjoy the memories with me.
If you wish to purchase prints of the photos below or any others, they may be obtained by contacting us at breyes@reyesontour.com. Other photos for purchase may be viewed by following the links at www.reyesontour.com.
If you think rear engine dragsters are a modern fixture of today's drag racing, that is not the case.
The 1953 cover of Popular Mechanics Magazine featured a rear engine dragster with its information
inside. That was eighteen years before the so-called Rear Engine Revolution.
In 1959, Jack Chrisman was tearing up the Southern California quarter mile with the
Sidewinder Top Fuel car. Joe Malliard supplied the power for the silver beauty.
In five years, things changed for Chrisman when he took the controls of the
Sachs and Sons blown nitro burning Comet. That car put Chrisman into the
history books as the father of the modern funny car.
The silly Beach Party movie series came out with Bikini Beach in 1964. The plot was dumb but the
drag race cars featured in the movie were classics. I think every beautiful full-bodied top fuel dragster
in Southern California was featured in that movie including Tommy Ivo's four engine Showboat dragster.
One of those featured movie fuelers was the Red Stamp Special of Larry Stellings and Jumpin' Jeep Hampshire.
The beautiful red AA//FD raced at Fremont and I got a first-hand look at a "movie star" car.
The factory owned and prepped Dodge Charger was Chrysler's answer to the early funny car craze.
It came out in 1964 and Jim Johnson and Jimmy Nix toured the cars across the USA.
These cars were supposed to match race each other but constant breakage and problems made
that almost impossible. To say this whole thing was a failure would be an understatement.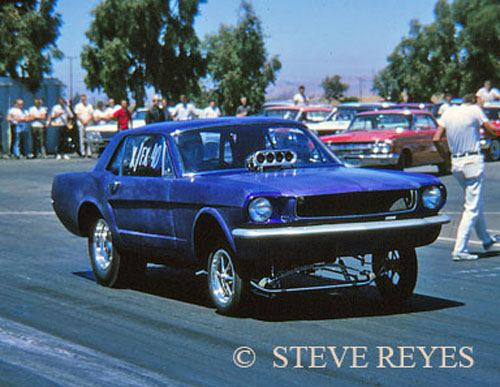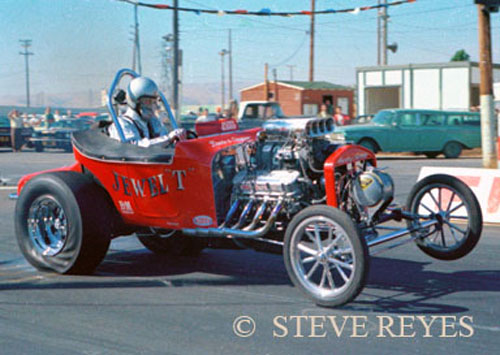 In 1965, Northern California's Joe Davis removed the Fiat body from his AA/A and replaced
it with a Ford Mustang body. The purple primer was soon replaced with white paint and lettering.
His Colt 45 funny car was ready to race in the made-up X/FX class. Davis raced in the early
funny car wars for about a year until his Colt 45 stood on its tail at the finish line lights at a
Southern California track. Joe managed to bring the airborne Mustang to earth. He towed
it back to his home base of San Jose and retired from the funny car class. No, he didn't
quit racing, he called friend Wes Ingram and they combined resources and raced in
the AA/A class with their Jewel T roadster.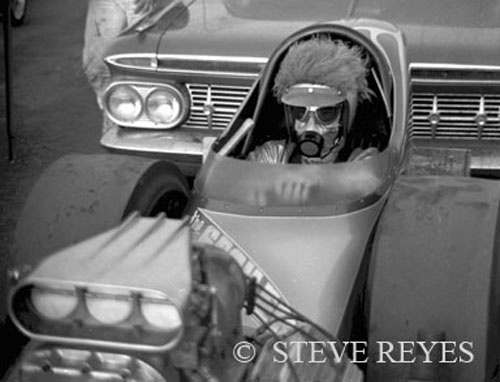 Now if you are old like me, you remember the Beatles invasion of the USA in the mid-1960s.
During this time a couple of the NorCal top fuel racers took the invasion seriously by gluing
Beatle wigs to their helmets. Sacramento's Bob Hall in the Spoiler AA/FD and Gerry Steiner
in the Ramchargers A/FD looked very stylish with their wigs!
One thing I know you didn't find a lot of in 1965 was a sixty-five-year-old man riding a
C/FB Harley at the drag strip. Walt Ross took his sixty-five-year-old body and blasted
down the Fremont quarter mile setting fuel bike records for his class. Walt could also
be found later in the year on the Bonneville Salt Flats. Who says sixty-five is old?!
No doubt Rich Guasco raced one of the truly memorable cars in drag racing from 1964-1968.
Most people credit Dale Emery as being the driver of Guasco's Bantam, but they would be wrong.
Most of the early track records were set by Don "The Golden Shoe" Petrich. Petrich was not the
original driver of Pure Hell. The first early shake down runs were done by Fred Cerutti. Fred raced
his own fuel roadster out of Castro Valley, California. Petrich left his Pure Hell ride to race his own
top fuel dragster. This is when Emery stepped in and filled the driver's seat for Guasco in 1966.




NHRA: 10 Most Recent Entries [ top ]

Sep 26- GAINESVILLE - Top Sportsman presented by Vortech Superchargers Round 1 Eliminations
Sep 26- GAINESVILLE - Super Gas Round 2 Eliminations
Sep 26- GAINESVILLE - Top Dragster presented by Vortech Superchargers Round 1 Eliminations
Sep 26- GAINESVILLE - Super Stock Round 2 Eliminations
Sep 26- GAINESVILLE - Super Comp Round 2 Eliminations
Sep 26- GAINESVILLE - Stock Eliminator Round 2 Eliminations
Sep 26- GAINESVILLE - Super Street Round 2 Eliminations
Sep 26- GAINESVILLE - Saturday Schedule
Sep 25- EPPING - Competition Eliminator Final, Round 4 Eliminations
Sep 25- EPPING - Super Stock Final, Round 6 Eliminations