Wed, 21 Aug 2019, 15:43 PM



Cowie, Westerfield, Greenheck, Speer, Knudsen, Stinnett, Rowland, Demers, Wiebusch,



Courtesy of NHRA Communications


Photo copyright 2019 Auto Imagery, Inc.





At 38th annual Lucas Oil NHRA Nationals



BRAINERD, Minn. --
Vancil and Hall Win Shawn Cowie, Shane Westerfield, Jim Greenheck, Brett Speer, Chris Knudsen, Gary Stinnett, Veron Rowland, Larry Demers, Henry Wiebusch, Doug Vancil and Glenn Hall win Wallys at 38th annual Lucas Oil NHRA Nationals at Brainerd International Raceway and Resort.
Top Alcohol Dragster -- Shawn Cowie, 5.252 seconds, 276.80 mph defeated Megan Meyer, Foul - Red Light.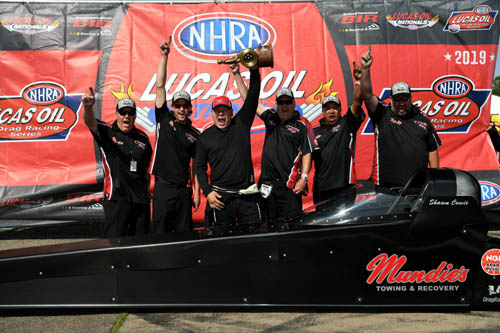 Shawn Cowie celebrates his 17th career win and his fourth win this year.
Top Alcohol Funny Car -- Shane Westerfield, Chevy Camaro, 5.755 seconds, 260.66 mph defeated Doug Gordon, Camaro, 6.148 seconds, 220.98 mph.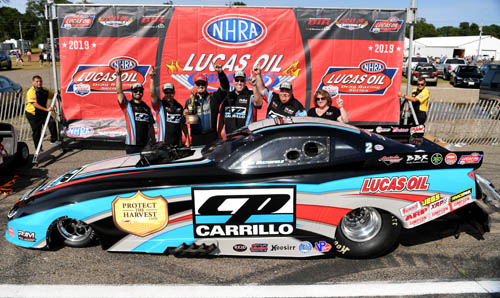 Shane Westerfield celebrates his 12th career win and second this year.
Competition Eliminator -- Jim Greenheck, Chevy Camaro, 7.543 seconds, 178.73 mph defeated Shaun Vincent, Chevy S-10 seconds, 8.388, 158.11 mph.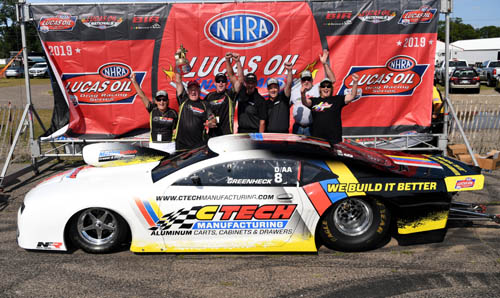 Jim Greenheck celebrates his first National event win.
Super Stock -- Brett Speer, Chevy Camaro, 10.162 seconds, 126.41 mph defeated Jason DeForrest, Chevy Cavalier, 9.029 seconds, 141.88 mph.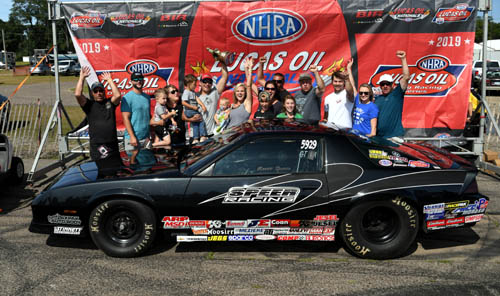 Brett Speer celebrates his third win
Stock Eliminator -- Chris Knudsen, Chevy Camaro, 10.608 seconds, 121.78 mph defeated Brett Speer, Chevy Nova, 10.649 seconds, 115.74 mph.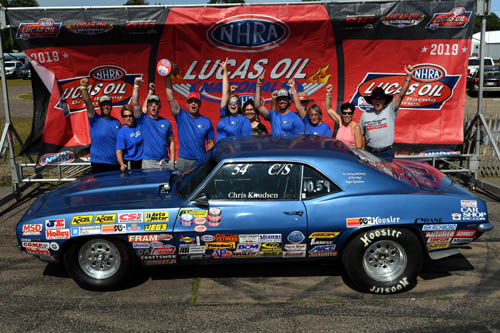 Chris Knudsen celebrates his first National event win.
Super Comp -- Gary Stinnett, Dragster, 8.910 seconds, 184.77 mph defeated Tyler Bohannon, Dragster, 8.894 seconds, 167.49 mph.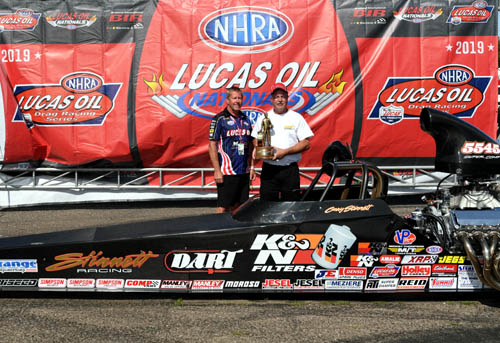 Gary Stinnett celebrates his 25th Wally and fifth in Brainerd.
Super Gas -- Veron Rowland, Olds Calais, 9.876 seconds, 162.06 mph defeated Bo Butner, Chevy Corvette, 9.871 seconds, 166.17 mph.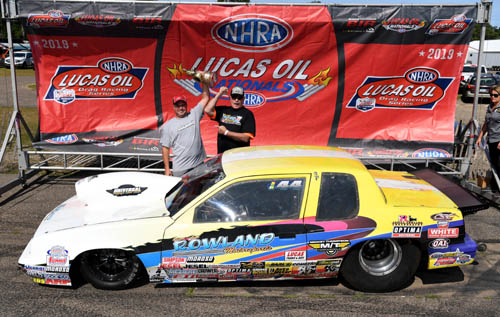 Veron Rowland celebrates his second win.
Top Sportsman presented by RacingRVs.com -- Larry Demers, Chevy Cobalt, 7.063 seconds, 193.40 mph defeated Curt Fredrich, Camaro, 6.701 seconds, 207.66 mph.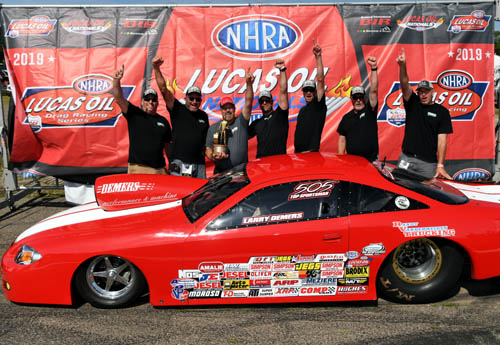 Larry Demers celebrates his second win.
Top Dragster presented by RacingRVs.com -- Henry Wiebusch, Dragster, 7.159 seconds, 188.07 mph defeated Luke Bogacki, Dragster, 7.369 seconds, 177.44 mph.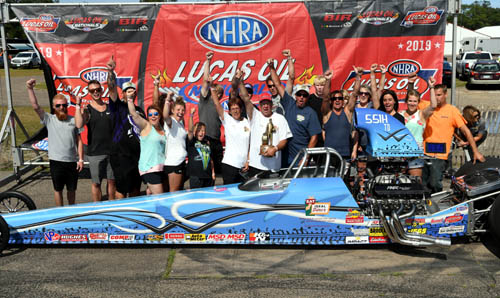 Henry Wiebusch celebrates his second win.
Top Fuel Harley -- Doug Vancil, Weekend, 6.256 seconds, 218.12 mph defeated Tii Tharpe, JTR, 6.532 seconds, 217.56 mph.
Doug Vancil celebrates seventh career Wally
Pro Stock Snowmobile -- Glenn Hall, Arctic Cat, 7.938 seconds, 161.61 mph defeated Matt Ernst, Suzuki, Foul - Red Light.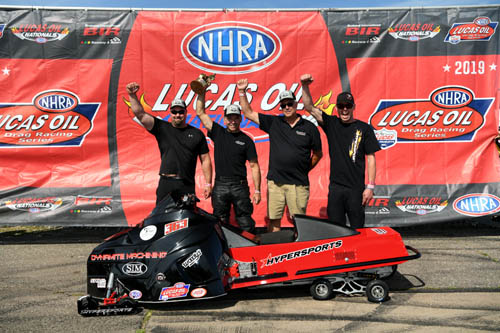 Glenn Hall celebrates win.




NHRA: 10 Most Recent Entries [ top ]

Jun 03- NHRA Sonoma Nationals Event at Sonoma Raceway Cancelled
Jun 03- NHRA Mello Yello Drag Racing Returns Beginning with Two Indianapolis Events in July
Jun 03- A Message From Summit Motorsports Park President Bill Bader Jr.
May 21- Second JEGS SPORTSnationals Added, to be held in mid-August in New England
May 20- DENSO Sponsors NHRA Champs' Shelter-in-Place Dachshund Race
May 14- To Our Racing Community-From Racers for Christ
May 13- The Name Game Part I
May 12- Morgan Lucas, Son of Forrest and Charlotte Lucas, Appointed President of Lucas Oil Products, Inc.
May 05- Cancellation of the 14th Annual Summit Racing Equipment NHRA Nationals
May 04- NHRA Announces Revised Plan to Restart 2020 Mello Yello Drag Racing Series