Sun, 30 Jun 2019, 20:06 PM



Glenn Doubles Up at IHRA Summit Sportsman Spectacular at Darlington Dragway



Courtesy of IHRA Communications



HARTSVILLE, S.C. -
Dallas Glenn completed a daily double at the International Hot Rod Association (IHRA) Summit Sportsman Spectacular at Darlington Dragway.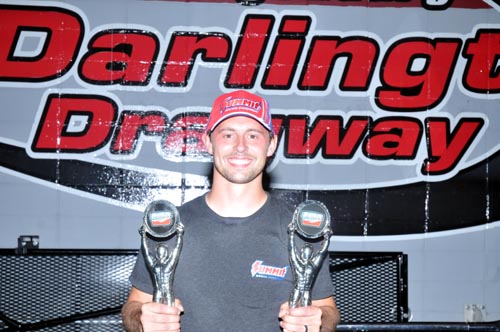 Glenn from Mooresville, N.C., won in both the Top and Mod divisions.
His winning package in the Top division was 7.242 seconds at 92.12 mph against a 7.23 dial-in. He won by the slightest of margins with a better start at .042 to .054 for runner-up Bruce Holland from Lexington, S.C. Holland went 4.460 to match his dial-in at 144.83 mph.
Glenn continued his winning ways in the Mod division where he ran 7.234 against a 7.23 dial-in at 90.13 mph. He again had the better holeshot, .027 to .062 for Robert Rayfield from Jefferson, N.C. Rayfield moved on down the track in 5.999 seconds at 113.09 mph.sun top mod wnr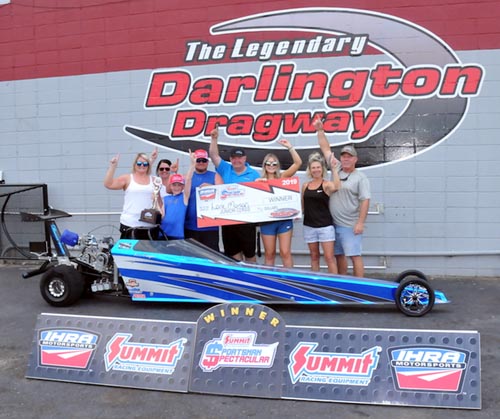 Lane Morgan from Angier, N.C., swept weekend races in the Junior Dragster division.
Morgan won on a red-light against Dylan White of Cordesville, N.C. The winning pass for Morgan was 8.992 seconds at 72.85 mph with a .008 start. White was barely too fast at the starting tree by (-.004) seconds before making a 7.96-second pass at 81.91 mph.
In the Moser Engineering Saturday race, Morgan defeated Harrison Crawford from Ware Shoals, N.C. with an 8.928-second run at 71.79 mph, along with a .034 reaction time. Crawford finished in 8.049 seconds at 76.73 mph. He had a .032 start.sat sun jr wnr 2
GJ Crews from Summerville, S.C., was the Top winner at Moser Engineering Saturday with his combination of a .030 reaction time and an elapsed time of 4.624 seconds at 143.63 mph against a 4.62 dial-in. Runner-up Joel Hubbard from Lancaster, S.C., was good at the starting line at .015 and then posted a 6.007-second run at 112.75 mph against a 6.01 dial-in.sat top wnr
In the Mod division, Fred Berkheimer from Mt. Pleasant, S.C., won when final-round opponent Ryan Snipes from Lancaster, S.C., red-lighted. Berkheimer ran a solid 6.437 seconds at 105.24 mph with a ..009 reaction time. Snipes had a 6.169-second pass at 103.83 mph, but fouled by (-.021) at the start




IHRA: 10 Most Recent Entries [ top ]

May 20- IHRA Member Track Update
Mar 16- IHRA Sportsman Spectacular Events at Farmington and Holly Springs Postponed
Dec 03- Historic Mo-Kan Dragway Reaches Multi-Year Agreement with IHRA
Oct 24- Summit SuperSeries Champions Crowned at IHRA Summit SuperSeries World Finals
Oct 24- Summit Racing Equipment Renews Commitment to IHRA Summit SuperSeries in 2020
Oct 08- Beacon Dragway Chosen as IHRA Division 2 Track of the Year
Oct 08- London Dragway Emerges With Win at IHRA Division 2 Summit Team Finals
Oct 08- Xtreme Raceway Park Named IHRA Division 4 Track of the Year
Oct 07- Pine Valley Raceway Captures IHRA Division 4 Summit Team Finals Win
Oct 03- Beaver Springs Dragway Named IHRA Division 3 (North Stars) Track of the Year