Tue, 18 Jun 2019, 12:30 PM



Santangelo, Bogan, Ewing, R. Sawyer, Brooks, Tharpe and Hoerne Win



By Rick Green


Photo copyright 2019 Auto Imagery, Inc.





At NHRA Thunder Valley Nationals



BRISTOL, Tenn. -
Joe Santangelo, Monty Bogan, Todd Ewing, Ray Sawyer, Johnny Brooks, Tii Tharpe and Todd Hoerne win at the 19th annual NHRA Thunder Valley Nationals at Bristol Dragway.
Super Stock -- Joe Santangelo, Chevy Camaro, 10.282, 127.41 defeated Ricky Decker, Camaro, 9.985, 133.17.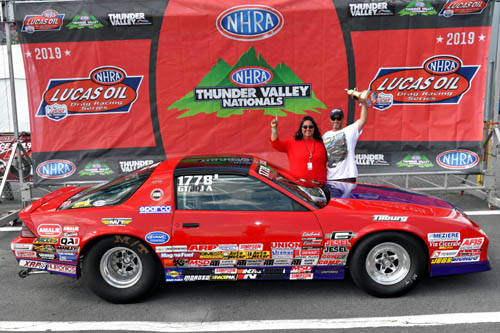 Joe Santangelo celebrates his 15th National event win.
Stock Eliminator -- Monty Bogan, Chevy Camaro, 11.094, 116.06 defeated Mike Cotten, Duster, 11.173, 117.56.
Monty Bogan celebrates his fourth National event win
and second this season.
Super Comp -- Todd Ewing, Dragster, 14.155, 98.66 defeated Ray Miller Jr., Dragster, Broke - No Show.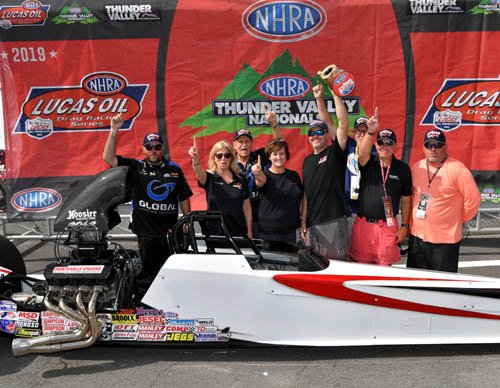 Todd Ewing celebrates his eighth National event win.
Super Gas -- Ray Sawyer, Chevy Camaro, 9.927, 165.60 defeated Michelle Furr, Chevy Corvette, 9.929, 153.54.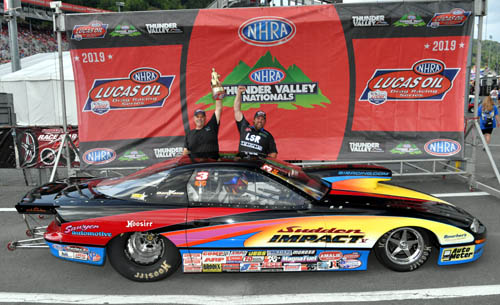 Ray Sawyer celebrates his seventh National event win.
Top Sportsman presented by RacingRVs.com -- Johnny Brooks, Chevy II, 7.953, 163.79 defeated Dylan Stott, Ford Mustang, 6.714, 206.80.
Johnny Brooks celebrates his first National event win.
Top Fuel Harley -- Tii Tharpe, JTR, 6.426, 218.90 defeated Bob Malloy, Buell, 6.469, 193.40.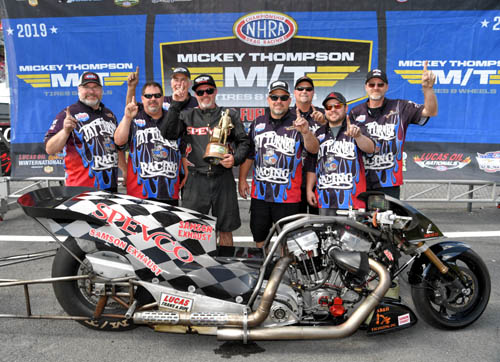 Tii Tharpe celebrates his ninth Wally,
second consecutive and third consecutive at this event.
Mountain Motor Pro Stock -- Todd Hoerner, Chevy Camaro, 6.425, 219.36 defeated Frank Gugliotta, Camaro, 6.998, 156.44.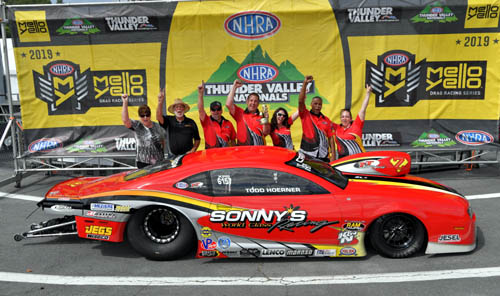 Todd Hoerne celebrates win.




NHRA: 10 Most Recent Entries [ top ]

Dec 11- Tickets Now on Sale for 66th Annual U.S. Nationals
Dec 11- Strutmasters.com Joins Foley Lewis Racing Top Fuel Team for 2020
Dec 11- Sonoma Raceway Hosts 9th John's March Against Stomach Cancer, Jan. 11
Dec 07- Justin Ashley and Davis Motorsports Team Up with King Engine Bearings
Dec 05- 1969 A Year of Change- Part III
Dec 04- Pro Stock Rises to the Challenge in 2019
Dec 03- Foley Lewis Racing Planning Eight-Race 2020 Top Fuel Campaign
Dec 02- 1969 A Year of Change- Part II
Nov 26- 1969 A Year of Change- Part I
Nov 25- NHRA Museum News- Statement on the Passing of Larry Fisher