Sun, 09 Jun 2019, 20:07 PM



S. Torrence and Hight Victorious at the Menards NHRA Heartland Nationals presented by Minties



Courtesy of NHRA Communications


Photo copyright 2019 NHRA/National Dragster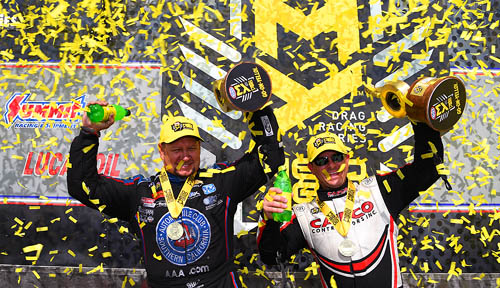 Robert Hight and Steve Torrence
celebrate wins.
Photo copyright 2019 Gary Nastase Photography
TOPEKA, Kan. -
Steve Torrence raced to his fifth consecutive race victory Sunday afternoon at the 31st annual Menards NHRA Heartland Nationals presented by Minties at Heartland Motorsports Park when he faced his father, Billy Torrence, in the final round.
Robert Hight was also victorious in Funny Car at the 10th of 24 events on the Mello Yello Drag Racing Series schedule.
Defending world champion S. Torrence raced his Capco Contractors dragster to a run of 3.750-seconds at 326.16 mph to defeat B. Torrence's 3.768 at 326. S. Torrence was the No. 1 qualifier, secured his first event victory at Heartland Motorsports Park and the 32nd of his career.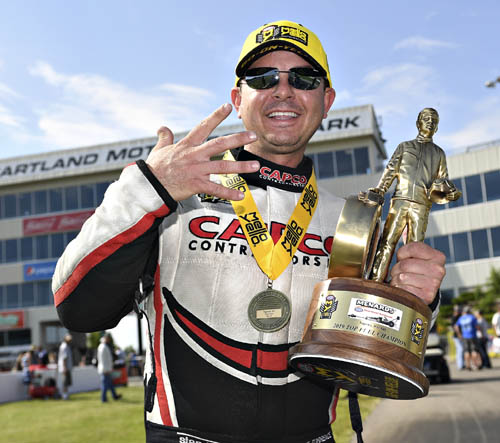 Steve Torrence celebrates fifth consecutive win.
"There are no losers or winners today," S. Torrence stated. "My dad has given me the opportunity to do anything and everything I've wanted to do in life and to be able to come out here and race with him as a family and to do this its pretty unbelievable. My mom, my dad and all of those Capco boys are great guys but we're going to go home to Capco and brag a little bit, but I don't know what the race was. I saw him right beside me when we shut it off. So, it was an unbelievable day. This is probably one of the most special ones ever."
S. Torrence faced Terry Totten and Antron Brown before entering the finals. B. Torrence defeated Lex Joon, Richie Crampton and Austin Prock.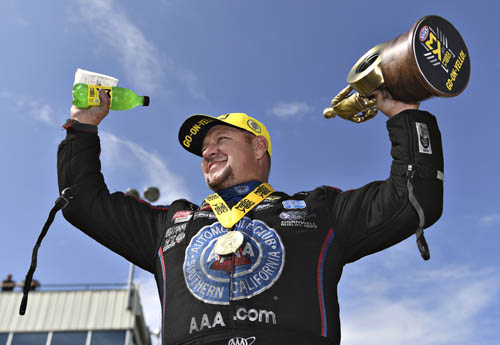 Robert Hight celebrates fourth win this season.
Hight locked-in his 49th career victory at the race that started it all for him 25 years ago when he worked on John Force's Funny Car. He defeated Jack Beckman with a run of 3.895 at 330.88 in his Auto Club of Southern California Chevrolet Camaro SS for his fourth victory of the season.
"I think that was the second time this year we've qualified in the bottom half of the field," Hight said. "We just had bad luck. We didn't miss it or do anything wrong, we just simply had bad luck every run. Finally, we get it together for Q4 and have low E.T. of the session and then low E.T. every session on race day. Once you get going with this team, you just start rolling."
Hight raced Shawn Langdon, defending world champion J.R. Todd and Tommy Johnson Jr. before entering his 77th career final round. Beckman defeated teammate Matt Hagan, Tim Wilkerson and J. Force en route to his second final round of the season.
The Mello Yello Drag Racing series continues to NHRA Thunder Valley Nationals June 14-16 at Bristol Dragway in Bristol, Tenn.
Sunday's final results from the 31st annual Menards NHRA Heartland Nationals presented by Minties at Heartland Motorsports Park. The race is the 10th of 24 in the NHRA Mello Yello Drag Racing Series-
Top Fuel -- Steve Torrence, 3.750 seconds, 326.16 mph def. Billy Torrence, 3.768 seconds, 326.00 mph.
Funny Car -- Robert Hight, Chevy Camaro, 3.895, 330.88 def. Jack Beckman, Dodge Charger, 3.969, 323.97.
Pro Modified -- Steve Jackson, Chevy Camaro, 5.747, 251.72 def. Clint Satterfield, Camaro, 5.933, 251.58.
Top Alcohol Dragster -- Shawn Cowie, 5.213, 279.15 def. Troy Coughlin Jr., 7.406, 118.32.
Top Alcohol Funny Car -- Sean Bellemeur, Chevy Camaro, 5.446, 269.29 def. Jay Payne, Camaro, 5.592, 262.79.
Competition Eliminator -- Bruno Massel, Dragster, 6.764, 177.95 def. Shaun Vincent, Chevy S-10, 8.404, 158.32.
Super Stock -- Gene Mosbek, Plymouth Savoy, 10.234, 126.34 def. Vic Penrod, Chevy Camaro, 9.898, 130.67.
Stock Eliminator -- Chris Chaney, Chevy Camaro, 10.215, 129.59 def. Scott Libersher, Camaro, Foul - Red Light.
Super Comp -- Kyle Fickler, Dragster, 8.913, 161.63 def. Veron Rowland, Dragster, 8.899, 166.15.
Super Gas -- Shawn Carter, Chevy Cavalier, 9.896, 166.31 def. Collin Becker, Chevy Camaro, 9.888, 164.45.
Super Street -- Trevor Larson, Chevy Corvette, 10.853, 139.54 def. Mike Campbell, Chevy Malibu, Foul - Red Light.
Top Fuel Harley -- Tii Tharpe, JTR, 6.313, 227.38 def. Bob Malloy, Buell, 7.391, 132.69.
Factory Stock Showdown -- Stephen Bell, Chevy Camaro, 7.908, 174.12 def. Arthur Kohn, Camaro, 7.951, 174.19.




NHRA: 10 Most Recent Entries [ top ]

Jun 30- Lucas Oil to Sponsor Summernationals at Indianapolis
Jun 25- Tickets on Sale for 2020 Southern Nationals
Jun 25- Houston Raceway Park to Transform into Drive-In Theater for First NHRA Race Since Lockdown
Jun 25- NHRA Northwest Nationals Canceled Due to State and County Restrictions
Jun 25- Toyota to Serve as Associate Sponsor of Tony Schumacher in Indianapolis
Jun 25- Wally Parks NHRA Motorsports Museum to Reopen July 1
Jun 24- E3 Spark Plugs Named Title Sponsor of July 11-12 NHRA Indianapolis Event
Jun 24- Cory McClenathan to Return for NHRA Indy Double-Header with DSR
Jun 22- AAA Texas Fall Nationals Expects Championship Field In October
Jun 22- Crew Chief Doug Kuch Returning to Foley Lewis Racing