Tue, 16 Apr 2019, 05:38 AM



Meyer, Hough, Peery, Pitt, Rowland, Rowan and Laris Win



Courtesy of NHRA Communications



At the 32nd annual Mopar Express Lane NHRA SpringNationals presented by Pennzoil



BAYTOWN, Texas --
Megan Meyer and Brian Hough win Alcohol trophies at the 32nd annual Mopar Express Lane NHRA SpringNationals presented by Pennzoil on Sunday at Houston Raceway powered by Pennzoil. Pete Peery (Super Stock), Jacob Pitt (Stock Eliminator), Veron Rowland (Super Comp), Robert Rowan (Super Gas) and Ross Laris (Top Dragster) also take home Wallys.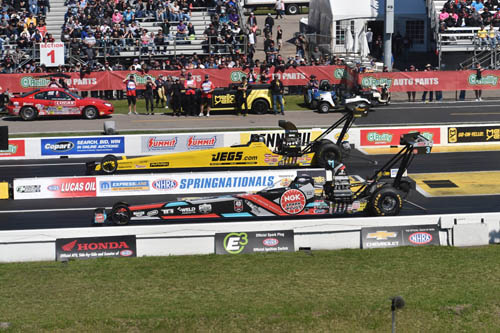 Megan Meyer, 5.231, 279.15 defeated Troy Coughlin Jr., 5.266, 275.90.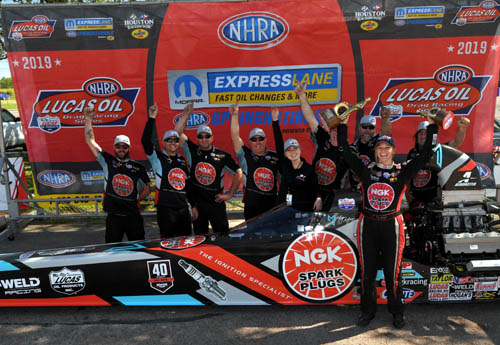 Megan Meyer and crew celebrate her win.
Megan Meyer qualified number one with a great pass of 5.118 seconds at 284.75 mph. The pass tied for the fourth quickest pass and tied the seventh fastest pass in the history of the class. She defeated Buddy Domingue in round one, had a bye in round two and in the semifinal won a great drag race beating Julie Nataas by about 23 feet. Troy Coughlin advanced to his third final round by defeating Rob McKinley, Steve Collier and Shane Conway. In the final Coughlin with the slight starting line advantage, but Meyer had the difference made up early and never trailed from there on for the win in a close one by about 12 feet. This was her third win over Coughlin and second in final rounds. She won her second Wally this year and the seventh in her career.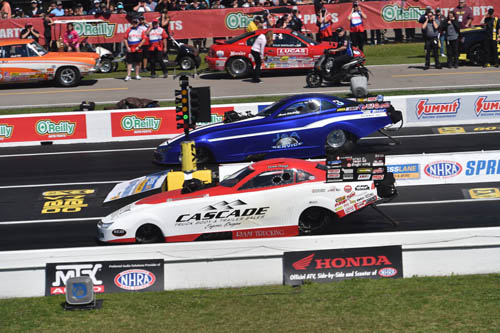 Brian Hough, Chevy Camaro, 5.705, 263.31 defeated Annie Whiteley, Camaro, 10.066, 89.54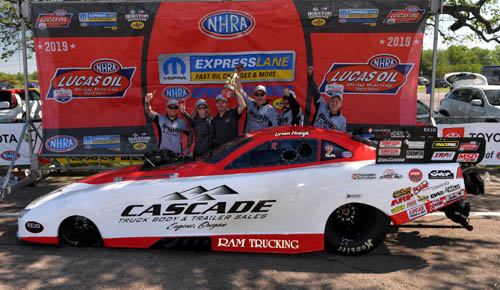 Brian Hough and crew celebrate his win.
Brian Hough qualified number one in Top Alcohol Funny Car with a 5.488 second pass at 267.37 mph. Hough got a bye in the first round due to a short field, he ran low E.T. of the event with a 5.407 seconds. He ran low E.T. in the semifinal defeating Bryan Brown to advance to his 20th final round. Annie Whiteley ran top speed of the event in round one defeating Aryan Rochon. In the semifinal she defeated Kirk Williams in a close race approximately 13 feet to advance to her 18th. Hough with the starting line advantage in the final and never trailed for the win as Whitely had tire shake and shut it off. Hough won his second Wally this season, second at this event and the tenth of his career.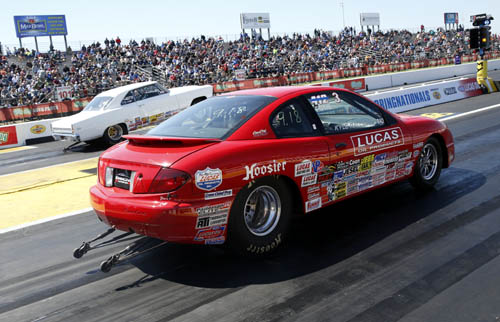 Pete Peery, Calais, 9.198, 138.97 defeated Darrin Christen, Chevy II, 9.922, 129.85.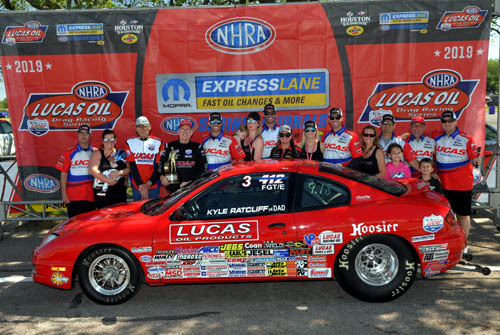 Pete Peery celebrates win.
Pete Peery had the starting line advantage in the first three rounds and Phillip Giles went red in the semifinal. Darrin Christen in his first final round had a perfect light, Peery was right there with him with an 0.002 second reaction time. Peery ran 0.018 over his dial for a 0.020 package to take the win over Christen, who had an 0.022 package, in a great race. The margin of victory was 0.0027 seconds, approximately 6 inches. Peery won his fourth National event Wally and second at this event.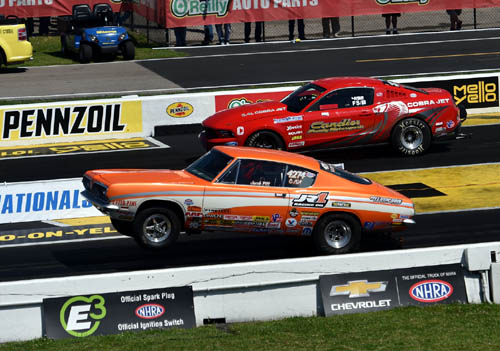 Jacob Pitt, Barracuda, 10.468, 122.93 defeated Brett Candies, Mustang, 9.367, 142.16.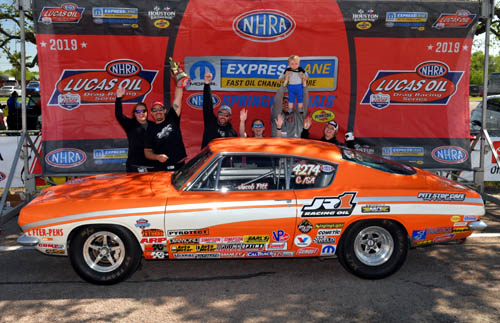 Jacob Pitt celebrates win.
Jacob Pitt had an average reaction time for six rounds of 0.028 to win his third Stock title and second at the SpringNationals. Pitt with the starting line advantage over Brett Candies, in his third final round. The final was another great race with Pitt getting the win by a margin of victory of 0.0064 seconds, approximately 16 inches.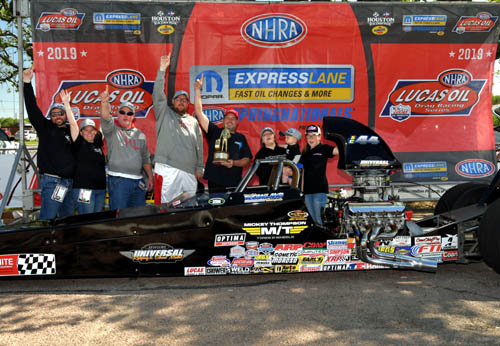 Veron Rowland, Monden dragster, 8.890, 166.52 defeated Chris Vang, Don Davis dragster, 8.873, 171.12.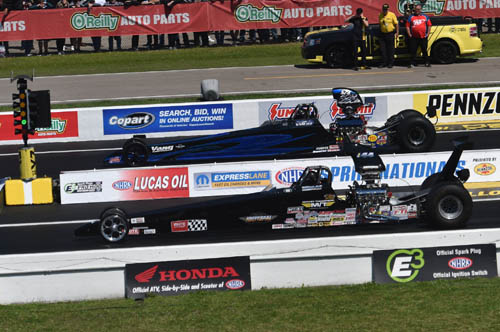 Veron Rowland celebrates win.
Veron Rowland was first off the line in five of the six rounds of Super Comp. His reaction times ranged from a best of 0.001 seconds in round one to 0.018 seconds in the semifinal. Rowland had a great light of 0.008 seconds to Vang's 0.021 seconds in the final round to take home his first Wally in his first final round.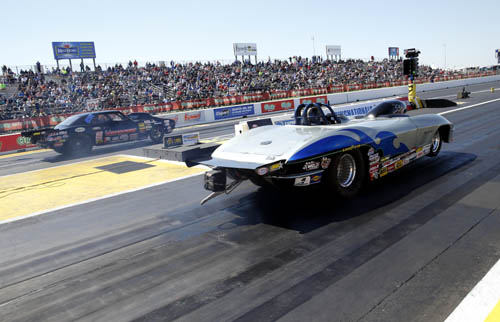 Robert Rowan, Chevy Corvette, 9.908, 161.92 defeated Koy Collier, Camaro, 9.882, 151.51.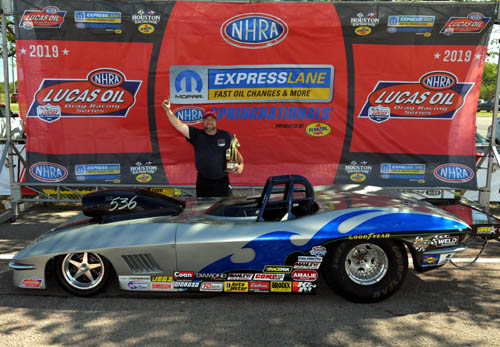 Robert Rowan celebrates win.
Robert Rowan was cutting the tree down, he was off the line first five of the six rounds. He had an average reaction time of 0.007 seconds to take home his first Wally in his first final round. In the last three rounds he had a string of 0.003 seconds, 0.004 seconds and .002 seconds reaction times. He defeated Koy Collier, who was in his fifth career final round, with a great package of 0.010 seconds.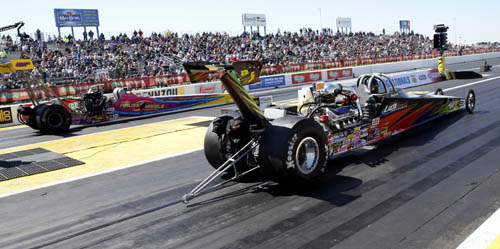 Ross Laris, Racecraft dragster, 6.106, 227.38 defeated William Kruse, Dragster, Foul - Red Light.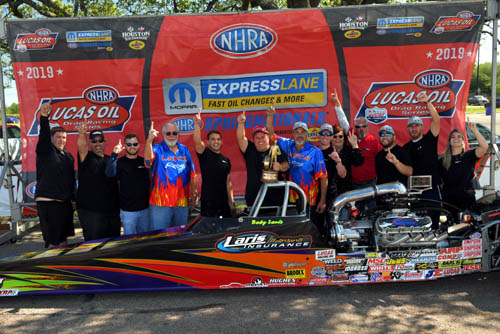 Ross Laris celebrates win.
Ross Laris qualified number one with a great pass of 6.106 seconds at 228.85 mph. He got the bye in round one, he won a string of close races, two feet in round two, nine inches in round three and three feet in the semifinal to advance to his seventh final round. In the final William Kruse, in his third final round, was too quick on the tree and turned on the red light to give Laris his second Wally.




NHRA: 10 Most Recent Entries [ top ]

Aug 18- BRAINERD - Sunday Wrap Up
Aug 18- BRAINERD - Championship Points
Aug 18- BRAINERD - Super Stock Final, Round 6 Eliminations
Aug 18- BRAINERD - Summary of Eliminations in Top Fuel Harley
Aug 18- BRAINERD - Summary of Eliminations in Top Sportsman presented by RacingRVs.com
Aug 18- BRAINERD - Summary of Eliminations in Top Dragster presented by RacingRVs.com
Aug 18- BRAINERD - Summary of Eliminations in Competition Eliminator
Aug 18- BRAINERD - Summary of Eliminations in Super Stock
Aug 18- BRAINERD - Summary of Eliminations in Stock Eliminator
Aug 18- BRAINERD - Summary of Eliminations in Super Gas