Tue, 19 Mar 2019, 11:16 AM



Beau Layne Takes Point Lead with Second Win of the Season



By Rick Green


Photo copyright 2019 Auto Imagery, Inc.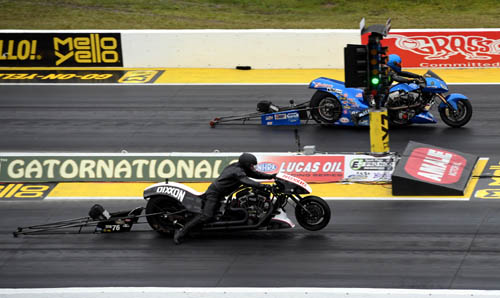 Beau Layne defeated Bob Malloy
GAINESVILLE, Fla. --
Beau Layne defeated Bob Malloy for his second career win, the other in Phoenix three weeks ago. He qualified in the number four position with a 6.300 second pass at 230.72 mph. He defeated Mike Scott in round one and the number one qualifier Takeshi Shigematsu, when he was unable to make the call after a major engine explosion in round one. Layne took the point lead after round one when Doug Vancil was defeated.
Malloy qualified sixth and defeat Tii Tharpe and Rickey House to advance to his fourth final round. Takeshi Shigematsu set the Top Fuel Harley E.T. record with a 6.101 second pass the quickest pass in history of Top Fuel Harley. Doug Vancil Set the Top Fuel Harley speed record with a 237.00 mph pass the fastest pass in the history of Top Fuel History.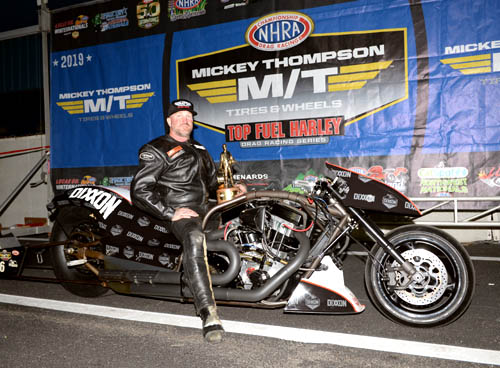 Beau Layne celebrates win.
Round 1:
Beau Layne, Redding CA, '16 Weekend, Left lane, (0.037) 6.293 221.09 def. Mike Scott, Calgary AB, '18 JTR, (0.054) 6.427 220.55
Bob Malloy, Glen Mills PA, '04 Buell, Left lane, (0.118) 6.208 229.27 def. Tii Tharpe, Pfaftstown NC, '17 JTR, (0.141) 6.239 225.26
Rickey House, Humble TX, '13 Harley, Right lane, (0.015) 6.205 225.26 def. Doug Vancil, Cedar Crest NM, '18 Weekend, (0.041) 6.230 235.43
Takeshi Shigematsu, Iyo Ehime JP, '16 Harley, Left lane, (0.104) 6.758 170.13 def. Jacob Stordeur, Goshen OH, '07 American, (0.041) 7.025 166.44
Round 2:
B Layne, Left lane, (0.061) 6.433 218.83 def. T Shigematsu, NT-No Show
B Malloy, Left lane, (0.127) 6.494 192.71 def. R House, (0.116) 20.129 50.94
Round 3:
B Layne, Right lane, (0.076) 6.473 217.42 def. B Malloy, (0.074) 7.247 187.96




NHRA: 10 Most Recent Entries [ top ]

Jul 18- DENVER - Pro Stock's Deric Kramer Thinking Big at Home Track
Jul 18- Thermo-Tec Joins Steve Matusek's NHRA Pro Stock Debut
Jul 17- Cacklefest, Nostalgia Get-Together Highlight NHRA Sonoma Nationals
Jul 17- 13th annual Eric Medlen Nitro Night Charity Dinner to Honor Jack Beckman, July 25
Jul 17- SONOMA, Calif. - Event Preview
Jul 17- SAMtech.edu NHRA Factory Stock Showdown to Feature 32-Car Field
Jul 17- 2020 Lucas Oil NHRA Winternationals Tickets on Sale
Jul 17- DENVER - Matt Hagan Looks to Solve Mountain Riddle for First Time
Jul 17- DENVER - Fact Sheet
Jul 16- DENVER - Leah Pritchett has Plenty of Excitement, Motivation