Wed, 02 Jan 2019, 18:09 PM



Rapisarda Autosport International Chase New Year Glory



Courtesy of John Doig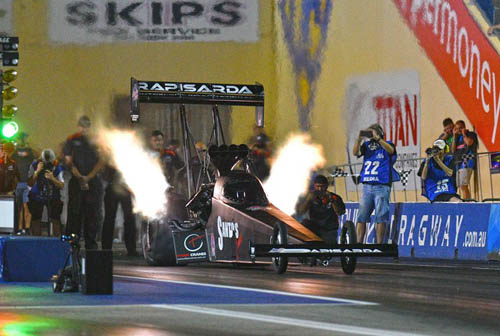 Wayne Newby
Series leader Wayne Newby leads the Rapisarda Autosport International attack at Willowbank Raceway's New Year Thunder meeting on January 5. Newby will race alongside teammates Damien Harris and Californian import Ashley Sanford.
Newby will go into the meeting as the warm favourite following an outstanding season-opening performance at Sydney Dragway in November. The NHRA regular raced RAI's recently acquired state of the art Don Schumacher Racing canopy car and after burning the midnight oil to prep the car in time for the event defeated Sanford in the final. Newby, in typically understated fashion, declared the car a 'great drive" and was looking forward to working alongside tuning ace Santino Rapisarda to exploit the potential of the car.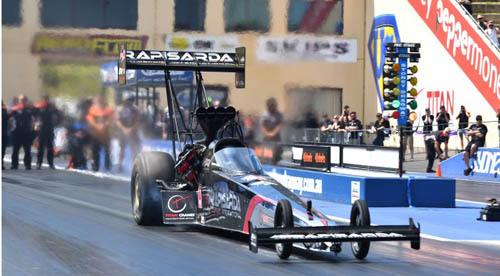 Damien Harris
Harris and tuning wiz Santo Rapisarda Jr. sit third in the championship and return to Willowbank Raceway for the first time since recording one of their finest ever performances. In June 2018 the crack duo won the Winternationals and demolished the Oz record for 1000 foot racing with a world-class pass of 3.77/527 km/h. "At Sydney we top qualified, didn't hurt any parts and worked on our hot track tune up which will be important this weekend at Willowbank," said Rapisarda Jr.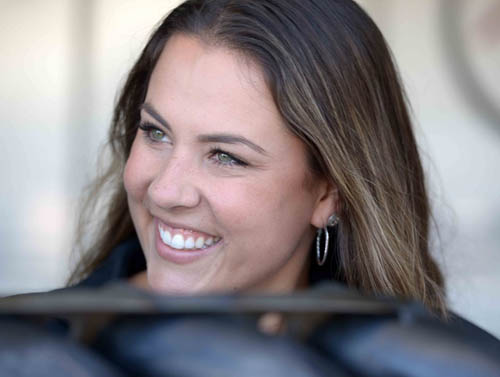 Ashley Sanford
"I finished runner-up at this meeting last year and I'm confident that I can go one step better this time," said Sanford. "Willowbank has been a happy hunting ground for Santo and the RAI family with both Wayne and Damien winning there in recent times. At our last event at Sydney in November, we came so close but eventually finished second behind Wayne. I was disappointed I couldn't deliver Santo Rapisarda, his family and tuner Rob Cavagnino our first win. Willowbank Raceway at the height of the Australian summer is a challenge - hot and humid. The one day format with a sighting run followed by three rounds of racing is as tough as any test you would find back home in America. A win would be the perfect start to 2019."




Drag News: 10 Most Recent Entries [ top ]

Jun 16- BOWLING GREEN HRR - 7.5 PRO Qualifying, Friday Final Order
Jun 16- BOWLING GREEN HRR - 6.0 Qualifying, Friday Final Order
Jun 16- BOWLING GREEN HRR - ScotRods Qualifying, Friday Final Order
Jun 16- BOWLING GREEN HRR - ScotRods Eliminations Ladder
Jun 16- BOWLING GREEN HRR - Modified Eliminator Qualifying, Friday Final Order
Jun 16- BOWLING GREEN HRR - Comp Eliminator Qualifying, Friday Final Order
Jun 16- BOWLING GREEN HRR - 7.0 PRO Qualifying, Friday Final Order
Jun 16- BOWLING GREEN HRR - Gas Qualifying, Friday Final Order
Jun 16- BOWLING GREEN HRR - Top Stock Eliminator Qualifying, Friday Final Order
Jun 16- BOWLING GREEN HRR - Geezer Gassers Qualifying, Friday Final Order