Tue, 01 Jan 2019, 11:13 AM



Remembering Slammin' Sammy Miller



By Steve Reyes


Photo copyright 2018 Steve Reyes





At the age of fifty-seven, one of the quickest and fastest drag racers ever to grace a quarter mile, passed away sixteen years ago on October 29, 2002. Sammy and his Applied Force team of eight were in a West Texas oil field trying to put out an oil well fire when an explosion and flash fire took Miller's life but spared the eight others. Sammy always lived on the edge, working with his dad S.A. Miller and his construction company. Miller's job was to take old buildings down by blowing them up. It was a very suitable job for a funny car driver since he piloted a four-wheel bomb down the quarter mile.
I liked Sammy as he was a very amiable individual. We connected for the first time at the 1971 Winternationals after he had purchased Don Prudhomme's first Hot Wheels 'Cuda AA/FC in 1970. We made plans to photograph his car for Drag Racing Magazine USA which was lot of fun because he liked to enjoy life. On a side note, if you wondered what happened to Sammy's used 'Cuda AA/FC; well, he sold it to his pal Ken Poffenberger. Poffenberger raced the ex-Prudhomme/Miller 'Cuda until he destroyed it in early 1972.
In 1973, Miller was at the wheel of a "shorty" wedge top fuel dragster. The car looked very cool but it didn't perform well. I lost touch with Sam for a while and then heard he had left the nitro classes for a rocket-powered funny car, the Spirit of '76 Monza bodied rocket. I never got to see that car run but in 1978, I toured England with Raymond Beadle and the Blue Max. At Santa Pod Raceway, there was a really beautiful Vega-bodied rocket funny car and it was Sammy with his new Vanishing Point rocket funny car. It was like old home week to see him again after several years. He was still the same old crazy Sammy and was having fun with his new funny car; which of course, we took the time to photograph!
Just like old times, we towed the car to a nice area inside the Santa Pod Raceway and did our photos. One thing I can say about Sammy's car, it was the cleanest drag car I think I ever photographed. We finished our shoot and it was getting close to race time for the regular AA/FC's and Sammy's exhibition pass. I hadn't seen him run this car so I was looking forward to his pass. The local English photographers had seen him run and told me I would enjoy the Vanishing Point.
Being the consummate showman that he was, Sammy didn't disappoint the fans or me with his "smoke" show and then a low 4-second run at 290 mph blasting down the UK quarter mile. To say the crowd loved him was a vast understatement. It was nice to hang out with Sammy again if only for that weekend. We lost touch again, but I heard of some of his adventures with rockets that included setting a world speed record on ice. He attached skis to his oxygen rocket dragster and ran a 247 mph on a frozen Lake George in 1982. He was the first to run 300 mph in July of 1979. In 1984, Miller, at the controls of his Vanishing Point rocket, powered Vega bodied funny car, tripped the timers at Santa Pod Raceway in the United Kingdom at 3.58 and 386.26 mph. That made him the quickest and fastest ever to race down a quarter mile at that moment in time.
Sammy's last appearance was at Santa Pod Raceways' Speed Freaks Ball in May of 2002. He made it a weekend to remember with a low 5 second pass and then ran his Vanishing Point into a field at the end of the track. Never fear, Sammy and his crew repaired his car and had it ready for Sunday's run. He wasn't going to disappoint his legion of fans in the UK. The fans loved Sammy and he loved them. Heck, he could have been a comedian or professional practical joker, he was just that type of guy.
If you wish to purchase prints of the photos below or any others, they may be obtained by contacting us at breyes@reyesontour.com. Other photos for purchase may be viewed by following the links at www.reyesontour.com.
That is good ol' Sammy with his beautiful Vanishing Point rocket funny car.
After Sammy took a ride in the Pollution Packer rocket dragster, he said
good-bye to the nitro classes of funny car and top fuel.
New Jersey's rocket man was born in 1974.
Dick Keller was the car's rocket system designer.
This car used a larger thrust engine at 5000 bb unit
compared to Sam's first rocket funny car which had
a 3500 bb unit thrust engine. At one time Sam's R/FC
was the only rocket funny car to run in the 4 second
range at 4.32 in a quarter mile.
This car had a Ken Cox body and tin and Frank Huszer's RCS worked
with Sam on the chassis design. For the outside, Kenny Youngblood
designed the paint and lettering scheme that was applied by
Circus Custom paint in Lyndhurst, New Jersey, a.k.a. Bob Geres.
The lettering was a masterpiece done by Glen Weisgerber.
All the safety equipment including peroxide proof chute packs and
parachutes were supplied by Bill Simpson. The car tipped the scales
at 950 pounds when it was ready to race.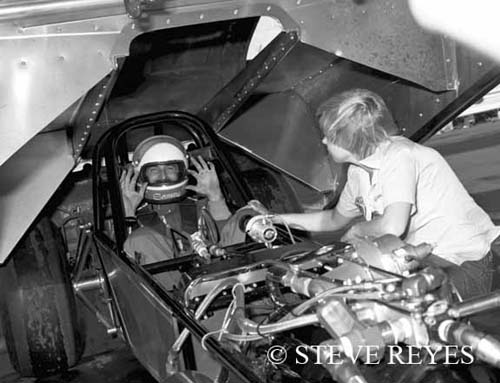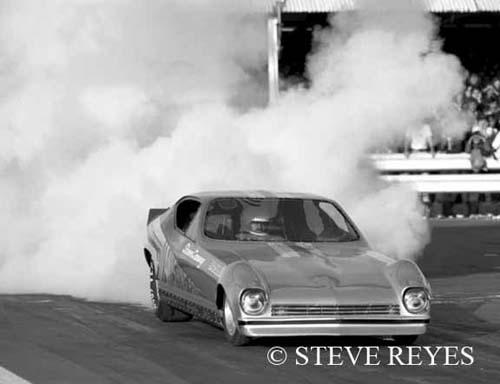 Yep, that is Sammy hamming it up for yours truly.
He had to lie almost flat on his back in the car, otherwise the
acceleration would cause him to black out. He said every time
he ran the car his ears and nose bled. When he tested his
Vanishing Point in Florida, the car cranked out a few 3 second
quarter mile passes. Here in the UK, Sammy did a burnout,
rocket funny car style, sending billows of peroxide smoke into
the UK skies. An interesting note was that Sam always fueled
his car at least a quarter mile from spectators and other race
cars and the fuel for his car was only available in Germany.
Sam "The Rocketman" did his thing at his adopted home track
of Santa Pod Raceway in the UK. Miller blistered the English
quarter mile in 1984 with a blast of 3.58 at 386.26 mph making
him the quickest and fastest funny car ever.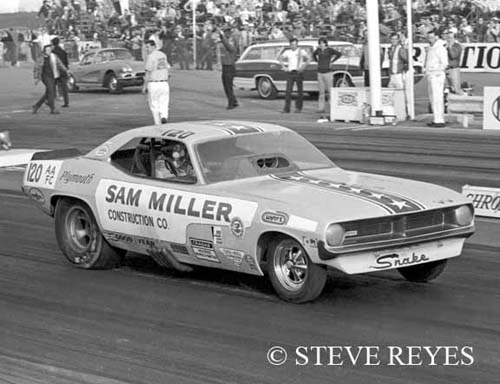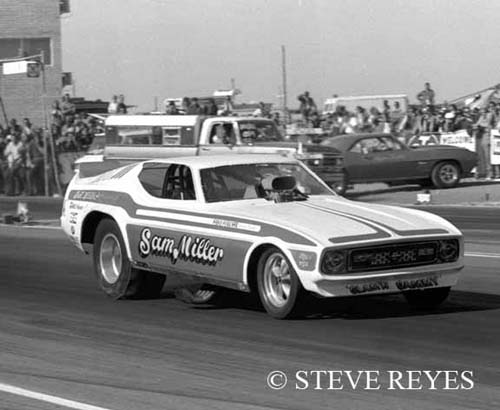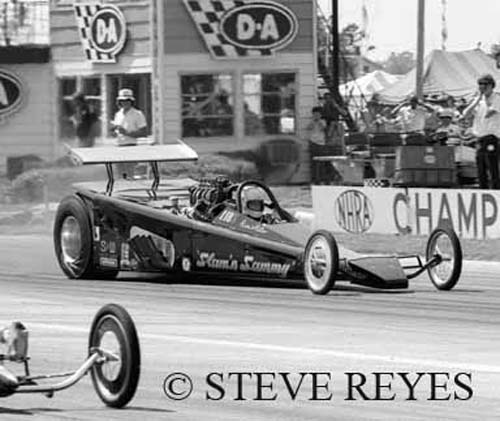 Miller's first funny car was the ex-Prudhomme Hot Wheels 'Cuda
that he purchased in late 1970. Upon receiving his all new AA/FC
in early 1971, the 'Cuda was sold to New Jersey's Ken Poffenberger.
Poffenberger raced the car into 1972 but at an eighth mile track in
Utica, New York, the throttle stuck. This caused the car to run off
the end of the track, flip end over end, destroying the 'Cuda.
Thankfully Poffenberger was OK. Sammy won his only NHRA National
event at the 1971 Grandnationals in Canada. In 1972, Sammy got a
new Mustang for himself but at the NHRA US Nationals, he had a
huge fire and suffered serious burns. When he recovered from his burns,
he piloted a "shorty" wedge style top fuel dragster in 1973.
The following year, he was back in a Mustang II bodied funny car.
However, once he took a ride in Tony Fox's Pollution Packer rocket,
he quit nitro racing and vowed to go rocket racing.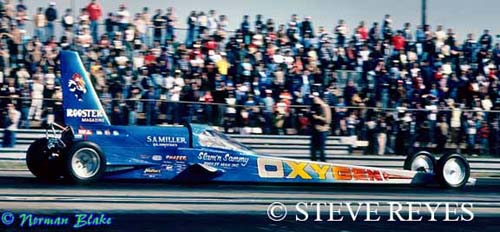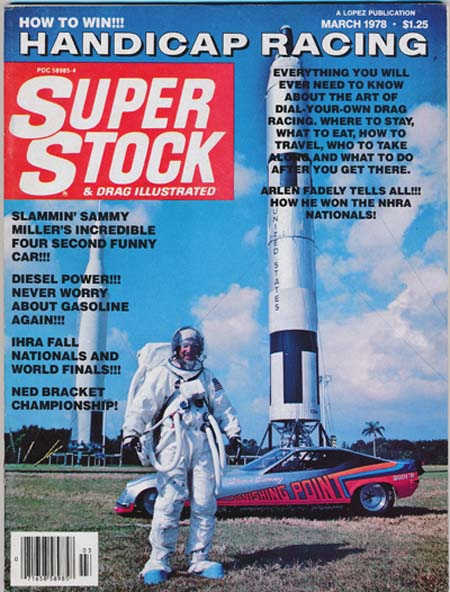 NHRA: 10 Most Recent Entries [ top ]

Jun 24- NORWALK - Sunday Video
Jun 24- NORWALK - Pro Mod Wrap Up
Jun 24- NORWALK - E3 Spark Plugs NHRA Pro Mod Drag Racing Series Championship Points
Jun 24- NORWALK - SAM Tech.edu NHRA Factory Stock Showdown Championship Points
Jun 23- NORWALK - Championship Points
Jun 23- NORWALK - Bonus Points
Jun 23- NORWALK - Sunday Wrap Up
Jun 23- NORWALK - Summary of Eliminations in Top Fuel
Jun 23- NORWALK - Summary of Eliminations in Funny Car
Jun 23- NORWALK - Summary of Eliminations in Pro Stock