Fri, 21 Dec 2018, 08:25 AM



Bristol Dragway Embarks on Exciting 2019 Season



Courtesy of BMS Communications



Highlights:
• Dragway schedule highlighted by the 19th annual NHRA Thunder Valley Nationals on Father's Day weekend (June 14-16)
• Bristol Chevy Show returns as one of the largest Chevrolet display events in the country (Sept. 27-29)
• Two new events come to Thunder Valley in 2019, Street Car Takeover (April 26-28) and Hot Rod Power Tour (June 10)
• Bristol Dragway will once again host the future stars of drag racing with the NHRA Junior Drag Racing League Eastern Conference Finals (July 18-20)
• Competitor favorites such as Fall Fling 500K, Street Fights and the DER Bracket Racing Series return in 2019

BRISTOL, Tenn.- The roar in Thunder Valley is back and better than ever in 2019, as Bristol Dragway plays host to a combination of fan-favorites, including the ground-pounding action of the NHRA Mello Yello Drag Racing Series, and new events, including the Street Car Takeover and Hot Rod Power Tour.
Highlighted by the 19th annual NHRA Thunder Valley Nationals on Father's Day weekend, June 14-16, the historic dragstrip will showcase the thunderous engines and extreme speeds of the exotic machines in Top Fuel, Funny Car, Nitro Harley and Pro Mod, creating a unique experience for Dad and plenty of high-performance thrills for the entire family. Every ticket is a pit pass, providing guests with unparalleled access to drivers and teams throughout the weekend. Single day tickets start at just $25. Families are encouraged to come to the track on Father's Day for Doughnuts with Dad and when kids 12-and-under are free.
The one-of-a-kind Father's Day visceral experience is the only stop for NHRA's marquee circuit in the state of Tennessee. However, that isn't the only reason for a hot-rodding enthusiast to be excited about 2019 at Bristol Dragway.
New for the 2019 season, Bristol Dragway welcomes Street Car Takeover and Hot Rod Power Tour to its season schedule. Street Car Takeover, April 27, will showcase some of the fastest street cars in the country competing in a multitude of classes for racers, including roll racing and drag racing. Bristol will also host a stop on the 2019 Hot Rod Power Tour, which will visit seven venues in seven days throughout the country with a stop at the famed Thunder Valley on Monday, June 10.
"Bristol Dragway is a legendary facility that is always striving to bring the very best in drag racing to our region," said Jerry Caldwell, general manager of Bristol Motor Speedway and Dragway. "The 2019 schedule showcases some of the greatest drag racing events in the country. From our mainstay events such as the NHRA Thunder Valley Nationals and the Bristol Chevy Show to our new events, it will be another great season in Thunder Valley."
Once again, Bristol will play host to one of the largest Chevy shows in the country, Sept. 27-29. The Bristol Chevy Show will offer a glimpse of many of the best classic and modern Chevrolet's in the region. The event includes drag racing, a car show, swap meet, and more.
The Bristol Chevy Show will once again be paired with the exciting Beef 'O'Brady's Thunder Valley Mayhem, which will feature fast cars, exhibition racing and exciting entertainment for the whole family. Complete with fireworks, the extravaganza will be held Saturday evening, Sept. 28.
Back by popular demand, Street Fights Saturday Nights returns with six Saturdays with expanded programming including drifting events, car shows, nightly contests and much more. As always, drag racing enthusiasts will be able to tackle the famed quarter-mile in street legal rides. Gates will open at 5 p.m. with racing beginning at 6 p.m. Admission for guests is $10 and racers can compete for $15 ($20 for trailered racers).
The DER Bracket Racing Series returns for its 10th season with six weekends of bracket racing that features categories ranging from Super Pro to Junior Dragsters.
During the latter half of the season, Bristol Dragway is home to three of the largest bracket races in the country, giving racers
The sport of NHRA drag racing's next generation of drivers (ranging in age from six to 17) will take to Thunder Valley once again in 2019. The region will welcome more than 500 young racers and their families for a week full of racing activities beginning July 13th with the Huddleston Performance Jr. Dragster Nationals presented by Mike Bos Chassis Craft, and culminating July 18-20 at the NHRA Jr. Drag Racing Eastern Conference Finals. Bristol Dragway has played host to the Eastern Conference Finals since 2004.
The two other prestigious bracket races hosted at Bristol Dragway are the World Footbrake Challenge XIII, July 4-7 and the Fall Fling 500K, which will be held Sept. 17-21. The World Footbrake Challenge features the best footbrake racers in the country battling it out for large daily payouts, while the Fall Fling 500K, in its 10th year, brings the nation's best Super Pro racers together at the chance of ceasing life-changing money.
For more information on events at Bristol Dragway and to purchase tickets, please visit www.bristolmotorspeedway.com or call 423-BRISTOL.

2019 Bristol Dragway Schedule

April 5-7           Food City 500 NASCAR weekend (Speedway)
April 13            Street Fights #1
April 27            Street Car Takeover
May 3-5           DER Bracket Racing Series
May 10-11       DER Bracket Racing Series
May 18            Street Fights #2
May 24-26       DER Bracket Racing Series
May 31-June 1 Short Track U.S Nationals (Speedway)
June 10            Hot Rod Power Tour
June 14-16       NHRA Thunder Valley Nationals
June 22            Street Fights #3
June 28-30       DER Bracket Racing Series
July 4-7            World Footbrake Challenge XIII
July 12-20        Junior Drag Week (Huddleston Performance Jr. Drag Racing Nationals presented by
Mike Bos Chassis Craft and NHRA Jr. Drags Eastern Conference Finals)
July 13             Beef 'O' Brady's Monster Truck Madness (Speedway)
July 26-28        DER Bracket Racing Series
Aug. 3              Street Fights #4
Aug. 15-17       Bass Pro Shops NRA Night Race NASCAR week (Speedway)
Sept. 7             Street Fights #5
Sept. 13-15      DER Bracket Racing Series
Sept. 17-21      Fall Fling 500K
Sept. 27-29      Bristol Chevy Show
Sept. 28           Beef 'O' Brady's Thunder Valley Mayhem
Oct. 5               Street Fights #6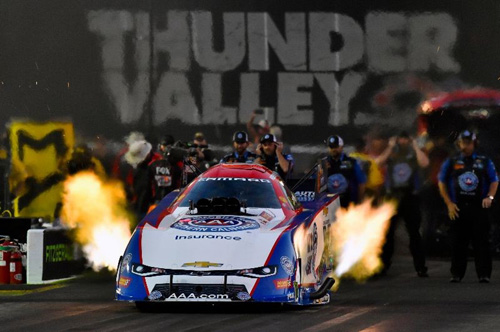 The NHRA Thunder Valley Nationals brings
some of the most powerful race cars in
the world to Northeast Tennessee during Father's Day weekend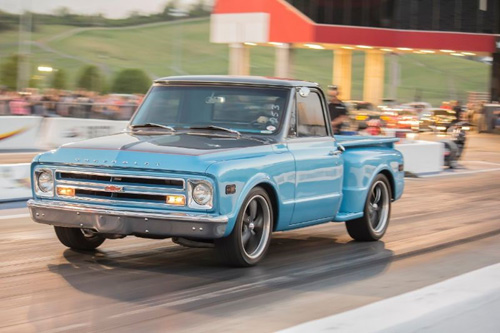 The fan-favorite Street Fights Saturday Nights
program allows drivers to hit the
dragstrip in street legal rides




NHRA: 10 Most Recent Entries [ top ]

Jan 14- Brian Preszler Wins First World Championship
Jan 14- Tickets on Sale for Amalie Motor Oil NHRA Gatornationals
Jan 14- Tickets on Sale for NHRA Southern Nationals
Jan 12- Christopher Dodd Wins First World Championship
Jan 10- Jody Lang Wins First World Championship
Jan 08- Bryan Worner Wins Super Stock World Title
Jan 07- Craig Bourgeois Wins his Second World Championship
Jan 05- Aaron Stanfield Wins Factory Stock Showdown Championship
Jan 04- Randal Andras Wins Top Fuel Harley Title
Dec 31- Veteran Tuner Mike Green Joins Justin Ashley Racing