Mon, 17 Dec 2018, 11:02 AM



Top 5 Blown Alcohol Thunder Finishers Honored



Courtesy of Rich Bailey



YAKIMA, Wash. --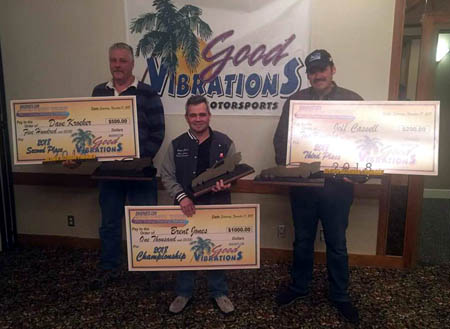 left to right: Dave Kroeker, Bent Jones and Jeff Cassell
The top five finishers in the DragParts.com Blown Alcohol Thunder Series were awarded for their great season at the posh Howard Johnson Plaza Hotel in Yakima, Washington. The awards event was held in conjunction with the Renegade Raceway Award Banquet held simultaneously.
Leading the way with his third Championship title was none other than Brent Jones of Stevensville, Montana. Runner up honors went to Canadian Dave Kroeker, the third place recipient was Spokane's Jeff Cassell, Jim Seivers had a very impressive season by taking fourth place and Dave Newton rounds out the top five. In addition, special awards were also given out in several different categories.
This season, the six race series began in Boise with stops in Spokane, Yakima, Billings, Butte before returning to Spokane. The Blown Alcohol Thunder competitors would like to thank Good Vibrations Motorsports, TCS Torque Converters and Flatline Fabrication for their support of the series in 2018.




Drag News: 10 Most Recent Entries [ top ]

Jun 16- BOWLING GREEN HRR - 7.5 PRO Qualifying, Friday Final Order
Jun 16- BOWLING GREEN HRR - 6.0 Qualifying, Friday Final Order
Jun 16- BOWLING GREEN HRR - ScotRods Qualifying, Friday Final Order
Jun 16- BOWLING GREEN HRR - ScotRods Eliminations Ladder
Jun 16- BOWLING GREEN HRR - Modified Eliminator Qualifying, Friday Final Order
Jun 16- BOWLING GREEN HRR - Comp Eliminator Qualifying, Friday Final Order
Jun 16- BOWLING GREEN HRR - 7.0 PRO Qualifying, Friday Final Order
Jun 16- BOWLING GREEN HRR - Gas Qualifying, Friday Final Order
Jun 16- BOWLING GREEN HRR - Top Stock Eliminator Qualifying, Friday Final Order
Jun 16- BOWLING GREEN HRR - Geezer Gassers Qualifying, Friday Final Order