Mon, 10 Dec 2018, 12:21 PM



Sonoma Raceway Announces 50th Anniversary Celebration for 2019 Season



Courtesy of Diana Brennan



SONOMA, Calif. --
Sonoma Raceway will celebrate 50 years of racing during its 2019 race season, as the motorsports facility hosts a full slate of on-track activity while looking back at its incredible history in the Sonoma Valley.
The raceway kicked off its anniversary celebrations earlier this year, marking the 50th anniversary of the facility's groundbreaking on Aug. 14, 1968. Paving was completed on the road course in November of that year, and the raceway hosted its first non-spectator event, an SCCA Enduro, on Dec. 1, 1968. The raceway went on to host its first full season of racing in 1969, which included NHRA drag racing, AMA motorcycle racing and SCCA road racing.
The raceway unveiled its 50th anniversary logo, which includes a nod to the raceway's signature Sears Point Raceway emblem. The 50th anniversary logo will be prominently featured throughout the 2019 season, including merchandise and promotional materials.
Honoring the raceway's history and memorable moments will be at the heart of the raceway's efforts in 2019, including celebrations to mark significant milestones in the raceway's history, signature celebrations at the raceway's major events featuring drivers and legends, and plenty of throwback images and memorabilia.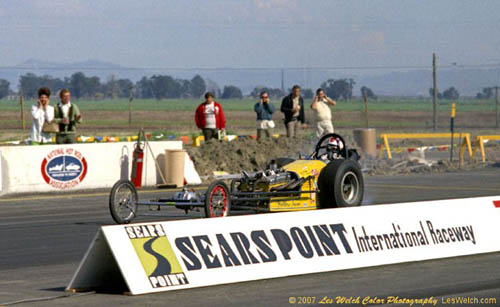 Photo by LesWelch
"Sonoma Raceway's legacy over the last half century covers the spectrum from iconic professional stars to thousands of amateur enthusiast racers who have turned laps on our road course or accelerated down the quarter-mile," said Steve Page, Sonoma Raceway president and general manager. "We look forward to celebrating with all of them in the coming year, and honoring our incredible history."
Race fans are invited to get in on the fun by sharing their personal memories, stories and pictures from events at Sonoma Raceway at www.sonomaraceway.com/50 or on social media using the hashtag #Race50noma.
On track, the 2019 major event schedule will be highlighted by the 31st return of the Monster Energy NASCAR Cup Series for the Toyota/Save Mart 350 (June 21-23) and the 32nd NHRA Sonoma Nationals (July 26-28).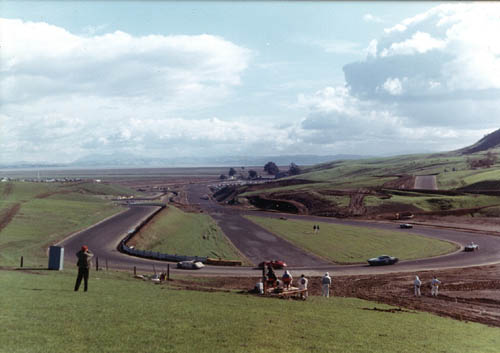 Turn 7
The raceway announced earlier this year that NASCAR will return to the circuit's historic 12-turn, 2.52-mile road-course layout for the 2019 Toyota/Save Mart 350. The full track layout incorporates the raceway's signature sweeping downhill corner known as "The Carousel." The Carousel plunges from Turn 4, down through Turns 5 and 6 and navigates a more than 200-degree radius turn before dropping onto the raceway's longest straightaway into the Turn 7 hairpin.
The 2019 Sonoma Raceway calendar also features a number of new events, including the Sonoma Speed Festival historic car races (May 31-June 2) and the Blancpain GT World Challenge America Series (June 7-9), as well as a number of fan favorites, including the NHRA Division 7 Drag Races, presented by Korbel (July 17-21), MotoAmerica's CycleGear Championship of Sonoma (Aug. 10-11) and the CSRG Charity Challenge (Oct. 4-6). Make the Future California Featuring Shell Eco-Marathon Americas (April 3-6) returns for the second consecutive year.
For more information or to purchase tickets for any of the 2019 events at Sonoma Raceway, visit www.sonomaraceway.com or call 800-870-7223.
The complete major event schedule for Sonoma Raceway's 50th anniversary season:
• Make the Future California Featuring Shell Eco-Marathon Americas - April 3-6
• Sonoma Speed Festival, Historic Car Racing - May 31-June 2
• Blancpain GT World Challenge America Series - June 7-9
• Toyota/Save Mart 350, Monster Energy NASCAR Cup Series - June 21-23
• NHRA Division 7 Drag Races, presented by Korbel - July 17-21
• NHRA Sonoma Nationals, NHRA Mello Yello Drag Racing Series - July 26-28
• CycleGear Championship of Sonoma, MotoAmerica - Aug. 10-11
• CSRG Charity Challenge, Historic Car Racing - Oct. 4-6

SONOMA RACEWAY HISTORICAL HIGHLIGHTS
In 1968, a twisting 12-turn, 2.52-mile road course and a quarter-mile drag strip were carved into the rolling hills at the gateway to the Sonoma Wine Country. Over the last 50 years, Sonoma Raceway has hosted an incredible number of events and memorable moments. Here are a few of the highlights:
August 14, 1968: Ground was broken for the new facility and paving of the race surface was completed in November.
December 1, 1968: First non-spectator shakedown event at Sears Point Raceway, a Sports Car Club of America (SCCA) Enduro.
March 8-9, 1969: The San Francisco National Open marks the first NHRA-sanctioned drag race in Sonoma.
March 29-30, 1969: National Championship points event under SCCA sanction marks first road-course spectator event.
June 8, 1969: Sears Point Raceway hosts its first NASCAR Pacific Coast Late Model Division race. The race was won by Ray Elder in his 1969 Dodge.
April 4, 1970: Dan Gurney wins 150-mile USAC IndyCar race with a field that included Mario Andretti, Mark Donahue and Al Unser.
1973: Hugh Harm of Belvedere and Parker Archer of Napa arranged to lease the track through Filmways vice president Lee Moselle for $1 million. Bob Bondurant moves the Bob Bondurant School of High Performance Driving to Sears Point Raceway.
1974: American Motorcycle Association national motocross races in the hills north of Turn 7.
July 24-25, 1976: Raceway hosts first IMSA GT Championship race in Sonoma.
1977: Paul Ritter wins the first-ever AMA Superbike race on a Ducati.
1981: The Long Beach Grand Prix Association, headed by Chris Pook, decides to rename the track Golden State International Raceway.
1985: The track is completely repaved, in part with funds donated from the "Pave the Point" fund-raising campaign.
April 25, 1987: Sears Point Raceway hosts its first NASCAR Featherlite Southwest Series race, won by Roman Calczynski.
July 31, 1988: The first NHRA nationals were a resounding success, with an estimated 32,000 spectators on hand. The winners were Joe Amato (Top Fuel), Mark Oswald (Funny Car) and Harry Scribner (Pro Stock).
June 11, 1989: The NASCAR Winston Cup Series makes its debut in Sonoma for the Banquet Frozen Foods 300. Ricky Rudd won the inaugural event over Rusty Wallace.
1992: Save Mart Supermarkets becomes title sponsor of the annual NASCAR Cup Series event.
October 7, 1995: Sonoma hosts its first NASCAR Truck Series race, which is won by Ron Hornaday, Jr. The raceway hosts three truck series races.
1996: The track is purchased by O. Bruton Smith and Speedway Motorsports, Inc.
June 26, 1999: Kurt Busch wins the Snap-On 200 and is discovered by Jack Roush, who soon signs him for his first NASCAR Cup Series ride.
July 25, 1999: Professional sports car racing makes its return to Sonoma with the American Le Mans Series. JJ Lehto and Steve Soper won the inaugural event for BMW Motorsport.
June 22, 2002: The facility announces that is has been renamed Infineon Raceway as part of a 10-year strategic partnership with Infineon Technologies.
August 28, 2005: INDYCAR racing returns to the Sonoma Valley after a 35-year hiatus. Tony Kanaan claimed the inaugural victory and did push-ups in the Wine Country Winner's Circle.
August 26, 2006: The Grand American Rolex Sports Car Series makes its debut in Sonoma. Auburn's Scott Pruett and teammate Luis Diaz took the checkered flag.
2008: Kyle Busch earns his first NASCAR Cup Series road-course victory when he takes the checkered flag. His victory also marks the first win for Toyota in the Sonoma Valley.
2012: The 10-year partnership with Infineon Technologies ends and the raceway is rebranded Sonoma Raceway.
2016: Tony Stewart claims the last victory of his historic Cup Series career. It marked his third Sonoma Raceway win and ended an 84-race winless streak.




NHRA: 10 Most Recent Entries [ top ]

Jan 15- 2021 NHRA Schedule Change Announced
Jan 14- Brian Preszler Wins First World Championship
Jan 14- Tickets on Sale for Amalie Motor Oil NHRA Gatornationals
Jan 14- Tickets on Sale for NHRA Southern Nationals
Jan 12- Christopher Dodd Wins First World Championship
Jan 10- Jody Lang Wins First World Championship
Jan 08- Bryan Worner Wins Super Stock World Title
Jan 07- Craig Bourgeois Wins his Second World Championship
Jan 05- Aaron Stanfield Wins Factory Stock Showdown Championship
Jan 04- Randal Andras Wins Top Fuel Harley Title