Thu, 22 Nov 2018, 10:08 AM



Thornton's Win Headlines Historical SCSN 4-Wide with a Twist



Courtesy of Brandon Mudd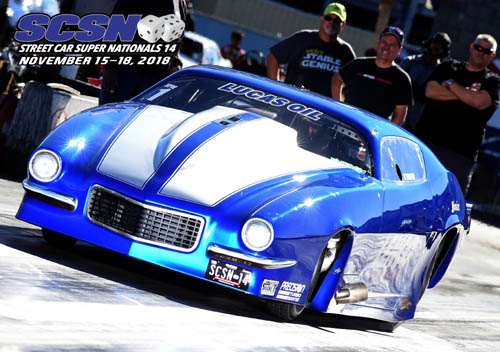 Photo by Robert Grice/Extreme Photos
LAS VEGAS-
Rick Hord won the annual Pro Mod Shootout exhibition race. He earned top qualifier honors with ease. Winning the class finals of the 14th running of the Nitrous Outlet Street Car Super Nationals Presented by FuelTech seemed a foregone conclusion. However, things at The Strip at Las Vegas Motor Speedway rarely go as forecasted this time of year as Ed Thornton, who qualified second in Precision Turbo Pro Mod, took the victory in a solo pass.
Hord, who had a bye run in the semifinals, had suffered engine damage and was only able to stage and break the starting line beams to advance to the finals. The Florida native was unable to answer the call to the finals, effectively handing the victory to Thornton, who provided the fans with a show by rocketing to the win with a lap of 5.543 seconds at 274.61 mph. Hord was the polesitter thanks to an official pass of 5.587 seconds despite laying down a 5.52 during his Pro Mod Shootout run. Thornton had the fastest car on the property by a lot, his qualifying speed a 270 mph pass.
"We put a tuneup for (Hord) in it, so that's what he would've got," Thornton said after the race in the Winners Circle. "The whole weekend, we've been trying to figure out who to get there and we got there!"
Thornton earns his first-ever SCSN victory after more than ten attempts.
The much-hyped 4-Wide With A Twist proved to live up to expectations, providing some of the best racing in the history of the event. Whether it was the ability to move quickly between radial tire and slick tire racing thanks to the extra two lanes, or the history-making 4-Wide $10K to win grudge match, it created a new level for the legendary drag race.
In MagnaFuel Outlaw 10.5 action, Mike Keenan continued the trend of No. 2 beating No. 1 when he treed Mark Woodruff with a reaction time of .059 seconds versus Woodruff's .117 seconds. The quicker launch allowed Keenan a holeshot victory of 3.945 seconds at 201.10 mph over Woodruff's pass of 3.909 seconds at 205.88 mph.
In fact, of the finalists who were also top qualifiers, only Dan Dagata of the Ross Pistons 235 Limited class earned a win, beating Mike Silva with a run of 5.268 seconds at 134.40 mph.
No-Time racing was given a grand stage at SCSN 14, with Big- and Small-Tire shootouts as well as the Ultimate 8 Series with a $20,000 check to the winner. In Flying A Motorsports Small Tire, Frank Yee earned the win with John De Jonge--one of a regular contingent of Canadian racers--taking the victory in Hughes Perf Big Tire. Daniel Pharris took the twenty large from Roger Holder in an incredible finale to the Ultimate 8.
"That's why we race," said SCSN Promoter Mel Roth. "If you looked at the qual sheets for all these races, you'd probably say the top qualifiers had the advantage for a lot of reasons. When only one top qualifier can leave here with a trophy, that says anyone has a shot to win. We make this race a challenge for a reason. It doesn't matter how much money you have in your car when that fifty-cent piece lets go in the semis.
"I'm extremely proud of all our racers, our staff, the incredible work the track crew provided, and what I think was the best Sunday of racing we've had here in a really long time. Can we go ahead and get SCSN 15 started now?"
Other finals results:
Mickey Thompson X275: Clint Downs (4.412 seconds, 160.77 mph) over John Urist (4.418 seconds, 162,72 mph)
Vortech Outlaw 8.5: Derek Cooper (4.719 seconds, 155.88 mph) over Brad Medlock (8.922 seconds, 63.72 mph)
MagnaFuel XDR: Josh Edwards (4.315 seconds, 173.41 mph) over Matt Bell (4.346 seconds, 183.24 mph)
MMR Open Comp: Donnie Bowles (10.265 seconds, 130.44 mph) over Brent Calvert (8.760 seconds, 154.42 mph)
Accufab Mustang Maddness: Brent Calvert (8.795 seconds, 155.70 mph) over Jason Biscay (11.675 seconds, 111.56 mph)
Extreme Triple Index: Sergio Felipe Crespo (10.562 seconds, 120.79 mph) over Ron Dehoop (10.559 seconds, 124.03 mph)
Edelbrock Super Index: Nick Kendrick (8.588 seconds, 157.78 mph) over Troy Lind (9.537 seconds, 142.64 mph)
Calvert Non-Electronics: Mark Beavin (11.096 seconds, 102.93 mph) over Lisa Johnson (11.877 seconds, 97.59 mph)
Unlimited Prod Electronics: Mike Rock (8.121 seconds, 149.81 mph) over Mark Beavin (10.984 seconds, 107.79 mph)

Make your plans TODAY for Street Car Super Nationals 15 at The Strip at Las Vegas Motor Speedway Nov. 20-24, 2019!




Drag News: 10 Most Recent Entries [ top ]

Aug 11- Scott Oksas Scores Career-Defining Win With $100,000 Victory at World Series of Pro Mod
Aug 11- Oksas, 'Stevie Fast' and Hord Impress at Day One of World Series of Pro Mod
Aug 08- Garrett Advancing Motion Joins World Series of Pro Mod as Event Sponsor
Aug 08- Couldn't Stay Away- Stevie 'Fast' Jackson Headed Back to WSOPM with Winning on His Mind
Aug 07- Texas Motorplex Hosts Second annual American Jr. Dragster Challenge to Benefit Children's
Aug 07- Jeff Jones Scores First MWPMS Win at Xtreme Raceway Park
Aug 07- 'Embedded' Behind-the-Scenes Video Series, SpeedVideo Live Stream
Aug 07- Mick Snyder on Racing Top Sportsman at WSOPM
Aug 07- Adkins and Oakley are NHRA JEGS Super Quick Wally Winners at Kil-Kare Double
Aug 07- Winters Returning to Bandimere Speedway with One Goal