Thu, 27 Sep 2018, 22:34 PM



IHRA Division 5 Summit Team Finals Race Report



Courtesy of IHRA Communications



MARTIN, Mich. -
US 131 Motorsports Park repeated as champions at the International Hot Rod Association (IHRA) Division 5 (Thunder) Team Finals held over the weekend at their home facility.
US 131 captured the team title 51-38 over Muncie Dragway which finished runner-up for a second straight year. The competition included some of the most iconic tracks in the Midwest and Canada.
Other tracks who participated were: Bunker Hill Dragstrip, Central Illinois Dragway, Cordova International Raceway, Eddyville Raceway Park, Grand Bend Motorplex, Great Lakes Dragaway, Mid-Michigan Motorplex, Onawa Racing and Events Complex, Osecola Dragway, St. Thomas Raceway Park, Ubly Dragstrip, US 41 Motorplex and Wisconsin International Raceway
Leading up to the main event, racers participated in Gambler's races and "best of" awards.
Main Event:
Top Marty McKinney (Muncie) won on a holeshot with a .003 reaction time to a .016 for Grant Zimmerman (Cordova). McKinney had a 6.35-second elapsed time at 105.16 mph against a 6.34 dial-in. McKinney matched his 6.42 dial-in and finished at 105.29 mph.
Mod Donnie Hagar (US 131) had both the faster reaction time at .022 and matched his 6.40 dial-in on a 107.14 mph run. Rich Perdue (Ubly) was runner-up with a 6.02 second pass at 113.32 mph against a 6.03 dial-in.
Street Steve Mesik (US 131) won with a .025 reaction time as Jordan Wilhelm (Muncie) red-lighted. Mesik had an 8.21-second run at 80.73 mph against an 8.20 dial-in. Wilhelm went down the track in 7.47 seconds at 90.05 mph against an 7.50 dial-in.
Junior Dragster Evan Mulcher (US 131) had a .038 reaction time and added a 9.10-second pass at 69.09 mph. Mason Osborne (Great Lakes) finished runner-up with an 8.03-second run at 77.21 mph along with a .090 reaction time.
Other Results
Team Captains Race
Mark Krumanaker (Muncie) was the winner with an 11.24-second run against an 11.16 dial-in, paired with a .031 reaction time. Lindsay Sarauer (Great Lakes) made a 9.84-second pass against a 9.72 dial-in with a .029 reaction time.
Friday's Gambler's Race Top - Steve Riggins (Muncie) 7.06 on a 7.03 dial-in, .040 reaction time defeated Todd Strefling (Osecola), 4.94 on a 4.95 dial-in, .050 reaction time.
Mod - Stan Jones Jr. (US 131) 5.97 on a 5.99 dial-in, -.005 reaction time defeated Nathan Schroeder (Cordova) 6.06 on a 6.07 dial-in, -.009 reaction time.
Junior - Mason Osborne (Great Lakes) 8.09 on an 7.97 dial-in, .021 reaction time defeated Peyton Gortney (Osecola) 7.93 on a 7.92 dial-in, -.082 reaction time.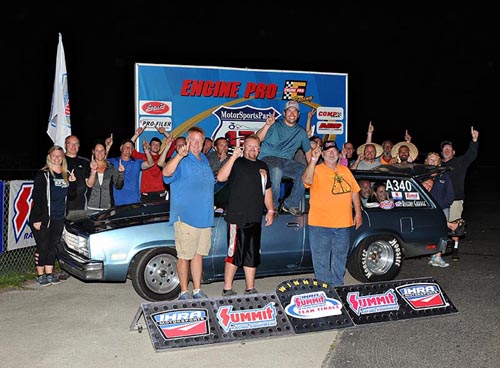 Steve Riggins Friday Gambler Winner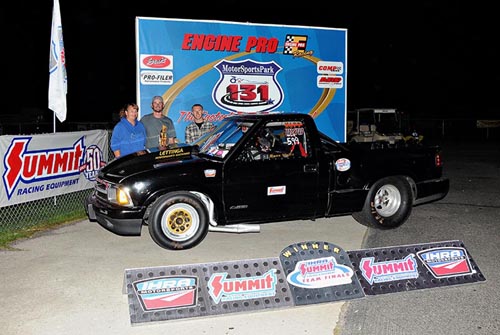 Stan Jones Jr. Friday Gambler Winner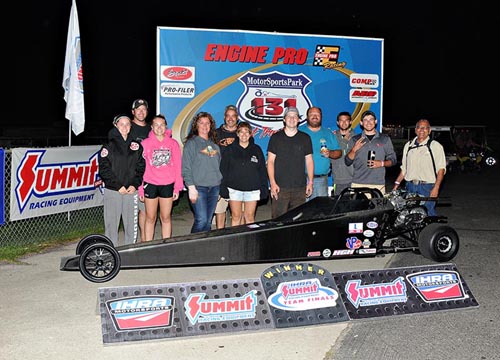 Mason Osborne Friday Gambler Winner
Sunday's Gambler's Race
Top - Lane Ledford of Stanton, Mich., 8.36 on a 4.87 dial-in, .029 reaction time defeated Jace Deering of Clinton, Iowa 6.85 on a 6.85 dial-in, -.003 reaction time.
Mod - Jordan Wilhelm of Delphos, Ohio 6.77on a 6.76 dial-in, .001 reaction time defeated Donnie Hagar of Clark Lake, Mich., 6.42 on a 6.41 dial-in, .032 reaction time.
Junior - Kenzie Lieferman of Comanche, Iowa 7.99 on an 8.00 dial-in, .206 reaction time defeated Tyler Howard of Battle Creek, Mich., 8.91 on an 8.90 dial-in, -.101 reaction time.
 
Special Awards
Best Appearing Open Bodied Car - Joe Bauman, Mid-Michigan Motorplex
Best Engineered Open Bodied Car - Don Speer, Cordova International Raceway
Best Appearing Full Bodied Car - Rex Ambrose, Bunker Hill Dragstrip
Best Engineered Full Bodied Car - Jeff Kirkpatrick, Muncie Dragway 
Best Appearing Junior Dragster - Kyla Feit, Great Lakes Dragaway
Best Engineered Junior Dragster - Corbin Dittenber, Mid-Michigan Motorplex
Best Appearing Motorcycle - Calvin Hill, Osecola Dragway
Best Engineered Motorcycle - Josie Brooks, Grand Bend Motorplex
Best Team Spirit - Mid-Michigan Motorplex
Best Appearing Sponsor Banner - St. Thomas Raceway
Best Appearing Grandstands - Muncie Dragway
Best Appearing Team - US 131 Motorsports Park
SSS Track of the Year - Bunker Hill Dragway

Team Standings
1. US 131 Motorsports Park           51
2. Muncie Dragway                    38
3. Mid-Michigan Motorplex		     34
4. US 131 (Team 2)			         33
5. Muncie (Team 2)		             30
6. Cordova International Raceway	 29
7. Great Lakes Dragaway		         24
8. Grand Bend Motorplex		         21
9. Osecola (Team 2)			         19
10. Mid-Michigan (Team 2)		     19
11. Grand Bend (Team 2)		         18
12. St. Thomas Raceway Park		     17
13. Osceola Dragway			         14
14. US 41 Motorplex			         13
15. Ubly Dragway			         10
16. Bunker Hill (Team 2)		     10
17. Bunker Hill Dragstrip		     10
18. Wisconsin International Raceway	  9
19. US 41 (Team 2)			          3
20. Central Illinois Dragway		  2
21. St. Thomas (Team 2)		          2
22. Onawa Racing and Events Complex	  1
23. Eddyville Raceway Park		      0





IHRA: 10 Most Recent Entries [ top ]

May 20- IHRA Member Track Update
Mar 16- IHRA Sportsman Spectacular Events at Farmington and Holly Springs Postponed
Dec 03- Historic Mo-Kan Dragway Reaches Multi-Year Agreement with IHRA
Oct 24- Summit SuperSeries Champions Crowned at IHRA Summit SuperSeries World Finals
Oct 24- Summit Racing Equipment Renews Commitment to IHRA Summit SuperSeries in 2020
Oct 08- Beacon Dragway Chosen as IHRA Division 2 Track of the Year
Oct 08- London Dragway Emerges With Win at IHRA Division 2 Summit Team Finals
Oct 08- Xtreme Raceway Park Named IHRA Division 4 Track of the Year
Oct 07- Pine Valley Raceway Captures IHRA Division 4 Summit Team Finals Win
Oct 03- Beaver Springs Dragway Named IHRA Division 3 (North Stars) Track of the Year