Tue, 18 Sep 2018, 22:24 PM



Coughlin Jr. and Bellemeur Victorious at Maple Grove Raceway



Courtesy of NHRA Communications


Photo copyright 2018 Auto Imagery, Inc.





MOHNTON, Pa. --
In the final results from Maple Grove Raceway and the NHRA Lucas Oil Drag Racing Series, Troy Coughlin Jr., Delaware, Ohio, and Sean Bellemeur, Placentia, Calif., took home the wins in Top Alcohol Dragster and Top Alcohol Funny Car respectively.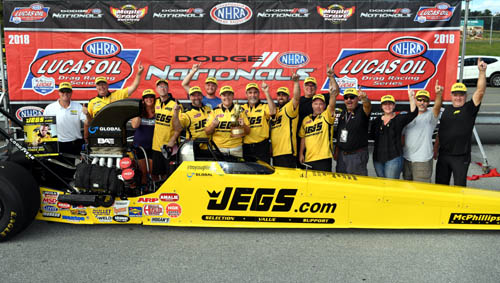 Troy Coughlin Jr. celebrates first TAD win.
Coughlin qualified number one and worked his way through the field taking out Brandon Greco and Duane Shields in rounds two and three, then went 5.328 seconds at 272.89 mph in his final round victory over Josh Hart, Ocala. Fla., who clocked in at 5.366 seconds, 273.66 mph.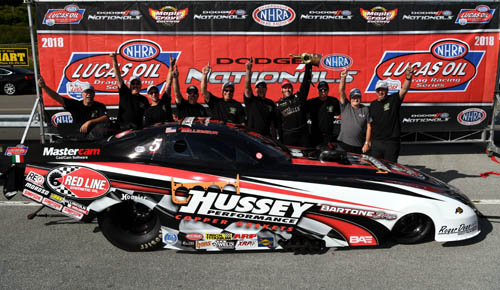 Sean Bellemeur celebrates his fourth win this season.
Bellemeur faced off against Phil Burkart, Yorkville, N.Y., and posted a winning run of 5.489 seconds, 268.28 mph in his '17 Chevy Camaro. Burkart drove to a 5.745 second, 261.52 mph lap for his runner up finish. The win is Bellemeur's third in a row at Maple Grove and the Dodge NHRA Nationals.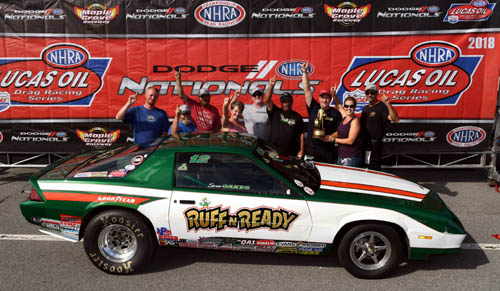 Shane Oakes celebrates his first win.
Shane Oakes, Ottsville, Pa., and Anthony Fetch, Colonia N.J., lined up for the Stock Eliminator final round. Oakes was a tick quicker off the starting line and he held on to take the win with a time of 11.144 seconds at 113.83 mph with this being his first national event win on the NHRA tour.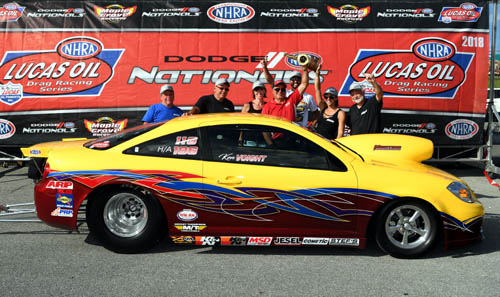 Tom Martino wins his second
consecutive Reading Wally.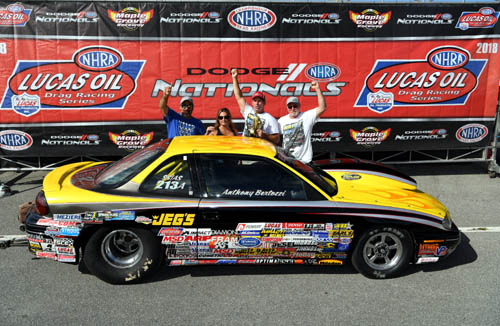 Anthony Bertozzi celebrates his 20th win.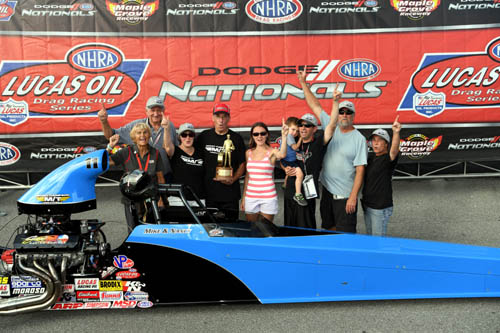 Mike Robilotto celebrates his fourth Wally.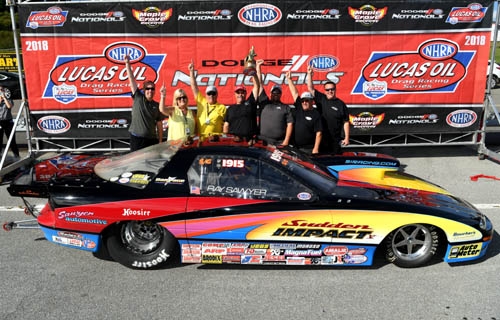 Ray Sawyer celebrates his sixth Wally.
Other racers visiting the winner's circle this weekend were Tom Martino, Farmingdale, N.J., in Comp Eliminator; Anthony Bertozzi, Ashland, Va., in Super Stock; Mike Robilotto, Albany N.Y., in Super Comp and Ray Sawyer, Acton, Mass., in Super Gas.
The following are the final results from the Reading NHRA Nationals and the Lucas Oil Drag Racing Series event at Maple Grove Raceway:
TOP ALCOHOL DRAGSTER
Troy Coughlin Jr., 5.328, 272.89 def. Josh Hart, 5.366, 273.66
TOP ALCOHOL FUNNY CAR
Sean Bellemeur, Chevy Camaro, 5.489, 268.28 def. Phil Burkart, Camaro, 5.745, 261.52
COMP ELIMINATOR
Tom Martino, Chevy Cobalt, 8.652, 147.13 def. Jay Schonberger, Olds Cutlass, 8.184, 160.94
SUPER STOCK
Anthony Bertozzi, Pontiac Grand Am, 9.062, 135.46 def. Anthony Bongiovanni, Ford Mustang, 8.919, 153.30
STOCK ELIMINATOR
Shane Oakes, Camaro, 11.144, 113.83 def. Anthony Fetch, Camaro, 10.075, 118.21
SUPER COMP
Mike Robilotto, Dragster, 9.027, 174.96 def. Chris Garretson, Dragster, 8.893, 129.23
SUPER GAS
Ray Sawyer, Chevy Camaro, 9.932, 175.62 def. Dale Koncen, Chevy Corvette, Foul - Red Light




NHRA: 10 Most Recent Entries [ top ]

May 18- RICHMOND - Sunday Schedule
May 18- RICHMOND - Saturday Wrap Up
May 18- RICHMOND - Total Qualifying Bonus Points
May 18- RICHMOND - Pro Stock Motorcycle Qualifying, Session #4 Bonus Points
May 18- RICHMOND - Pro Stock Qualifying, Session #4 Bonus Points
May 18- RICHMOND - Top Fuel Qualifying, Session #4 Bonus Points
May 18- RICHMOND - Funny Car Qualifying, Session #4 Bonus Points
May 18- RICHMOND - Pro Stock Motorcycle Qualifying, Session #3 Bonus Points
May 18- RICHMOND - Pro Stock Qualifying, Session #3 Bonus Points
May 18- RICHMOND - Funny Car Qualifying, Session #3 Bonus Points