Mon, 06 Aug 2018, 17:59 PM



Champions Crowned in CatSpot NHRA Northwest Nationals



Courtesy of NHRA Communications


Photo copyright 2018 Auto Imagery, Inc.





KENT, Wash. --
Champions celebrated with their teams in winner circle as the CatSpot NHRA Northwest Nationals concluded Sunday evening at Pacific Raceways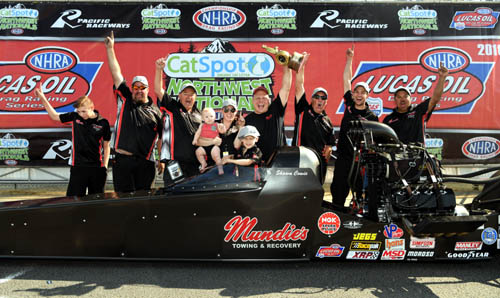 Shawn Cowie and crew celebrate his third National
event Wally this year and 13th of his career.
Northwest Top Alcohol Dragster rivals Joey Severance, Woodburn, Ore., and Shawn Cowie, Surrey, B.C., clashed in the final round. Severance took the lead out of the gate running 5.278 seconds, 274.16 mph. But Cowie was able to reel him in and pass him for the national event Wally trophy running 5.230 seconds, 277.26 mph.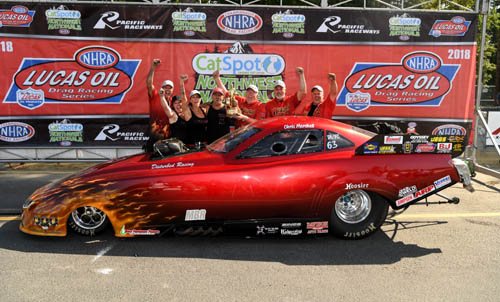 Chris Marshall and crew celebrate his first National event win.
In the Top Alcohol Funny car final round, Chris Marshall, McMinnville, Ore., made his final round debut lining up against defending 2017 Lucas Oil Drag Racing Series World Champion, Shane Westerfield, Anaheim, Calif. Westerfield took a strong lead running 5.510 seconds, 269.78 mph. But Marshall caught him down the stretch and outran Westerfield for the final round victory at 5.455 seconds, 269.19 mph.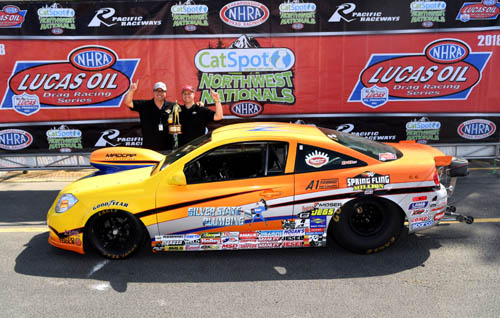 Justin Lamb and crew celebrate his 23rd National event win.
The defending 2017 Lucas Oil Super Stock World champion, Justin Lamb, Henderson, Nev., worked his way through the field, squaring off against Kory Alby, Coos Bay, Ore. Kirby hit a perfect reaction time, .000 seconds, but broke out giving Lamb the win. Lamb ran 8.519 seconds, 158.82 mph.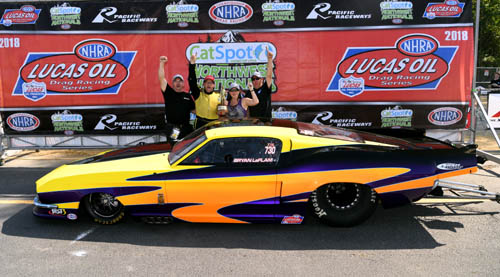 Bryan LaFlam and crew celebrate his first National event win.
Bryan LaFlam, Gilbert, Ariz., triggered a great light (.002 second reaction time) running 6.342 seconds, 224.47 mph to outpace James Rutherford, Webley Wash., for Top Sportsman presented by Racing RV's final round win.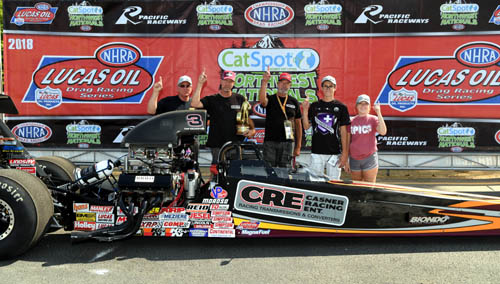 Steve Casner and crew celebrate his sixth National event win.
Steve Casner, Sheridan, Calif., took the starting line advantage and did not look back running 6.699 seconds, 198.99 mph, eliminating Andy Spiegel, Alton, Calif., from the Top Dragster presented by Racing RV's final final round.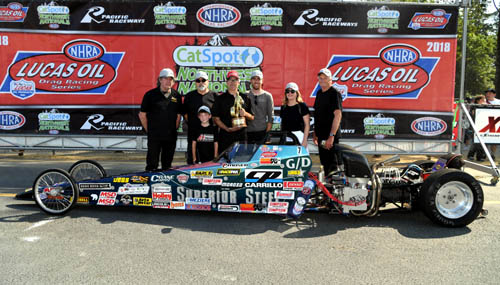 Brian Hyerstay and crew celebrate his fourth National event win.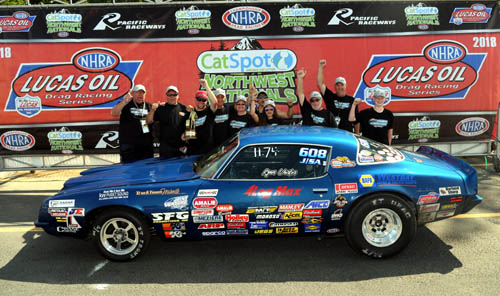 Ryan Warter and crew celebrate his first National event win.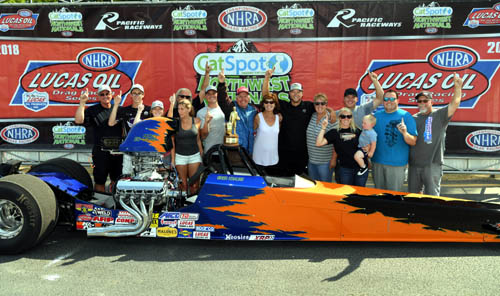 Greg Krause and crew celebrate his second National event win.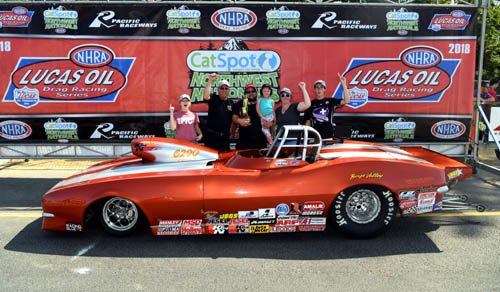 Gene Kelly and crew celebrate his first National event win.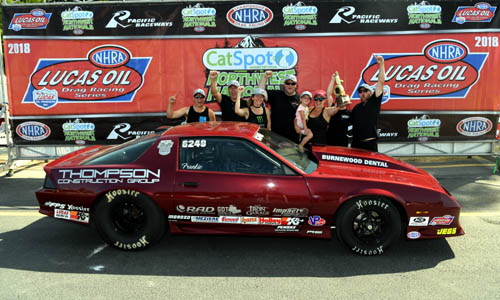 Francesca Giroux and crew celebrate her first National event win.
The other drivers visiting the winner's circle were Brian Hyerstay in Comp Eliminator, Ryan Warter in Stock, Greg Krause in Super Comp, Gene Kelly in Super Gas, and Francesca Giroux in Super Street.
The following are Sunday's final results from the CatSpot NHRA Northwest Nationals at Pacific Raceways:
TOP ALCOHOL DRAGSTER
Shawn Cowie, 5.230, 277.26 def. Joey Severance, 5.278, 274.16.
TOP ALCOHOL FUNNY CAR
Chris Marshall, Chevy Camaro, 5.455, 269.19 def. Shane Westerfield, Camaro, 5.510, 269.78.
COMP ELIMINATOR
Brian Hyerstay, Dragster, 8.825, 137.13 def. Ralph Van Paepeghem, Bantam Roadster, 7.322, 180.43.
SUPER STOCK
Justin Lamb, Chevy Cobalt, 8.519, 158.82 def. Kory Alby, Chevelle, 11.266, 110.95.
STOCK ELIMINATOR
Ryan Warter, Pontiac Firebird, 11.763, 109.28 def. Randi Lyn Shipp, Firebird, 10.636, 121.29.
SUPER COMP
Greg Krause, Dragster, 8.937, 173.81 def. Steve Williams, Dragster, 8.918, 185.97.
SUPER GAS
Gene Kelly, Chevy Camaro, 9.909, 161.05 def. Robert Naber, Chevy Corvette, 9.905, 162.57.
SUPER STREET
Francesca Giroux, Chevy Camaro, 10.891, 143.09 def. Steve Beggerly, Pontiac Firebird, 10.870, 147.62.
TOP SPORTSMAN PRESENTED BY RACING RV'S
Bryan LaFlam, Ford Mustang, 6.342, 224.47 def. James Rutherford, Ford Probe, 7.559, 180.65.
TOP DRAGSTER PRESENTED BY RACING RV'S
Steve Casner, Dragster, 6.699, 198.99 def. Andy Spiegel, Dragster, 6.723, 198.41.




NHRA: 10 Most Recent Entries [ top ]

Feb 15- Pleasanton Ready Mix Signs Associate Sponsorship with Mike Salinas' Scrappers Racing for 2019
Feb 15- Three NHRA Funny Car Champions Headline Charity Karting Event at Sonoma Raceway
Feb 15- Kids 12-and-Under Now Free for the NHRA Thunder Valley Nationals
Feb 15- PHOENIX - Scott Palmer Eager to Grab First Career Win at Magic Dry Absorbent NHRA Arizona Nationals
Feb 14- NHRA Stars Team Up with NBA for All-Star Weekend
Feb 13- POMONA 1 - Mickey Thompson Top Fuel Harley Series Championship Points
Feb 13- POMONA 1 - Monday Videos
Feb 11- POMONA 1 - Championship Points
Feb 11- POMONA 1 - Monday Wrap Up
Feb 11- POMONA 1 - Summary of Eliminations in Top Fuel