Mon, 09 Jul 2018, 18:06 PM



BTE World Footbrake Challenge Sunday Results



Courtesy of John DiBartolomeo=20



BRISTOL, Tenn. --
The 12th edition of the BTE World Footbrake Challenge presented by Yukon Gear & Axle came to a close today after what was thought to be a "challenging weather forecast" became a reality on Friday when the rains hit to cool things off both in temperature and racing. However, with the entire purse guaranteed, co-promoters Steve Stites and Jared Pennington decided to simply move the money over to make both the Saturday and Sunday races $15,000 to win rather than the posted Triple $10s.
In an effort to give back, and the complete understanding that oftentimes some… questionable language might be spoken after a hard loss, officials instituted a "Swear Jar" of sorts in the tower. All money collected was donated to ArmedForcesRacing.org, an organization started for the purpose of providing recreational therapy to veterans. Regardless of the "swear," racers took to giving back to a worthy cause, with donations of over $600.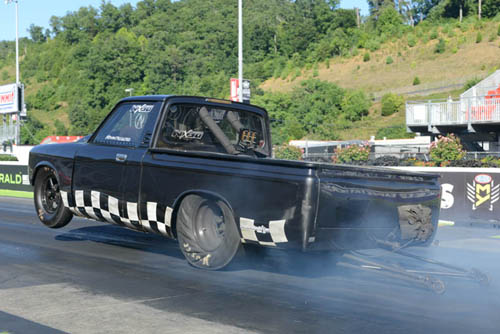 As for Sunday's race, in the quarterfinal round, those left were Brad Plourd; Rocky Pintavalle; Kevin Pollard, who has done quite a bit of winning already this year; Gage Burch, driving Matt Weston's Super Street car; Bob "Big Bucks" Mullaney; Tim Griffith, Shawn Pitts and Troy Stafford. In the round itself, Mullaney used a .008 reaction time to defeat Burch. Stafford held the reaction time advantage but it was Pintavalle's dead-on the dial with a "1" which took the win. Plourd then used a better reaction time to defeat Griffith and finally, Pitts turned on the red-light to advance Pollard and set up the semifinals.
As for the semis, round eight, Mullaney and Pintavalle squared off with only .002 separating them in reaction time, but it was Mullaney's Ed Franks-owned Nova dropping a dead-on the dial with a "7" which earned him a WFC final round berth. Pollard and Plourd squared off with Pollard holding the reaction time advantage and the win.
With a series of double-0 reaction times leading up to the final, Mullaney might have skipped a beat a little, coming up short in that department to Pollard's .008 which sealed just another win for Pollard to take home to Salem, Virginia.
"We can't thank enough all those who had the confidence in us to give them everything we promised," said co-promoter Jared Pennington. "Anybody can put on a race, but it's the racers who make it special and each of those who came here did just that. This has become a 'bucket list' type of event and for that, on behalf of my partner Steve Stites and the entire Bristol Dragway staff, thank you all."
All weekend, MotorManiaTV was on hand to broadcast each and every run on the live feed thanks to Environmental Oil Recovery. Continue to stay "clicked onto" http://www.worldfootbrakechallenge.com for news and results and also "Like" the World Footbrake Challenge on Facebook.

FINAL SCORECARD
BTE World Footbrake Challenge
Bristol Dragway

Thursday Gamblers
W-Jamie Holston, Wytheville, VA
R/U-Wayne Mabe, Pulaski, VA

Yukon Gear & Axle Saturday
W-Cody Barnhart, Cullman, AL
R/U-Lee Zane, Pennsauken, NJ

Saturday Gamblers
W-Rodney Finchum, Newport, TN
R/U-Jake Ball, Newport, TN

Yukon Gear & Axle Sunday
W-Kevin Pollard, Salem, VA
R/U-Bob Mullaney, Mays Landing, NJ





Drag News: 10 Most Recent Entries [ top ]

Mar 21- Hot Sun and Hotshots Abound at NMCA Season-Opener in Florida
Mar 12- PDRA Unveils Classic Graphix Pro Mod Challenge
Mar 12- Schwing America Becomes Title Sponsor of PDRA Pro Outlaw 632
Mar 10- BAKERSFIELD - Nostalgia Funny Car Final, Round 4 Eliminations
Mar 10- BAKERSFIELD - Nostalgia Top Fuel Final, Round 3 Eliminations
Mar 10- BAKERSFIELD - AA/Fuel Altered Final, Round 3 Eliminations
Mar 10- BAKERSFIELD - Classic Funny Car Final, Round 3 Eliminations
Mar 10- BAKERSFIELD - Nostalgia Rear Motor Top Fuel Final, Round 2 Eliminations
Mar 10- BAKERSFIELD - Junior Fuel Final, Round 3 Eliminations
Mar 10- BAKERSFIELD - A FUEL Final, Round 3 Eliminations