Thu, 28 Jun 2018, 18:25 PM



FIA Pro Mod and Pro Stock 2018 Jimmy Ålund Race No.2, Tierp



Courtesy of Par Willen



"Triple duty"



Norrköping, Sweden --
As planned, Jimmy Ålund is racing two classes this season, FIA Pro Mod and FIA Pro Stock. Ålund runs the full Pro Mod schedule and fields the Pro Stock Camaro in the three Scandinavian events.
This second race of the FIA drag racing season was the first weekend where Ålund ran both cars this year, which of course makes for some interesting challenges.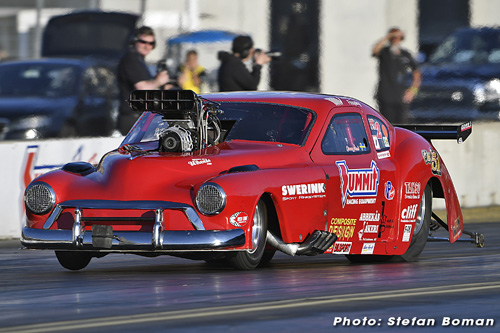 Jimmy Ålund
Pro Mod. Ålund got off to a good start with the Magnus Petersson-owned Old 51 Chevrolet with more than solid performances during qualifying. This was not only a European championship round, the first leg of the Swedish Pro Mod championship was also contested during qualifying runs here. Five runs, two new personal bests for Ålund (5.8457 and 392.16 km/h (243.67 mph) ), three runs in the mid 5.8-second range, three runs over 390 km/h (242.33 mph). Not only did The Old 51 end up as the #1 qualifier, Ålund also won this part of the Swedish Pro Mod championship and in that was part of running the quickest- and fastest-ever Pro Modified side-by-side in Europe, again.
"A hectic weekend, three races in one, FIA Pro Mod and Pro Stock plus the Swedish Pro Mod championship. Feels great winning the first part of the Swedish championship", says Ålund, "the Old 51 team did their work and we stepped up our qualifying numbers again as compared to last year".
Pro Mod eliminations started out in an excellent fashion for Ålund with wins in E1, the quarter finals and the semis. Dipping into the 5.8-second zone in each round, running like a bracket racer with ETs of 5.87, 5.88 and 5.89. That was unfortunately the end of the weekend for the team. The Old 51 lined up against the #2 qualifier, Andreas Arthursson in the turbo-Chevelle, and when it was time to fly, the engine would not start.
"Mixed feelings", Ålund again. "We pulled very solid numbers all weekend and an ending like that is very disappointing. But be sure that my hat's off to the winner Andreas Arthursson and his crew who really has got a handle on that beautiful Chevelle, I'm sure that we'll see that car going lots of rounds in upcoming races".
Ålund leaves Tierp in first place in the Pro Mod points standings for both the FIA and Swedish Pro Mod championships.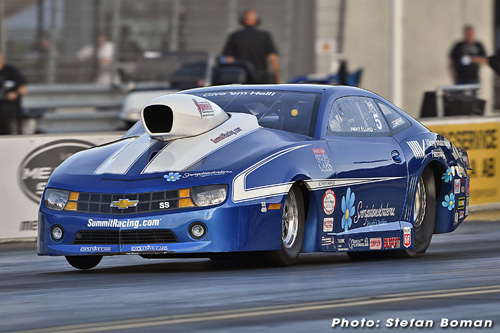 Jimmy Ålund
Pro Stock. First race of the season for the Summit Racing Camaro. The first day of qualifying did not go as expected with a #4 place. Second day of qualifying was a lot better and took Ålund up the #2 spot with an ET of 6.532 at 343.95 km/h (213.72 mph). "There were some first-race-issues but we got them cleared out", says Ålund. "Our KB Racing engine is strong as evidenced by the high speeds we ran all weekend".
Sundays eliminations in hotter weather slowed things down a bit. Ålund won round 1 with a 6.60 with that rounds top speed but was taken out by Stefan Ernryd in the semis. Ålund again running top speed of the round but no matter, Ernryd crossed the finish line first.
"The Pro Stock part of the weekend could've been better" says Ålund. "The Summit Racing Camaro was good and strong with the fastest speeds in three of the qualifying sessions. The Tierp track was of high quality as usual but we misread the changed conditions for Sundays eliminations. Ernryd had a better handle on the tune than I did and he won it fair and square."
The next race is the second race of the "Northern swing", at Alastaro Motopark in Finland, June 29-July 1.
Summit Racing Equipment, Viking Industrimalning and Exclusive Cars are sponsoring both the Old 51 Pro Mod car and the Ålund Pro Stock Camaro this year. This is in addition to Sverigedemokraterna, KB Racing, Camaroskroten, P.O:s Harley Davidson, All American AB, Vadstena Klosterhotel, Stigs Axle and Parts, Hydraulakuten, VP Racing Fuel. Jimmy Ålund Racing is very grateful for the continuing support from such great companies.




Drag News: 10 Most Recent Entries [ top ]

Mar 12- PDRA Unveils Classic Graphix Pro Mod Challenge
Mar 12- Schwing America Becomes Title Sponsor of PDRA Pro Outlaw 632
Mar 10- BAKERSFIELD - Nostalgia Funny Car Final, Round 4 Eliminations
Mar 10- BAKERSFIELD - Nostalgia Top Fuel Final, Round 3 Eliminations
Mar 10- BAKERSFIELD - AA/Fuel Altered Final, Round 3 Eliminations
Mar 10- BAKERSFIELD - Classic Funny Car Final, Round 3 Eliminations
Mar 10- BAKERSFIELD - Nostalgia Rear Motor Top Fuel Final, Round 2 Eliminations
Mar 10- BAKERSFIELD - Junior Fuel Final, Round 3 Eliminations
Mar 10- BAKERSFIELD - A FUEL Final, Round 3 Eliminations
Mar 10- BAKERSFIELD - 7.0 PRO Final, Round 5 Eliminations