Thu, 24 May 2018, 17:03 PM



Edmond Richardson Still Finds Major Thrill Racing at JEGS NHRA SPORTSnationals



Courtesy of NHRA Communications



Photo copyright 2018 NHRA/National Dragster





At Beech Bend Raceway Park



BOWLING GREEN, Ky. --
Years of success, world championships and national event victories hasn't changed Edmond Richardson's excitement for the JEGS NHRA SPORTSnationals, which takes place this weekend at Beech Bend Raceway Park.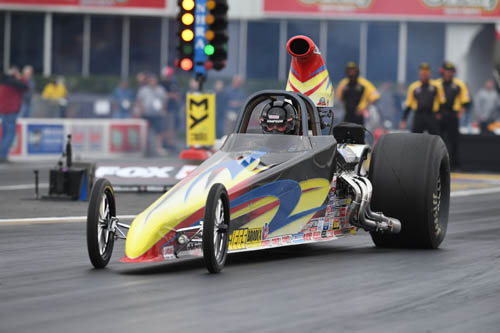 Edmond Richardson
A longtime standout, Richardson has racked up five world championships and 48 NHRA national event wins, but he is still primed to do well at one of the biggest weekends in Sportsman racing. Richardson will be competing in Super Comp this weekend, along with his son Austin and has his sights set on another big performance to add to an already impressive resume that stretches nearly 35 years.
"This is still sweet to win and it's just an awesome event," Richardson said. "It's all about the sportsman racer and it's a phenomenal weekend. This is a race where the sportsman guy feels really special. Somebody is going to be excited on Sunday and it always feels good when you can win this race."
A win after three days of intense racing, along with a purse of more than $108,000, along with special bonus races as well as national event product contingency awards, would make for a satisfying weekend for Richardson or his son.
But despite the family atmosphere, Richardson, who was named the 38th greatest driver in NHRA's top 50 list, is all business when it comes to his racing. He has made sportsman racing his full-time profession but it's only gotten to that point through a dedicated mindset for success. With that comes a specific approach, one that will be on display this weekend at Beech Bend Raceway Park.
"The ones that take it serious, they're the ones that go to the next level," Richardson said. "That's what I preach. There's a time to have fun and there's a time to be serious. It's all about keeping a clear mind. When racing is going on, it's time to get a rhythm. You control your own situation. Most of the time, you control it, so if you do a bad job, you can only be mad at yourself."
That competitive nature dates back to growing up in a racing family. It is something he has passed onto his children, and Richardson's desire to win has helped him become one of the most successful sportsman racers in NHRA history. With his first world championship coming in 1989, Richardson's next goal is to claim a championship in five different decades, something that becomes feasible in 2020. Before then, Richardson wants to keep winning as much as possible.
"I don't preach losing is okay, and if it's no big deal then you're probably not going to be a winner," Richardson said. "I love the competition and it's made me better. Today's racing is so much different. If you've got 100 cars in a class, there's probably 97 of them capable of winning. But you're going to lose races. You have to keep your chin up and go to the next one. That's the way it is. You're going to get whipped more than you get the whip as far as winning races."
But Richardson hopes to be the one standing tall after this weekend at Beech Bend Raceway Park. Running strong and performing well on the starting line over three days isn't easy against top-notch competition, but for Richardson it all comes down to starting on a good note. If that happens, he feels confident he can put together a good performance at the JEGS NHRA SPORTSnationals.
"It's important to start off with a good time run," Richardson said. "You get good info and you can excel from there. If you start out bad, you end worse. Preparation is key. I think we'll have a good time. The car is doing great and maybe we'll have a little luck."
The racing action begins on Friday at 8 a.m. as the racers take to the track for qualifying runs. Super Stock, Stock, Super Gas, Super Street, and Super Comp along with Top Dragster, Top Sportsman and Comp Eliminator will take to the track during the day.
Friday evening will conclude with a special southern style cookout for the competitors hosted by JEGS, NHRA, and the Dallas Jones-family. The cookout will take place in the "Shady Grove" pavilion adjacent to the pit area following the racing activities. Families can also take part in a special JEGS Family and Friends Night at Beech Bend Amusement Park and Splash Lagoon Water Park.
The racing continues on Saturday and will feature heads-up class racing in Super Stock and Stock eliminators as well as bonus C-Tech Fast Four Shootout races in Comp, Racing RV's Top Dragster, and Top Sportsman. The hotly-contested K&N Super Shootouts will take place in the three Super-eliminator categories Super Comp, Super Gas and Super Street.
Qualifying will be set on Saturday in Comp, Super Stock, Stock, Top Dragster and Top Sportsman. All-run fields will be contested in Super Comp, Super Gas, Sportsman Motorcycle and Super Street.
Eliminations for all classes will be held on Sunday with national points at stake in the NHRA Lucas Oil Drag Racing Series including Comp, Super Stock, Stock, Super Comp, Super Gas, Top Sportsman, and Top Dragster categories, while Lucas Oil Divisional points will be awarded in Super Street and Sportsman Motorcycle.
Memorial Day Monday is planned as a travel day or if needed as a completion day for the event.
Gates will open for the event on Thursday at 9 a.m.

Wednesday, May 23:
Parking	Noon - 5 p.m.

Thursday, May 24:
Credentials & Parking (24 Hour Gate once opened) 9 a.m.
NHRA Tech & Registration
10 a.m. - 6 p.m.

Friday, May 25:	
Credentials & Parking  24 Hr. Gate
Tech Inspection	7 a.m. - 5 p.m.
Qualifying (2) (Session Order: SST, Stock, SG, SS, SC - No Clean-up Runs) 8 a.m. - 5 p.m.
Top Dragster and Top Sportsman Qualifying (1) 4 p.m.
Comp Eliminator Qualifying (1) 5 p.m.
JEGS RACER APPRECIATION COOKOUT	
JEGS FAMILY NIGHT AT BEECH BEND PARK 6-9 p.m.

Saturday, May 26:
Gates Open 24 Hr. Gate
Tech Inspection 7 a.m. - 10 a.m.
Time Trials: (Session Order: SST, SG, SC) 8 a.m. 
Class Eliminations Stock & Super Stock 10:00 a.m.
Top Dragster and Top Sportsman Qualifying (2) 12:00 & 4:00 p.m.
Competition Qualifying (2) 1:30 & 5:00 p.m.
Super Eliminator Shootouts (SC, SG & SST - 16 cars each, qual.) 2 p.m.
Fast Four Top Dragster / Fast Four Top Sportsman 4 p.m.
Fast Four Comp 5 p.m.

Sunday, May 27:
Gates Open 24 Hr. Gate
Eliminations Round 1
(Run Order: Super Street, Stock, Super Gas, Super Stock, Super Comp) 8 a.m.
Top Dragster - Top Sportsman Round 1 11 a.m.
Special Award Ceremonies 12:30 p.m.
Competition Eliminator Round 1:00 p.m.
Winner's Circle 7 p.m.

Event schedule subject to change





NHRA: 10 Most Recent Entries [ top ]

May 23- CHICAGO - Fact Sheet
May 23- Toyota Continues to "Go Places" as Official Car of NHRA
May 23- CHICAGO - Top Fuel Veteran Terry Mcmillen Believes He's A Win Waiting to Happen
May 22- RICHMOND - Special Awards
May 22- RICHMOND - Lucas Oil Drag Racing Wrap Up
May 21- RICHMOND -Through the Lens of Ron Lewis
May 20- RICHMOND - Pro Mod Wrap Up
May 20- RICHMOND - Sunday Video
May 19- RICHMOND - Sunday Wrap Up
May 19- RICHMOND - Factory Stock Showdown Championship Points