Thu, 24 May 2018, 16:15 PM



Holley National Hot Rod Reunion presented by AAA Celebrates Car C



Courtesy of NHRA Communications



Photo copyright 2018 NHRA/National Dragster





At Beech Bend Raceway Park



BOWLING GREEN, Ky. --
The 16th annual Holley National Hot Rod Reunion® presented by AAA Insurance returns to beautiful Bowling Green, Kentucky and Beech Bend Raceway Park, June 14-16, presenting a memorable three day gathering celebrating the American hot rod culture and those who love classic American automobiles.
The family-friendly event features one of the world's largest outdoor gatherings of vintage drag racers, classic hot rods, customs, and more. It's a huge car show, vintage parts swap meet, vendors, and three days of ground-pounding, Nitro fueled nostalgia drag racing with hundreds of the classic race cars you remember or were too young to miss the first time around. There's autograph sessions with legendary hot rodders and racers. Show car owners enter the Axalta Show N Shine and compete to show their winning rides at the NHRA U.S. Nationals at Lucas Oil Raceway in Indianapolis.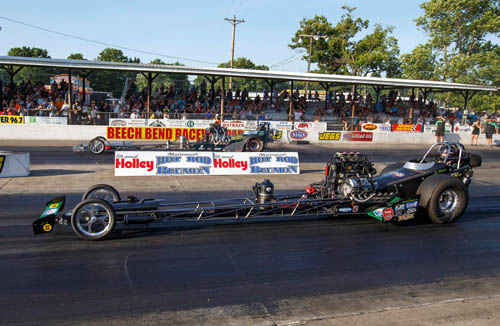 New for 2018, the activities kick off on Wednesday, June 13th with the Nashville Road Tour starting in Spring Hill, Tenn. stopping at Tennessee Speed Sport in Goodlettsville, Tenn. at noon; and concluding later that afternoon at the free Holley National Hot Rod Reunion® Fan Fest at Bowling Green Ballpark on Wed., June 13 from 5-8 p.m. Come for the display of hot rods and race cars and stay for the game starting at 6:35pm, when the Hot Rods take on the Fort Wayne Tin Caps. Use Discount Code 'REUNION' and tickets are only $5.
This weekend celebrates those who have dedicated their lives to the sport as well, with this year's five honorees and Grand Marshal for the 16th anniversary of the event. The Grand Marshal for 2018 will be Larry Lombardo, the 1976 NHRA Pro Stock world champion. The Holley National Hot Rod Reunion® presented by AAA Insurance Honoree Reception will take place at the National Corvette Museum on Friday, June 15th, from 6-8pm. Admission to the honoree reception and cruise-in is free.
On the track, Nostalgia Top Fuel and Funny Cars will put on another intense and entertaining show with the smell of nitro filling the air, fans are sure to see some of the most memorable nostalgia racing of the year.
Coming to the Holley National Hot Rod Reunion® presented by AAA Insurance and Beech Bend Raceway Park for the first time is the 6.0 racing category and exhibition class. This open class features front-engine dragsters, center-steer altered and '65 to '79 Funny Cars, offering more exciting injected and blown nitro racing.
Adding to the excitement of the on-track action will be a pair of Jet Dragsters powering down the quarter-mile each day. Marine Corp veteran Dwayne Hill vs. Two-Time World Champion Elaine Larsen in heads-up jet car action. Those in attendance will be able to see the vehicles up close as they will be on display in the oval all weekend.
The grounds of Beech Bend Raceway Park will come to life with thousands of classic vehicles during the Axalta Show N Shine. It begins on Thursday, June 14 at the Holley National Hot Rod Reunion® presented by AAA Insurance, as hot rods, street rods and customs make their way into the scenic grounds of Beech Bend Raceway Park. For those interested in taking part in the contest, entry is just $75, which gets the hot rod and a guest entry into the event for all three days when purchased before May 26.
Also new for 2018, the first Thursday night street legal drags for Axalta Show N Shine entrants. For just $10 you can run your street legal hot rod, classic, or custom machine on the track and show what it can do. Open only to registered Axalta Show N Shine entrants with valid event credentials.
Lastly, the weekend will conclude in exciting fashion with the famous Cacklefest®, a mass ignition of flame spewing, Nitro Burning dragsters and Funny Cars taking place in front of a packed grandstand and not to be missed. When the Cacklefest roars to life and flames fill the summer sky, it makes for a highly-dramatic and entertaining closing ceremony.
Tickets for the 16th annual Holley National Hot Rod Reunion® presented by AAA Insurance are on sale now to the general public. Tickets purchased before May 26 are $65 for a three-day pass or $25 for a single day. Children 15 and under are free with a paid adult. AAA members can save even more on this event by entering their first three digits of their membership card at checkout. Tickets can be purchased at www.NHRA.com/HotRodReunion.




Drag News: 10 Most Recent Entries [ top ]

Jun 19- BOWLING GREEN HRR - Nostalgia Top Fuel Final, Round 3 Eliminations
Jun 19- BOWLING GREEN HRR - Nostalgia Funny Car Final, Round 2 Eliminations
Jun 19- BOWLING GREEN HRR - Comp Eliminator Final, Round 5 Eliminations
Jun 19- BOWLING GREEN HRR - ScotRods Final, Round 3 Eliminations
Jun 19- BOWLING GREEN HRR - 6.0 Final, Round 3 Eliminations
Jun 19- BOWLING GREEN HRR - 7.5 PRO Final, Round 5 Eliminations
Jun 19- BOWLING GREEN HRR - Modified Eliminator Final, Round 4 Eliminations
Jun 19- BOWLING GREEN HRR - 7.0 PRO Final, Round 5 Eliminations
Jun 19- BOWLING GREEN HRR - Geezer Gassers Final, Round 4 Eliminations
Jun 19- BOWLING GREEN HRR - Gas Final, Round 6 Eliminations