Thu, 24 May 2018, 13:19 PM



Biehle is Ready for Pro Mod Racing at The Night of Thunder



Courtesy of Lucas Oil Raceway



Photo copyright 2018 Auto Imagery, Inc.





BROWNSBURG, Ind. --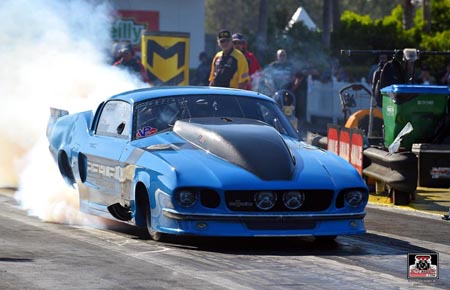 Michael Biehle
Michael Biehle grew up an hour from Lucas Oil Raceway Indianapolis in North Vernon, Ind., so he's keenly aware that the home of the Chevrolet Performance U.S. Nationals is considered hallowed ground by racers across the globe. Biehle is one of the regulars in the E3 Spark Plugs NHRA Pro Mod series and he will bring his Ford Mustang to Indy for this weekend's inaugural Night of Thunder, which will feature a thrilling field of 250-mph Pro Mod racers. Participants will include: Jim Widdner, Carl Stevens, Chip King, Steve Matusek, , Shane Molinari, Dan Stevenson, Billy Glidden, Clint Statterfield, Mike Castellana and more.
"Indy is my home track and it's a very special place," said Biehle. "It's great anytime we're able to race at Indy. I won my first Pro Mod racer here in 2014 [in the NMCA series] and that's just one of the special memories I have from racing at Indy. This [Night of Thunder] is a great deal for us because we can make some test runs and try some new parts without the pressure of racing at a national event. We can also put on a great show for the fans. Having this race the night before the Indy 500 makes sense. Hopefully, we can take some of the Indy 500 fans and turn them into drag racing fans."
The E3 Spark Plugs NHRA Pro Mod series features full-bodied race cars that regularly run the quarter-mile in the five-second zone at speeds of over 250-mph. The class is known for its diversity because competitors have a choice between turbochargers, superchargers, or nitrous oxide injection as a way to increase performance.
"We made some nice runs in Topeka but the competition in this class is very tough," Biehle said. "It takes a lot of effort just to qualify for these races, so you've got to continually work on your stuff to keep up. That's another advantage to coming to Indy this week. Our next race is in Bristol [Tenn.] in three weeks so this gives us time to make some more runs and hopefully learn a few things that will be helpful for the rest of the year. Of course, I wouldn't mind picking up that [winner's prize] too."
Qualifying for the Pro Mod category will take place during the day and be capped off with an exciting head's upshootout beginning at 7 p.m. In addition to a full field of NHRA Pro Mod cars, the inaugural Night of Thunder at Lucas Oil Raceway Indianapolis will feature jet cars, fireworks, and a full day of E.T. bracket racing action.
Tickets are on sale now at LucasOilRaceway.com/NightofThunder. General Admission Tickets start at $20 in advance and will be $25 race day. Kids 12 and under are free. Parking is free.




Drag News: 10 Most Recent Entries [ top ]

Jun 19- BOWLING GREEN HRR - Nostalgia Top Fuel Final, Round 3 Eliminations
Jun 19- BOWLING GREEN HRR - Nostalgia Funny Car Final, Round 2 Eliminations
Jun 19- BOWLING GREEN HRR - Comp Eliminator Final, Round 5 Eliminations
Jun 19- BOWLING GREEN HRR - ScotRods Final, Round 3 Eliminations
Jun 19- BOWLING GREEN HRR - 6.0 Final, Round 3 Eliminations
Jun 19- BOWLING GREEN HRR - 7.5 PRO Final, Round 5 Eliminations
Jun 19- BOWLING GREEN HRR - Modified Eliminator Final, Round 4 Eliminations
Jun 19- BOWLING GREEN HRR - 7.0 PRO Final, Round 5 Eliminations
Jun 19- BOWLING GREEN HRR - Geezer Gassers Final, Round 4 Eliminations
Jun 19- BOWLING GREEN HRR - Gas Final, Round 6 Eliminations