Tue, 15 May 2018, 08:34 AM



Wiley Wins O'Reilly Auto Parts Outlaw Pro Mod Race at Texas Motorplex



Courtesy of Ian Tocher


Photos courtesy Texas Motorplex/Craig Israel





ENNIS, Texas --
After qualifying in the number-one position, Steve Wiley raced to a convincing O'Reilly Auto Parts Outlaw Pro Mod win May 5, during the Texas Outlaw Pro Modified Association (TOPMA) event at the famed Texas Motorplex, just south of Dallas.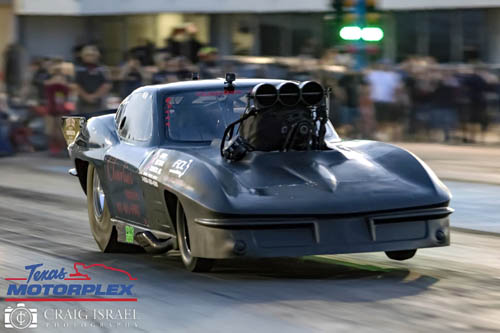 Steve Wiley
Texas Motorplex General Manager Andy Carter dedicated the race to the memory of Tom Conquergood, event and motorsports marketing manager for O'Reilly Automotive Inc., who unexpectedly passed away the morning of the event. Carter said Conquergood helped get O'Reilly Auto Parts on board with the TOPMA series at the Motorplex, which will feature four more races on the first weekend of the next four months.
"Tom loved TOPMA racing and he loved coming here to the Texas Motorplex, too," Carter said. "But it wasn't just the big events or the big tracks that he and O'Reilly Auto Parts supported. Tom loved all kinds of racing, whether it was at the local drag strip or circle track or even kart tracks. He was just a great guy to be around and his influence on racing in general will be greatly missed."
Wiley, the two-time defending TOPMA champion, led 16 entries with a 3.69-seconds blast at 206.70 mph over the Motorplex eighth mile, with Chad Sheffield, Bill Doucet and Doug Riesterer completing the top half of the eight-car qualified field.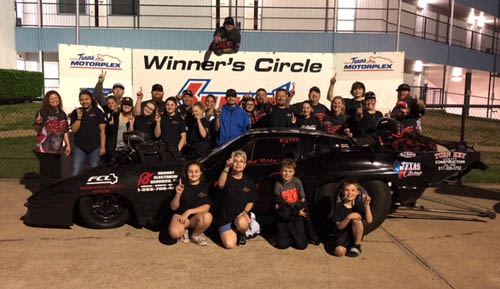 Steve Wiley celebrates win.
Driving his supercharged, Hemi-powered '63 Corvette, opened eliminations with a slightly quicker and faster 3.68 at 207.98 mph to beat 8th-place starter Jim Brinkerhoff, then took down Riesterer with an off-the-pace 3.87 at 192.66 to reach the final round. Waiting for him there was Doucet, who drove his Clayton Poole-owned '41 Willys past Keith Hollenshead with a 3.83 at 202.18 mph in the first round and went another 3.83 at 202.45 to beat Sheffield in the semis and earn lane choice for the final.
Though quick and consistent, Doucet realized he remained the underdog for the final and knew he had to leave the line first to have a chance at Wiley. Doucet did his job with a stellar .006 reaction time in the left lane, while Wiley suffered his worst light of the day at .075, but a solid 3.79 at 203.25, Doucet's best run of the weekend, still wasn't quite enough as Wiley reeled him in slightly past half-track and won with a 3.69 run at 208.42 mph, which also set a new top-speed record for the TOPMA series.
"I saw he left first, but I really wasn't too concerned because I knew as long as it hooked up I still had the performance advantage. Fortunately, Bill had been in the left lane all day while I was in the right, so I got to stay where I wanted anyway," Wiley revealed later. "My lights have been off a bit ever since I got this car. I was always at about .020 to .030 with my old car, but I've only been racing this one for about a year and I'm still getting used to how it leaves."
>From victory lane, Wiley thanked sponsors Charlie's Plumbing, Freight Central Logistics, Turn Key Utility Construction, Brandt Electrical Service, Pusher Racing and Texas Chrome for their ongoing support.
"TOPMA is a good series for us to run with and I always like racing at the Motorplex," added Wiley, who hails from nearby Ft. Worth. "We have five races here this year and five at Xtreme Raceway Park, the new track not too far from here, so it was good to get a win in early. I'm definitely looking forward to coming back here next month."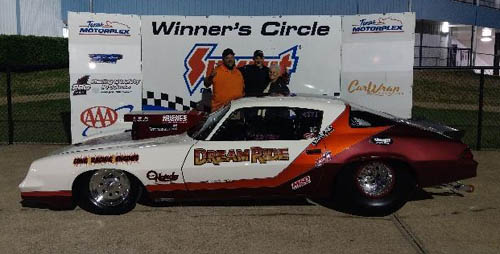 John Yates 5.0 Winner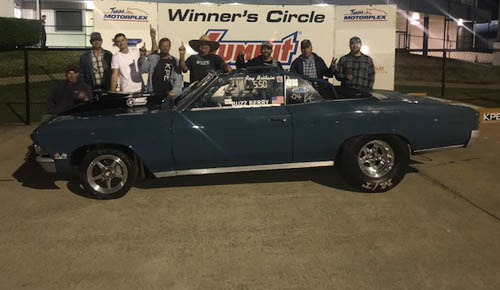 Roy Britain 5.50 WInner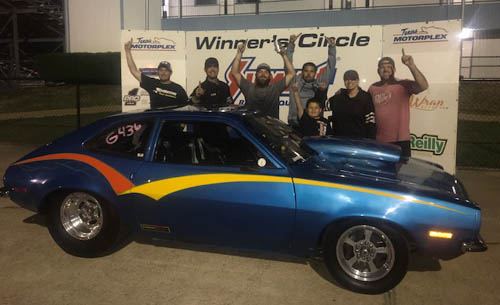 Ryan Gleghorn 6.0 & 7.0 Champion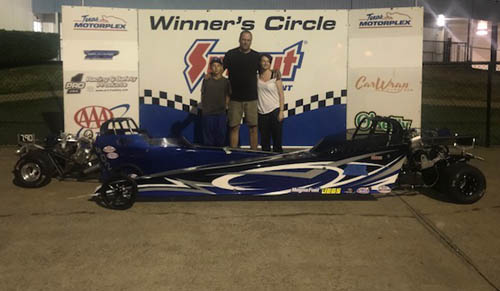 Shelby Jones Winner and her brother
Daniel Jones Runner Up 7.90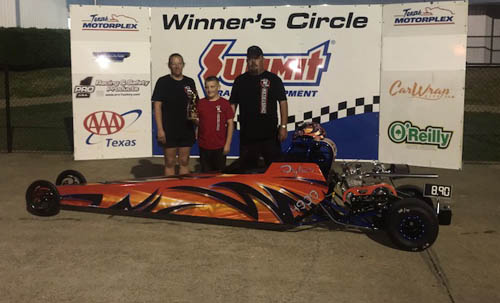 Dylan Smoot 8.90 Winner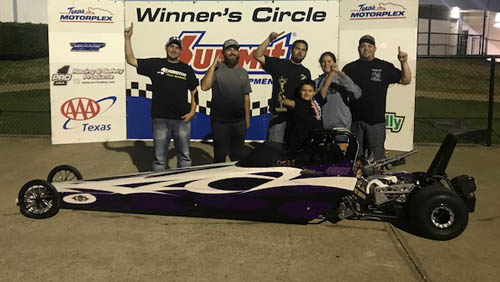 Race Ragland 11.90
Also picking up wins at the Texas Motorplex this past Saturday were John Yates, who benefited from a breakout run by Tommy Platt in the 5.0 Index final, Roy Britain in the 5.50 class, and Ryan Gleghorn, who drove his '71 Pinto to dual titles in 6.0 and 7.0 Index action. The 7.90 Jr. Dragster final went to Shelby Jones, who beat her brother, Daniel, with 8.90 Jr. Dragster honors going to Dylan Smoot, while Race Ragland took the 11.90 Jr. Dragster title home to Oklahoma.




Drag News: 10 Most Recent Entries [ top ]

Jul 12- Two-Time Pro Stock World Champion Erica Enders Joins World Series of Pro Mod Field
Jul 12- M&M Transmission Joins List of Drag Illustrated World Series of Pro Mod Sponsors
Jul 12- Clint Satterfield- 'The World Series of Pro Mod is the Highlight of Our Entire Year'
Jul 12- Jerry Bickel Race Cars Added as Sponsor for Upcoming Drag Illustrated World Series of Pro Mod
Jul 12- Texas Motorplex Creates American Jr. Dragster Challenge to Benefit Children's Health in Dallas
Jul 12- Flatout Gaskets Nitrous Wars Heats Up
Jul 12- I-70 Speedway and Kansas City International Raceway "KCIR" Scheduled for Reopening in 2019
Jul 09- 'Stevie Fast' Jackson Promises 'Longest, Stinkiest, Nastiest, Smokiest Burnout of All Time' at WSOPM 2018
Jul 09- BTE World Footbrake Challenge Sunday Results
Jul 09- Can the 405 Defend its Bristol Title?