Sun, 22 Apr 2018, 19:28 PM



Todd, B. Force and Hartford are Victorious at NHRA SpringNationals



Courtesy of NHRA Communications


Photo copyright 2018 NHRA/National Dragster





•
Brittany Force wins her first Top Fuel victory of the season
•
J.R. Todd captured his first career back-to-back Funny Car victory
•
Matt Hartford secured his first career Pro Stock Wally
BAYTOWN, Texas - J.R. Todd captured his first career back-to-back Funny Car victory Sunday afternoon at the 31st annual NHRA SpringNationals at Royal Purple Raceway.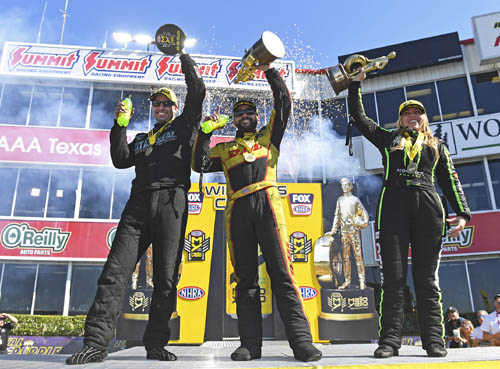 Hartford, Todd and force celebrate wins.
Brittany Force (Top Fuel) and Matt Hartford (Pro Stock) were also victorious in their respective categories at the fifth of 24 events on the Mello Yello Drag Racing Series schedule.
Todd powered his DHL Toyota Camry to a pass of 3.955-seconds at 313.29 mph to defeat defending world champion Robert Hight in the final round. He is the third driver in Royal Purple Raceway history to have won in both Top Fuel and Funny Car. This is his second win of the season and 13th of his career.
"It's nice to have this much momentum early in the season," Todd stated. "We struggled really bad last season and didn't really turn around till probably the Western Swing. It's nice as Kalitta Motorsports to come out swinging at these races this year."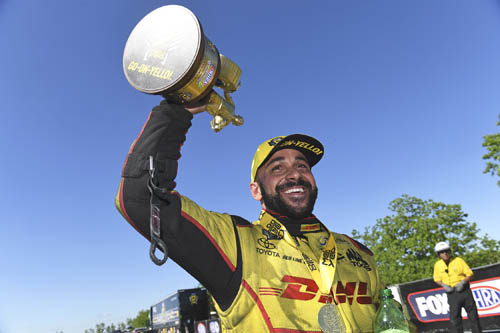 J.R. Todd celebrates second consecutive win.
Todd defeated Tommy Johnson Jr., Jeff Diehl and Tim Wilkerson before entering the final round. Hight drove past Todd Simpson, Jonnie Lindberg and Jack Beckman before entering his second final round of the season and 66th career final round.
Force, the defending Top Fuel world champion, piloted her Monster Energy dragster to a pass of 3.762 at 299.46 to defeat Terry McMillen in the final round. She is the seventh different John Force Racing driver to win at Royal Purple Raceway and she completes the cycle of all Force family members have one at the facility. This is her first victory of the season and eighth of her career.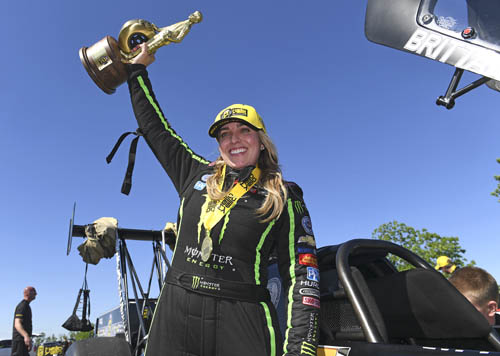 Brittany Force celebrates first win of the season.
"We kind of struggled a little bit today," Force said. "The tires were spinning and I'm trying to drive the thing down there and try to get it to the finish line. I didn't know where the guy was next to me, but it was just about getting down there first. Saw our win lights come on in the final round and that was the most important one."
Force drove past Terry Haddock, Doug Kalitta and Tony Schumacher to reach her first final round of the season 18th of her career. McMillen defeated Antron Brown, Billy Torrence and No. 1 qualifier Leah Pritchett before entering his fourth career final round.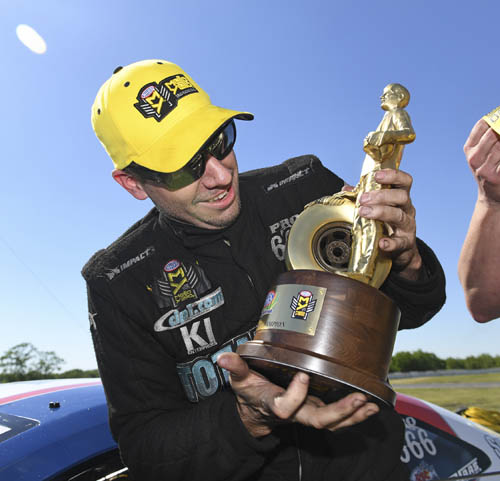 Matt Hartford celebrates first National event win.
In Pro Stock, Matt Hartford drove to his first career winner's circle after taking down the hometown hero Erica Enders. His pass of 6.552 at 211.36 in his Total Seal Chevrolet Camaro was enough to make him the 66th different Pro Stock driver to win in NHRA history.
"We started in the back half of the field today and had to work our way through," Hartford stated. "We earned this. We did a better job with our car today than the other teams. My driving is not why we won today and that is a fact. My crew tuned the car enough for us to be able to drive around her [Enders] at the end."
Hartford faced Chris McGaha, Tanner Gray and Jeg Coughlin Jr. to enter the first final round of his career. Enders took down Vincent Nobile, Rodger Brogdon and No. 1 qualifier Greg Anderson.
The Mello Yello Drag Racing Series continues April 27-29 at the NGK Spark Plugs NHRA Four-Wide Nationals at zMAX Dragway in Charlotte, N.C.
Sunday's final results from the 31st annual NHRA SpringNationals at Royal Purple Raceway. The race is the fifth of 24 in the NHRA Mello Yello Drag Racing Series.
Top Fuel -- Brittany Force, 3.762 seconds, 299.46 mph def. Terry McMillen, 3.818 seconds, 311.56 mph.
Funny Car -- J.R. Todd, Toyota Camry, 3.955, 313.29 def. Robert Hight, Chevy Camaro, 3.993, 308.14.
Pro Stock -- Matt Hartford, Chevy Camaro, 6.522, 211.36 def. Erica Enders, Camaro, 6.570, 210.50.
Pro Modified -- Jim Whiteley, Chevy Camaro, 5.834, 239.14 def. Rick Hord, Chevy Corvette, 5.818, 252.43.
Top Fuel Harley -- Doug Vancil, Weekend, 6.300, 230.76 def. Randal Andras, JTR, 12.128, 80.94.
Super Stock -- Brenda Grubbs, Chevy Camaro, 9.284, 138.47 def. Craig Gualtiere, Chevy Nova, 9.691, 132.43.
Stock Eliminator -- Tim Snively, Chevy Camaro, 11.745, 110.84 def. Brandon Bakies, Olds Cutlass, 11.091, 114.30.
Super Comp -- Lyndon Rutland, Dragster, 8.901, 180.07 def. Austin Williams, Dragster, 8.902, 156.99.
Super Gas -- Koy Collier, Chevy Camaro, 9.902, 156.75 def. Steve Collier, Chevy Vega, 9.890, 163.06.




NHRA: 10 Most Recent Entries [ top ]

Jan 17- Two New Drivers Join Bob Vandergriff Racing in 2019
Jan 16- Audrey Worm to Drive Leverich Family Top Fuel Dragster in 2019
Jan 15- Houston Raceway Park 'Making the Switch' to Pennzoil
Jan 15- Brainerd International Raceway 2019 Season will be 'Business as Usual' Despite Losing One of its Owners
Jan 10- POMONA 1 - Fact Sheet
Jan 10- POMONA 1 - Event Preview
Jan 09- Magic Dry Organic Absorbent Assumes Title Sponsorship of NHRA National Event in Phoenix
Jan 09- NHRA Announces "Unfinished Business" Competition Featuring Drag Racing Legends
Jan 04- Magic Dry Organic Absorbent takes Title Position on Rickey House's Top Fuel Harley
Jan 03- NHRA Jr. Drag Racing Conference Finals Return to Osage Tulsa Raceway Park and Bristol Dragway in 2019