Sun, 18 Mar 2018, 20:14 PM



Crampton, Beckman, Gray and Krawiec are Winners at the Amalie Motor Oil NHRA Gatornationals



Courtesy of NHRA Communications



•
Richie Crampton secures first Top Fuel victory since Dallas 2015
•
Jack Beckman locked-in his first career event win at Gainesville
•
Tanner Gray becomes a third-generation Pro Stock event winner
•
Eddie Krawiec opens Pro Stock Motorcycle season with sixth event win
GAINESVILLE, Fla. - Richie Crampton took home the Top Fuel victory Sunday afternoon at the 49th annual Amalie Motor Oil NHRA Gatornationals at Gainesville Raceway.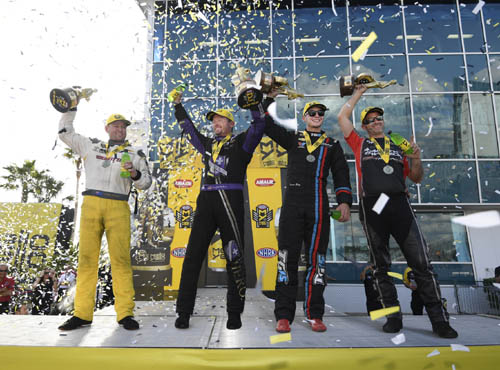 Richie Crampton, Jack Beckman, Tanner Gray and Eddie Krawiec
celebrate their wins.
Jack Beckman (Funny Car), Tanner Gray (Pro Stock) and Eddie Krawiec (Pro Stock Motorcycle) are also winners in their respective categories at the third of 24 events on the 2018 NHRA Mello Yello Drag Racing Series schedule.
Crampton got the uncontested win when he piloted his Kalitta Air/DHL dragster to the winning run of 3.854 seconds at 314.90 mph after Shawn Reed had to shut off his dragster on the starting line. This is Crampton's first Wally since Dallas 2015, first event victory at Gainesville Raceway, and eighth overall.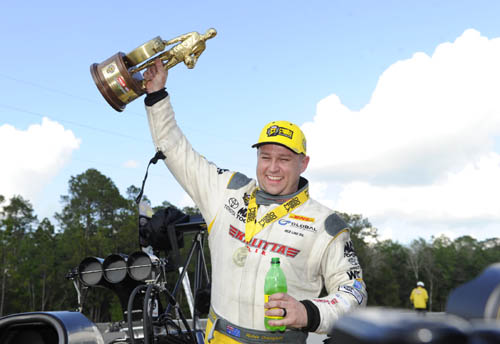 Richie Crampton celebrates his Eighth top Fuel win.
"This is probably one of my most rewarding wins, ever," Crampton said. "All I ever wanted to do was stand in the winner's circle with (team owner) Connie Kalitta. Not a lot of people have had that luxury and I'm not taking this one lightly."
Reed, who raced to his first career final round, started from the No. 12 position and defeated Pat Dakin, Tony Schumacher, and No. 1 qualifier Clay Millican before the final.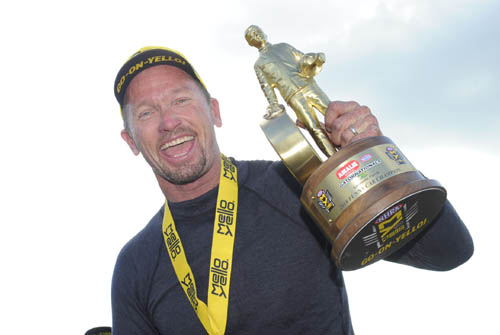 Jack Beckman celebrates his 27th Funny Car win.
Beckman claimed his first Funny Car victory at Gainesville with a hole-shot win of 4.035 at 323.58 in his Infinite Hero Dodge Charger R/T against teammate Matt Hagan. After earning the No. 1 qualifier on Saturday, Beckman secured his first victory since St. Louis 2017.
"Winning this race was such a bucket-list thing," Beckman said, "The Gatornationals came on the schedule in 1970, that year was a big year for our sport and it has been at this track ever since and I've never gotten close."
Beckman raced against Jim Campbell, Del Worsham, and Shawn Langdon before entering his first final round of the season.
Hagan and Robert Hight experienced side-by-side explosions during the quarterfinals destroying the Funny Car bodies of both competitors. Hagan brought out a back-up car to defeat teammate Ron Capps in the semi-finals to advance to his second final round of the season.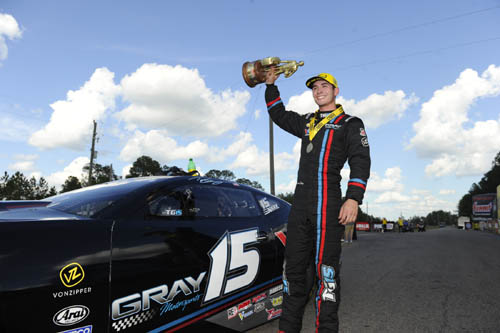 Tanner Gray celebrates his sixth Pro Stock win.
In Pro Stock, Gray powered his Gray Motorsports Valvoline Chevrolet Camaro to victory with a run of 6.588 at 210.18 to defeat defending category world champion Bo Butner in the final round. This is his first career win at Gainesville and is a third-generation event winner.
"We've been struggling since the beginning of the season," Gray said. "Today was our first-round win of the season. It has definitely been a struggle, but I think it is starting to come around."
Gray was the first driver since 2015 to win from the No. 11 qualifier position and defeated Deric Kramer, Chris McGaha, and Vincent Nobile. Butner qualified in the fifth position and bested Jeg Coughlin Jr., Alan Prusiensky, and Drew Skillman before facing Gray.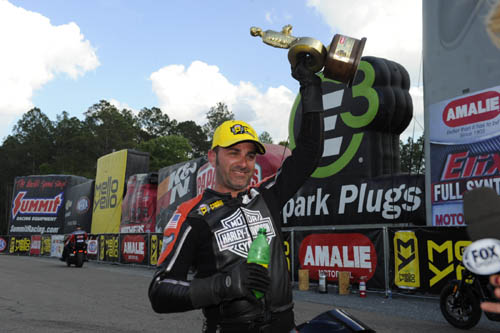 Eddie Krawiec celebrates his sixth Gainesville win
and the third consecutive.
Defending event and world champion Eddie Krawiec rode his bike to winner's circle with a pass of 6.824 at 198.44 on his Screamin' Eagles Vance & Hines Harley-Davidson. This is his sixth event victory and third consecutive win at Gainesville.
"Right now, I'm riding with the confidence that no one can beat me," Krawiec stated. "I have a great motorcycle underneath me and a great team behind me. Anytime a rider or a driver has confidence it just makes them that much better."
Krawiec was the No. 2 qualifier and was victorious against LE Tonglet, Steve Johnson, Hector Arana, the No. 1 qualifier, and teammate Andrew Hines in the final round.
The 2018 NHRA Mello Yello Drag Racing Series season continues with the DENSO Spark Plug NHRA Four-Wide Nationals at The Strip at Las Vegas Motor Speedway April 6-8 in Las Vegas.
Sunday's final results from the 49th annual Amalie Motor Oil NHRA Gatornationals at Gainesville Raceway. The race is the third of 24 in the NHRA Mello Yello Drag Racing Series-
Top Fuel -- Richie Crampton, 3.854 seconds, 314.90 mph def. Shawn Reed, Broke.
Funny Car -- Jack Beckman, Dodge Charger, 4.035, 323.58 def. Matt Hagan, Charger, 4.034, 322.04.
Pro Stock -- Tanner Gray, Chevy Camaro, 6.588, 210.18 def. Bo Butner, Camaro, 6.605, 210.34.
Pro Stock Motorcycle -- Eddie Krawiec, Harley-Davidson, 6.824, 198.44 def. Andrew Hines, Harley-Davidson, 6.853, 197.19.
Top Alcohol Dragster -- Chris Demke, 5.305, 273.33 def. Josh Hart, 5.313, 270.70.
Top Alcohol Funny Car -- Sean Bellemeur, Chevy Camaro, 5.460, 268.28 def. Annie Whiteley, Camaro, 5.483, 270.43.
Pro Modified -- Rickie Smith, Chevy Camaro, 5.794, 249.76 def. Mike Janis, Camaro, 6.597, 159.91.
Top Fuel Harley -- Tii Tharpe, Dixie, 6.313, 230.29 def. Bob Malloy, Buell, 6.546, 172.89.
Competition Eliminator -- Frank Aragona, Dragster, 7.332, 181.52 def. Greg Kamplain, Dragster, 6.829, 194.02.
Super Stock -- Kevin Riner, Chevy Camaro, 11.014, 101.01 def. Pat Clifford, Chevy Cavalier, 10.009, 119.96.
Stock Eliminator -- Jeff Taylor, Chevy Camaro, 9.816, 129.40 def. Kenneth Miele, Ford Mustang, 8.864, 150.33.
Super Comp -- Greg Slack, Dragster, 8.911, 170.75 def. Ray Miller Jr., Dragster, 8.910, 185.87.
Super Gas -- Jim Perry, Chevy S-10, 9.912, 158.69 def. Michelle Furr, Chevy Corvette, 9.933, 154.95.
Top Sportsman presented by RacingRVs.com -- Ronnie Proctor, Ford Mustang, 8.583, 123.64 def. Lester Johnson, Chevy Bel Air, Foul - Red Light.
Top Dragster presented by RacingRVs.com -- Alan Kenny, Dragster, 6.291, 188.75 def. Steve Cohen, Dragster, Broke.
Factory Stock Showdown -- Stephen Bell, Chevy Camaro, 8.176, 167.47 def. Aaron Stanfield, Camaro, 14.967, 77.46.




NHRA: 10 Most Recent Entries [ top ]

Jan 17- Two New Drivers Join Bob Vandergriff Racing in 2019
Jan 16- Audrey Worm to Drive Leverich Family Top Fuel Dragster in 2019
Jan 15- Houston Raceway Park 'Making the Switch' to Pennzoil
Jan 15- Brainerd International Raceway 2019 Season will be 'Business as Usual' Despite Losing One of its Owners
Jan 10- POMONA 1 - Fact Sheet
Jan 10- POMONA 1 - Event Preview
Jan 09- Magic Dry Organic Absorbent Assumes Title Sponsorship of NHRA National Event in Phoenix
Jan 09- NHRA Announces "Unfinished Business" Competition Featuring Drag Racing Legends
Jan 04- Magic Dry Organic Absorbent takes Title Position on Rickey House's Top Fuel Harley
Jan 03- NHRA Jr. Drag Racing Conference Finals Return to Osage Tulsa Raceway Park and Bristol Dragway in 2019