Sun, 11 Mar 2018, 11:12 AM



RIP Tom West



By Steve Reyes


Photo copyright 2018 Steve Reyes





Yes, I have lost yet another good friend with the passing of Tom West. If you are a long-time drag race fan, he touched your life in some way with his photography, cut-away drawings, die-cast, and model kit designs. Yeah, Tom was a multi-talented guy with a high IQ and a love of drag racing.
When I first met him on the starting line at one of the Los Angeles area's many drag strips, he was quick to tell me that he envied my touring of the United States to photograph drag racing. At the time, I really didn't know what to think about his comments about my touring. As I got to know him, this very well-spoken guy opened up about his love of photography, of drag racing and of beautiful women. He was incredibly skilled at doing cut-away drawings of race cars and he let me know his inspiration was Steve Swaja and his art work.
Photography and art projects were things that he loved. In the real world, he worked for General Mills in their marketing group and with new projects. One of the projects he worked on involved the first three Star Wars movies. Tom calmly told me General Mills flew him to England to witness the filming of the first Star Wars movie at Ellstree Studios. To Tom, this was just another corporate assignment. Tom also did a stint at Revell/Monogram in their research and development department. When Revell/Monagram returned to doing drag racing models, Tom played a huge part.
While Tom was living in the Midwest, we would see each other at the PHR race at Martin, Michigan or at most of the major NHRA events in the Midwest or Northeast. Despite his success in his field, he still wanted to be a touring drag race photographer. Unfortunately, a wife and kids put that dream on hold.
I lost track of him for awhile when he appeared back in California forming his own die-cast company, Milestone. I guess the Milestone deal was great at first but everything in his diecast world went south in a couple of years. Undaunted, Tom went back to his love of photographing cars and women.
Over the past few years, health issues had taken their toll on Tom, but he would still make it to the starting line at NHRA's California Hot Rod Reunion doing what he loved. Oh yeah, the lady photography also continued…
I do know the passing of Alan Earman and Tim Marshall set heavy on him. These were photography "brothers". The passing of retro AA/FD owner and photographer, John Ewald really shook him up. When Tom had reached rock bottom in his life, there was Ewald with a helping hand. Ewald provided a temporary place for Tom to live while he put his life back together.
Since I lived in Florida and he in Los Angeles, we have kept in touch over the years primarily with emails. I did get to venture to the CHRR and March Meet in 2009 and CHRR in 2013 and 2014. There I was able to hang out with Tom and of course talk about those crazy days of drag racing we both lived through. So long my friend, I will miss your great emails and banter.
If you wish to purchase prints of the photos below or any others, they may be obtained by contacting us at breyes@reyesontour.com. Other photos for purchase may be viewed by following the links at www.reyesontour.com.
This is one of Tom's early images from 1966 at Irwindale.
He let me use it in my Top Fuel: Rear End Revolution book.
Tom had thousands of great drag-racing and women images posted on Facebook.
Was Tom West talented? You bet he was. His cut-away drawings and
photography were very good. This photo of Der Kaiser Brothers rear-engine
top fuel car was taken by me during a photo shoot for one of his cut-aways
or Drag Racing USA Magazine. That photo shoot took place at Pomona in 1970.
Tom could capture action at either end of the track.
At the starting line is Doug Herbert exploding and at the
finish line was Larry Bowers exploding. Tom didn't really
like shooting at the finish line so Don Gillespie and I would
drag him kicking and screaming down to the end of the track.
He thanked us after he got his Bowers photo.
Two of his favorite subjects to photograph are in one photo shoot,
a race car with a beautiful woman. Stephanie Rose, was the model
with the Super Chief AA/FC at OCIR in 1973. Tom painted Stephanie
the colors of the race car for the shoot. The shoot came off okay
(I shot black and white) but right after the shoot, Stephanie became
very ill due to the fact that Tom forgot to leave a small unpainted space
on her lower back so her skin could breath. Man, did she throw up a lot.
She was still green even after she got the paint off. That was a not so fun
afternoon for Stephanie with the photo stooges of West and Reyes.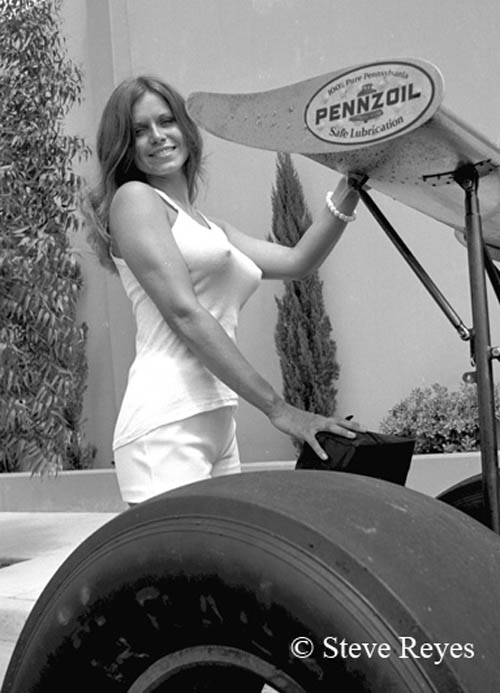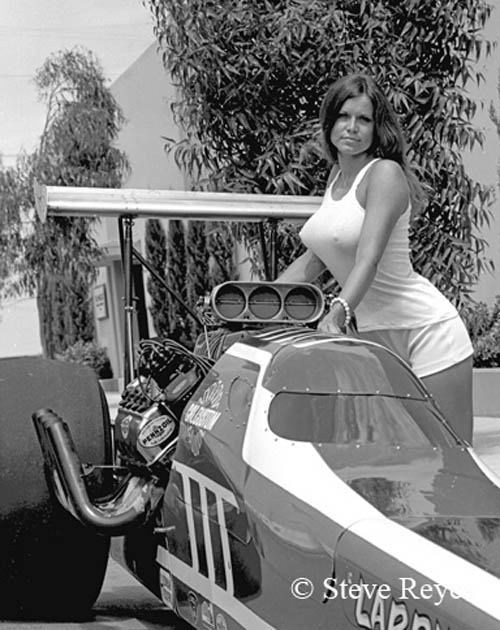 Tom's favorite model/friend was the 1973 PDA Queen Barbara Roufs.
He spent a lot of time with her on different photo shoots and even visited
her at her home in Fresno. When he headed East, they lost track of each other.
In the mid-90s, Tom returned to the West Coast and started a search for his
lady friend. It wasn't until a few years ago that he found her daughter and
received the heart-breaking news that Barbara had taken her own life in 1985.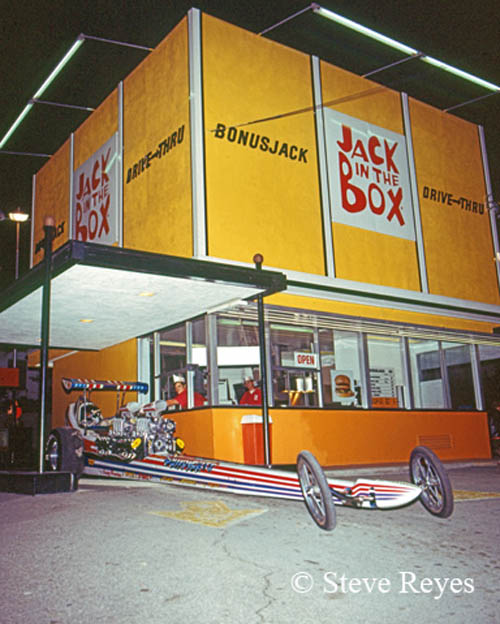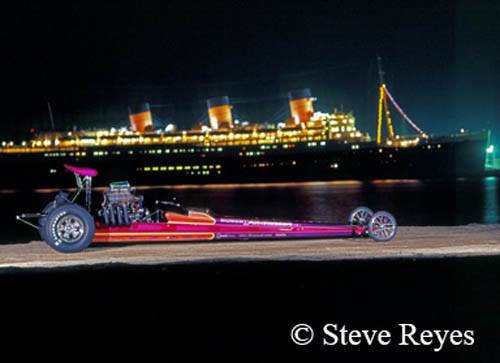 West helped me in 1971 when I shot The Syndicate AA/FD for a cover on
Drag Racing USA Magazine. He was my grip (strobe light) guy. He did the
lighting and I shot the photo. In 1972, we did a center spread shoot with
Ronnie Martin and Robert Anderson's new top fuel dragster with the
Queen Mary in the background. With both Tom and Ronnie working
the twin strobe set-up, I was able to get a great image. We did have a
small problem when the Coast Guard helicopter and patrol boat showed up.
You see someone in the area called and said the Queen Mary was under
attack by terrorists. The Coast Guard decided we weren't dangerous and let us go home.
This is one of my combined photo shoots that had Tom West, Jeff Tinsley, Bob McClurg
and myself collaborating. Ivo loved it, he got lots of ink with his massive fire burnouts
and Tom got this nice side shot of Ivo burning one down at Lions in 1972. Heck, I just
loved West's photo of Darrell Gwynn's top fuel car in action.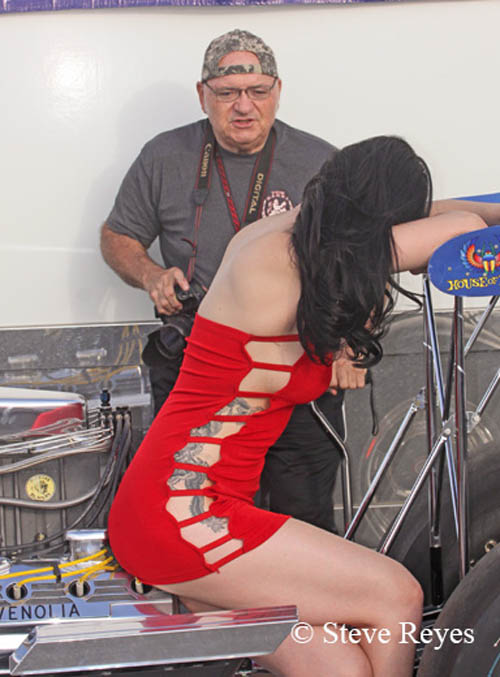 The last time I saw Tom in person was in 2014. It was at the NHRA CHRR at
Bakersfield, California. There was Tom doin' his thing with his two favorite subjects;
race cars and women. You may think its rare for a photographer to mix photographing
drag racing and women in their photo career. However, there have been some cross-overs
such as the late Fred Enke who photographed drag racing for Mopar and did adult style
women photography for Cheri and many other adult magazines. Dennis Scott who was
a regular photographer out at Union Grove, Wisconsin, who also shot a few covers for
Playboy in the 1970s. A very well-known Playboy photographer, David Mecey got his start
at the drag strips in his native state of Texas. Last on our cross-over list is Arizona based
Jim Kelso who not only photographed women and drag racing but also had his own race car!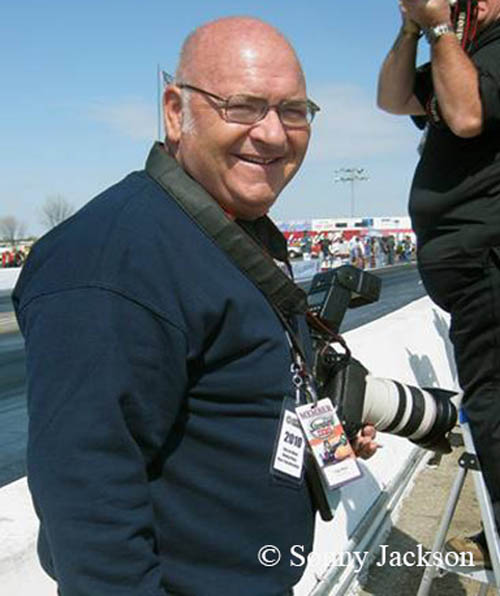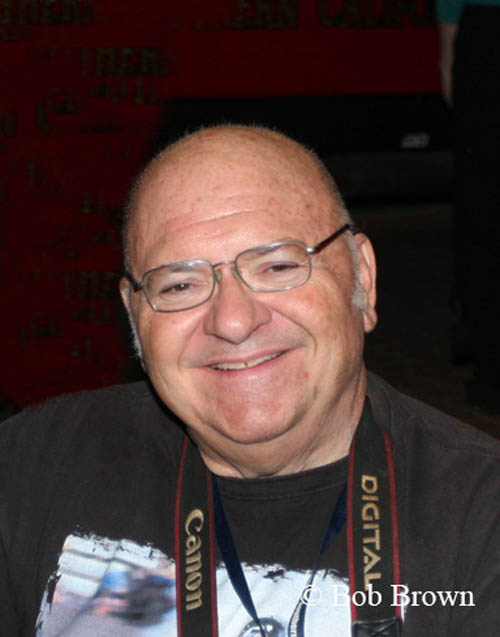 After Tom's passing fellow photographers sent me a few images of Tom.
The three stooges are Tom, Tim Marshall, and myself.
The photo was shot by Don Gillespie. West on the starting line was shot
by Sonny Jackson and Bob Brown sent the very nice head shot.




NHRA: 10 Most Recent Entries [ top ]

Dec 12- Gainesville Raceway to Install New Racing Surface
Dec 12- Farewell to Dick LaHaie- Top Fuel's "Ironman"
Dec 10- Rob Tucker Racing Joins Forces with Engine Builder Nick Ferri For 2019
Dec 10- Straightline Strategy Group Welcomes the Paul Lee Funny Car to Management Unit
Dec 10- Straightline Strategy Group Welcomes Misty Starkweather as Hospitality Director
Dec 10- Industry Veteran Steven Cole Joins Straightline Strategy Group
Dec 10- Straightline Strategy Group Forms Marketing Alliance Group
Dec 10- Elite Motorsports, Justin Elkes' Modern Racing Form Strategic Alliance for 2019 Season
Dec 10- Sonoma Raceway Announces 50th Anniversary Celebration for 2019 Season
Dec 10- Strong End to 2018, Renewed NHRA Commitment from Ford Adds Fuel to Wilkerson's Fire