Tue, 06 Mar 2018, 10:49 AM



Mad Mule Pro Mod Shootout at GALOT Motorsports Park Results



Courtesy of Tyler Douglas



DUNN, N.C. --
The first Mad Mule of 2018 was one to remember and yet another reason GALOT Motorsports Park is the premiere racing facility in the southeast!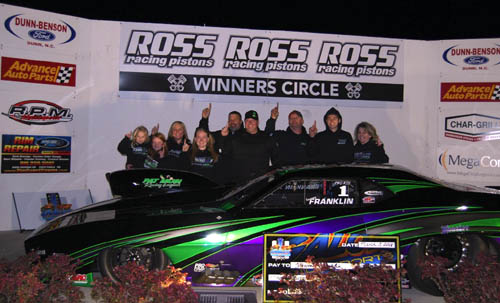 Tommy Franklin and crew in the GALOT Winner's Circle
On Saturday (3-3-18), GALOT was filled with the roar of Outlaws and Pro Mods, the smell of high-octane fuel, and thick plumes of tire smoke.
The competition was fierce with 4.70 Outlaws, Pro Mods, Dragsters, Door Cars, and Junior Dragsters all vying for the top spot in their respective classes.
Lots of slick cars and lighting fast runs - culminating with a searing 204 mph streak from Fredericksburg, VA's Tommy Franklin to take home the Mad Mule top prize in the Pro Mod Shootout!
Don't forget to follow GALOT Motorsports Park on Facebook to see more photos from Saturday's Mad Mule and other GALOT races, videos, info about upcoming events (the Discovery Channel's Street Outlaws filming on March 9 and 10!), and more.
Here's the best of the best from Saturday:
MAD MULE
Champ - Tommy Franklin - Fredericksburg, VA
Runner-Up - Jay Cox - Smithfield, NC
#1 Qualifier - Tommy Franklin - Fredericksburg, VA
4.70 OUTLAWS
Champ - Donnie Gibbs Jr. - Mooresville, NC Runner-Up - Todd Buckner - Mooresville, NC
#1 Qualifier - William Marshall - Victoria, VA
DOOR CARS
Champ - Brent Alford - Raleigh, NC Runner-Up - Ethan Atkinson - Victoria, VA
#1 Qualifier - Earl Penny - Selma, NC
Runner-Up - Ethan Atkinson - Victoria
#1 Qualifier - Earl Penny - Selma, NC
DRAGSTERS
Champ - Nick Womack - Lillington, NC
Runner-Up - Jonathan King - Angier, NC
#1 Qualifier - Nick Womack - Lillington, NC
TOP JR DRAGSTER
Champ - Connor Shields - Hayes, VA Runner-Up - Ryan Leche - Moyock, NC
#1 Qualifier - Connor Shields - Hayes, VA
7.90 INDEX PRO JR DRAGSTER
Champ - Casey Wagner - Willow Springs, NC
Runner-Up - Holt Strickland - Clinton, NC
#1 Qualifier - Casey Wagner - Willow Springs, NC




Drag News: 10 Most Recent Entries [ top ]

Mar 12- PDRA Unveils Classic Graphix Pro Mod Challenge
Mar 12- Schwing America Becomes Title Sponsor of PDRA Pro Outlaw 632
Mar 10- BAKERSFIELD - Nostalgia Funny Car Final, Round 4 Eliminations
Mar 10- BAKERSFIELD - Nostalgia Top Fuel Final, Round 3 Eliminations
Mar 10- BAKERSFIELD - AA/Fuel Altered Final, Round 3 Eliminations
Mar 10- BAKERSFIELD - Classic Funny Car Final, Round 3 Eliminations
Mar 10- BAKERSFIELD - Nostalgia Rear Motor Top Fuel Final, Round 2 Eliminations
Mar 10- BAKERSFIELD - Junior Fuel Final, Round 3 Eliminations
Mar 10- BAKERSFIELD - A FUEL Final, Round 3 Eliminations
Mar 10- BAKERSFIELD - 7.0 PRO Final, Round 5 Eliminations