Tue, 16 Jan 2018, 11:34 AM



Top Fuel Teams Across the USA Part I



By Steve Reyes


Photo copyright 2018 Steve Reyes





It is no secret what class off nitro-burners I favored back in the day. The top fuel or AA/FD class was the be all, end all in drag racing. Maybe this was because I discovered the top fuel class in 1963, the year NHRA made nitro a legal fuel for dragsters. It was very cool to be introduced to nitro burners the very first year I attended the drag races.
Looking back on my travels to many a drag race, I got to meet and photograph a lot of different early AA/FD owners and drivers. For me, attending large, out of California races was not an easy accomplishment. At these events, I would set up a darkroom in my motel room and after a day of shooting, would develop the film. Staying up all night and printing photos was the norm because I needed to sell the photos to pay for my adventure. The next day I would wander around the pit area with a box of fresh prints approaching owners/drivers with my sales pitch. This approach enabled me to meet many a top fuel owner/driver. I either was told to flake off or a sale was made and maybe even a larger order taken. That is how I met a lot of the legends of top fuel racing. Some would offer a beer or soda and we would talk about racing. Some of these racers became life-long friends. Many of these AA/FD racers would venture to my home track in Fremont, California, and then I became a tour guide for the racers who had never raced in the Bay area. It is great to look back on those early years and remember some great people.
If you wish to purchase prints of the photos below or any others, they may be obtained by contacting us at breyes@reyesontour.com. Other photos for purchase may be viewed by following the links at www.reyesontour.com.
Minnesota's Tom Hoover was a well-established top fuel racer when he ventured to the West Coast in 1967.
He had won the AHRA Top Fuel Championship in 1965 and was a touring pro in the top fuel class.
When I met Hoover it was like I was one of the family. He purchased photos and to this day I consider him a
"top fuel" friend from those crazy years of touring.
I first met Charlie Proite and Freddy Welchman at the AHRA Winternatioanls in 1970.

They loved my photos but had no money to spend on photos. They asked me if I would
trade photos for jewelry. Sure, why not? Welchman brought out trays of rings and such
for me to pick from. I made my choice of a couple of nice gold and platinum rings for photos.
Later I learned they were trading jewelry for parts and a drum of nitro. I asked around
about the AA/FD/jewelry merchants. The word in the pits was that they robbed jewelry stores
as they traveled from Milwaukee to Scottsdale, Arizona. I never did find out the truth,
nor did I want to know.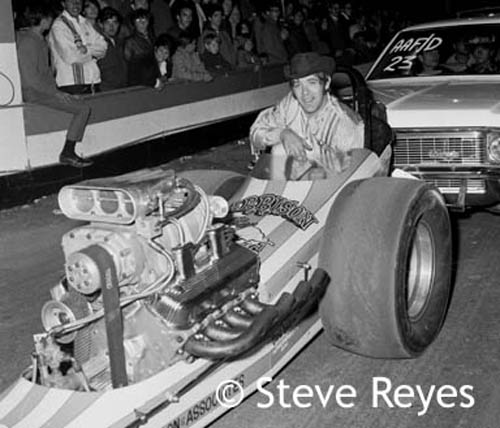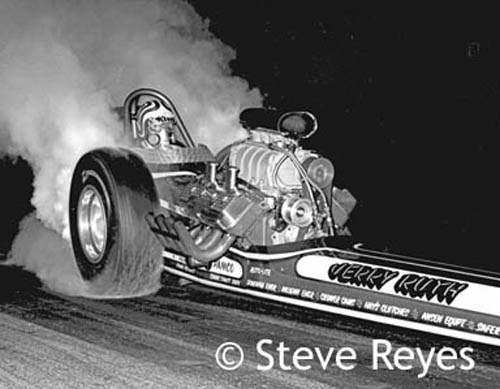 Another, out of California, top fuel star was Washington State's Jerry Ruth. Ruth was a regular
at the larger top fuel events at Fremont in the 1960s and early 1970s. I got to hang out with
Ruth when he and John Garrison raced Garrison's King Rat AA/FD at Fremont in 1969.
I was allowed to do a feature shoot for Drag Racing USA Magazine, the Monday after the race.
I found Ruth to be a very funny guy and of course, he had a big ego, but heck, that was Ruth.
Yes, I consider him a "top fuel friend" from the good ol' days.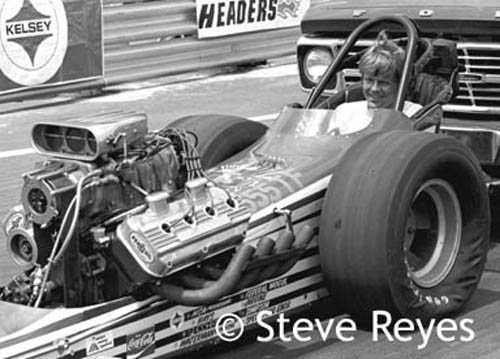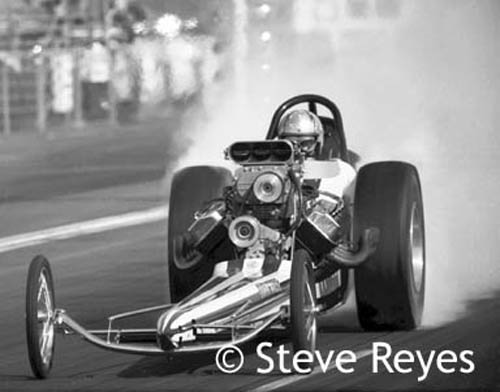 It was 1969 and I was at the NHRA Indy Nationals. Of course, I was selling my photos to anyone
who had a buck to spend. I wandered into the pit area of this well-known Kansas-based AA/FD
owner/driver John Wiebe. Wiebe treated me like family and asked me to make sure I photographed
his car at Indy. I guess I made his day when he found out I had photographed his car in action at
all the events he had raced on the West Coast in 1969. Wiebe and I crossed paths many a time
before he quit racing in 1977.
One of my favorite character's in the world of top fuel was the late Bob Creitz a.k.a.
"The Mad Bomber of Oklahoma." Creitz was funny guy and always had a hand shake
and a smile. In his AA/FD days, he employed six of the best-ever to drive the
Creitz, Greer, and Goldman AA/FD and the Creitz and Donovan AA/FD's. Gene Goldman,
Vic Brown, Richard Tharp, Steve Carbone, Butch Maas and John Wiebe all drove at one
time or another for the "Mad Bomber."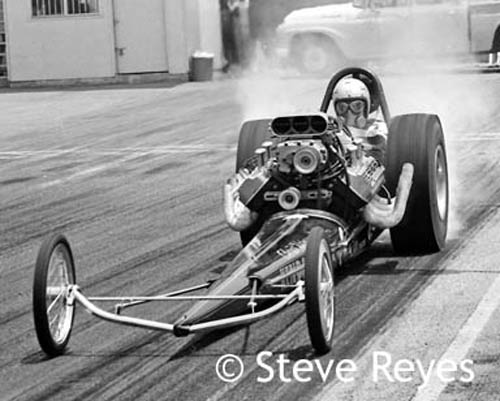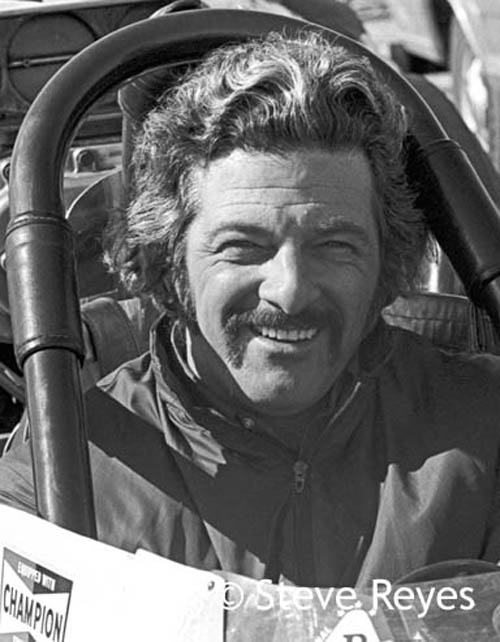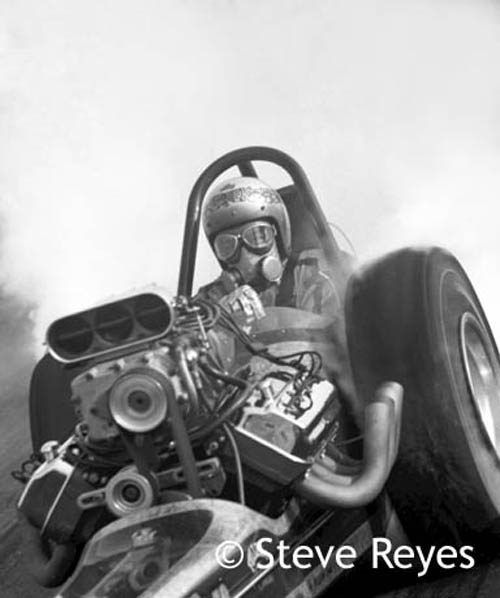 Chris Karamesines was one top fuel racer I had read about since day one and it was very
cool to meet him way back in the day. In the early 1980s, Chris was sponsored by
Strange Engineering, as was the Chi-Town Hustler and a whole gaggle of drag racers.
I ventured to Chicago to photograph Team Strange with the Chicago skyline as a background.
The Golden Greek was my tour guide/host for this centerspread shoot for Popular Hot Rodding Magazine.
The shoot came off great then hanging out with Chris was the best part of the whole deal.
I am glad he is still racing at eighty-plus years young, 'cause top fuel racing wouldn't be
top fuel without the "Golden Greek."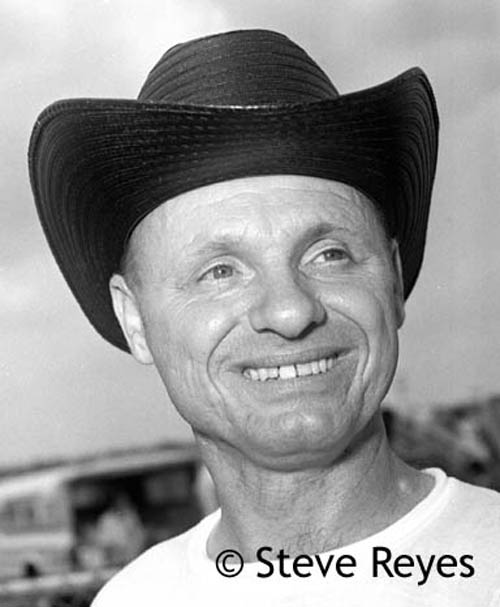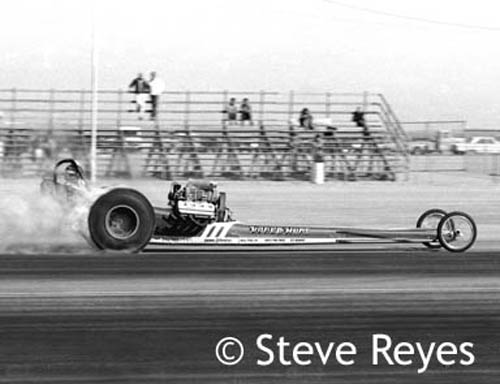 So you think top fuel racing is big in California? Well, in the 1960s and early 1970s,
the Lone Star State of Texas flooded the AA/FD class with some outstanding race teams.
One of the best from Texas was Vance Hunt. He was another AA/FD racer I had read about
but didn't think I would ever get to meet him. In 1969, at Dallas Motor Speedway, that changed.
Both Vance and his driver Watus Simpson were very nice to that kid photographer (me) from
California. Vance let me photograph his AA/FD and his new Hemi Hoss funny car for
Drag Racing USA Magazine.
Jack Mitchell was one of those top fuel guys I had always looked forward to seeing as
well as bench racing with at the track. The AA/FD team of Mitchell, Hay and Klentz
weren't a powerhouse top fuel team but they would show up and race with the best
in the class. Their red and white striped AA/FD could be spotted from anywhere at the
track along with Mitchell's big smile. They were a fun group to be around in the Midwest.




NHRA: 10 Most Recent Entries [ top ]

Jan 15- Houston Raceway Park 'Making the Switch' to Pennzoil
Jan 15- Brainerd International Raceway 2019 Season will be 'Business as Usual' Despite Losing One of its Owners
Jan 10- POMONA 1 - Fact Sheet
Jan 10- POMONA 1 - Event Preview
Jan 09- Magic Dry Organic Absorbent Assumes Title Sponsorship of NHRA National Event in Phoenix
Jan 09- NHRA Announces "Unfinished Business" Competition Featuring Drag Racing Legends
Jan 04- Magic Dry Organic Absorbent takes Title Position on Rickey House's Top Fuel Harley
Jan 03- NHRA Jr. Drag Racing Conference Finals Return to Osage Tulsa Raceway Park and Bristol Dragway in 2019
Jan 02- Happy New Year News at Motorsports Park
Jan 02- New Starting Line Club Best Seats at Wild Horse