Wed, 03 Jan 2018, 14:52 PM



Creatures of the Night Part II



By Steve Reyes


Photo copyright 2018 Steve Reyes





If photographing dragsters at night wasn't hard enough, how about funny cars? You would think funny cars would be easier to photograph at night; well, think again. Due to the body shapes, lettering and radical paint schemes, they could be a real challenge. Of course, I had no flash, so it was available light and film processing tricks that brought the funny car images to life. Like when I photographed dragsters, I tried to use the light sources from the race track to help with the exposure of the film. Each race track was different and a light formula for each track had to be established.
When I reached the "big time" and got a nice strobe light set-up to use, it was time to catch up with all my photo pals in the Los Angeles drag racing scene. That was not so easy. Those guys had a four-year head start on me but if I wanted to obtain the best night photos, it was time to meet that challenge head-on. Figuring out my own formula for shooting color film at night was a frustrating process of trial and error. This process took place on the street in front of my North Long Beach duplex. I would roam up and down my block photographing cars parked on the street. For each car, I would write down shutter speed, film exposure, lens size, film speed and of course, the color of the car. Then pack the film up and take it to my pro film processor in Glendale.
Twenty-four hours later at a light table, I compared my notes with the exposed slides and chose the best camera settings to use that weekend at the big funny car race attended. The same process would take place for black and white film, the only difference, I did the processing of the film.
This whole procedure produced some great formulas for me to shoot photos at night, most of which were my own blending of lens size, strobe power, film rating and of course, the color of the race car. With my formula, I was able to capture drag racing's "Creatures of the Night - Funny Car Style."
If you wish to purchase prints of the photos below or any others, they may be obtained by contacting us at breyes@reyesontour.com. Other photos for purchase may be viewed by following the links at www.reyesontour.com.
Available light sources on two different funny car body styles, Dave Dozier's KopKar 'Cuda
and the Hairy Canary were both shot in 1966 at Fremont, California.
Available light sources at Lions starting line were great. Both these images were shot
with a hand-held camera at 1/30th of a second. Leal vs. Lindamood in 1967 and
Pat Foster in Don Kirby's Corvette in 1968.
Here at Fremont, California, Steve Agajanian was at the wheel of his Rapid Way Disposal funny car.
This photo was given a crazy lighting affect because of the slow shutter speed and catching a
spectator's flash from the grandstands.
Since I did not own a tri-pod at the time, I had to hand hold my camera to try and achieve
"flame shots" at night. This one of Ron O'Donnell driving the Chapman Automotive Camaro
at Fremont, California, was shot at 1/15th second at F5.6. Yes, holding your breath and
ignoring the engine noise was required.
The photo of Jungle Jim at Lions was a fluke. I caught another photographer's
flash and got great results. The image of Jungle's Nova and the Brutus Firebird
was with available light on the OCIR starting line.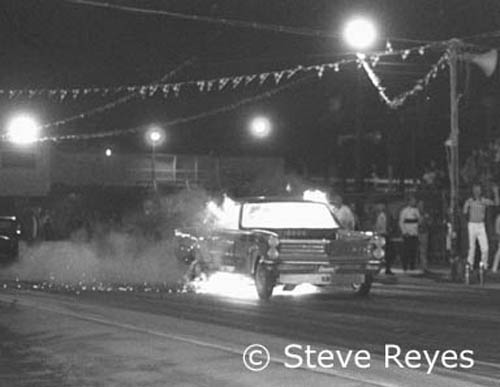 In 1967, I attended a rather big East vs. West funny car event at Lions armed with
a newly purchased $10 fan flash and a couple of dozen outdated flashbulbs.
The other photographer's in attendance were humored by my feeble attempt
to capture images with my cheapo flash set-up. The racing began with round
after round of East vs. West pairings. It was one of those truly all-star shows
you would find at Lions. Up pulls my pal Lew Arrington and his Brutus to face
off with Mr. Chevrolet Dick Harrell and his blown Camaro. This was Harrell's
first appearance on the West coast with his then new Camaro. Of course, the
crowd was buzzing and the photo area was a mass exodus to Harrell's side for
the showdown. Not me though, Lew was a pal and his sponsor Goodies' Speed
Shop bought every photo I shot of the Goodie's sponsored funny cars. Selling
my photos was how I was going to pay for my trip. I made the choice to
photograph Lew, to heck with Harrell. The cars staged and the tree went green;
Harrell's Camaro went into a 6-7 foot wheel stand and Brutus moved about
ten feet and exploded into a ball of fire. All I needed was one shot with my trusty
fan flash and I captured the Brutus transmission boom. Lew was okay but Brutus
was a mess. Most of the LA based photographer's never even saw the boom
much less got a photo of it. When my full-page photo of the Brutus transmission
boom and aftermath appeared in Drag Racing Magazine about a month and a
half later, none of the LA photographers were laughing at my fan flash.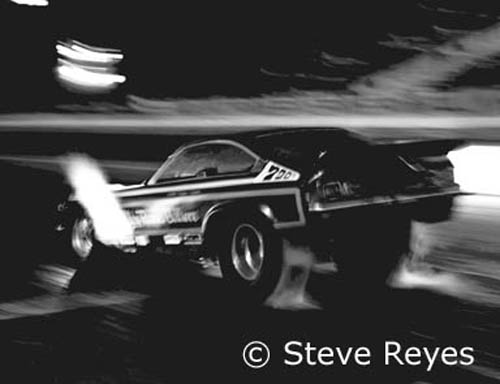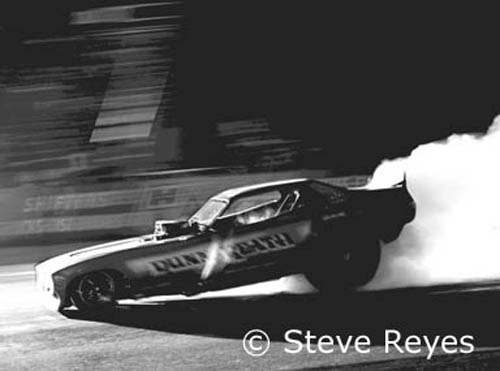 Playing with available light at OCIR produced these images of Brian Raines Vega
and Jim Dunn driving the Dunn and Reath Satellite.
When photographer Jim Kelly set up a remote strobe, I took advantage of it.
I used my slow shutter speed to capture Steve Leach and his AA/FC at OCIR.
It was a cool effect.
Painting with color film at night was a challenge and rewarding. This photo of the
Hawaiian AA/FC at Lions with Bobby Rowe driving and the Coors Corvette of
Tom McEwen at OCIR were taken with available light.
A combination of strobe power, film speed, shutter speed, f-stop, and lens length can produce some
really bizarre "Creature of the Night" images. These photos of Pat Foster in Barry Setzer's Vega at
OCIR and Gary Burgin in the Braskett and Burgin Vega at Lions.
I wanted a rather "freaky" photo of Jim Dunn driving the rear engine Dunn and Reath 'Cuda at OCIR.
My wish was granted with a great blending of strobe and race track lighting.
This photo is a blending of a long telephoto lens, high film speed, and slow shutter speed.
The camera captured Tom Hoover and his Showtime Vette in action at OCIR.




NHRA: 10 Most Recent Entries [ top ]

Apr 24- CHARLOTTE 1 - Steve Torrence Enjoying Four-Wide Success Heading to NGK Spark Plugs NHRA Four-Wide Nationals
Apr 24- CHARLOTTE 1 - Fact Sheet
Apr 24- Kalitta Motorsports Welcomes NASCAR Stars to the SealMaster Track Walk in Charlotte
Apr 24- zMAX Dragway Celebrates 10th Anniversary
Apr 24- CHARLOTTE 1 - NGK Spark Plugs NHRA Four-Wide Nationals Brings 40,000 Horsepower Thrill Show to zMAX Dragway
Apr 23- HOUSTON - Lucas Oil Drag Racing Series Wrap Up The NHRA Lucas Oil Drag Racing Series Wrap Up
Apr 23- CHARLOTTE 1 - J.R. Todd Aiming for Two Four-Wide Racing Wins in 2018
Apr 23- Mid America Dragway Joins NHRA Member Track Network
Apr 23- HOUSTON - Special Awards
Apr 23- HOUSTON - Sunday Video