Fri, 22 Dec 2017, 19:36 PM



Countdown to a Championship- Jarrod Kolne 2017 TNT Super Series Fifth Place



Courtesy of Ted Barnes


Photo credit Bryan Epps





NIAGARA FALLS, ONTARIO --
Southern Ontario's Jarrod Kolne had an outstanding start to his class racing career. Not only did he finish in fifth place in this year's Joe's Transmission TNT Super Series points chase, he also took home Rookie of the Year honours.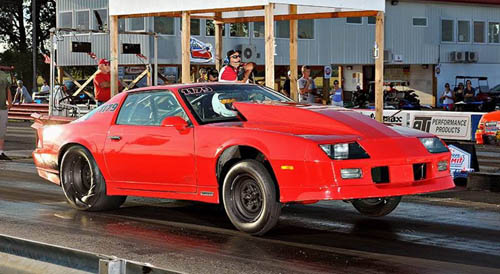 Jarrod Kolne
The Cayuga, Ontario based racer has had lots of success in the bracket racing ranks. In 2017, he set his sights on 10.90 index racing and found himself competing at the top of the field.
Along with earning a number one qualifier this year, Kolne was seen deep into eliminations many times and ended the season with his first TNTSS final round appearance, earning a runner-up to veteran Harry Phelps.
"I'd love to thank my dad Mike, my whole family, my girlfriend Adrienne Canfield, Chris VanBalen and Snow Mexican race cars," said Kolne. "Then my sponsors Tim Orser Lift Services, Walter Baker and Blastall. It was my tenth year of racing in which I won my tenth championship in RCSS Super Pro. It was our first year with the race car and to get into the top five is pretty amazing to us."
"I'd love to thank everyone who volunteers time with the series and all the tracks and sponsors of the series. Easily the toughest racing I have been a part of."
Kolne's weapon of choice is a 1984 Camaro powered by a 461 Chevrolet. It has run as quick as 9.99 at 134 mph.
To learn more about the Joe's Transmission TNT Super Series and how you can become a part of it, visit http://www.tntsuperseries.com/ or https://www.facebook.com/TNTSuperSeries/ and sign up for the mailing list.




Drag News: 10 Most Recent Entries [ top ]

Apr 24- NHRA Heritage Series Heads To Wild Horse Pass
Apr 22- K&N Spring Fling Million Final Day Results
Apr 21- K&N Spring Fling Million Friday Results
Apr 20- K&N Spring Fling Million– Thursday Results
Apr 19- K&N Spring Fling Million- Wednesday Results
Apr 18- Buckeye S/SS @ National Trail April 28th
Apr 18- Don "the Snake" Prudhomme Returns To Baja Competition After 50 Years
Apr 18- K&N Spring Fling Million Tuesday Results
Apr 17- K&N Spring Fling Million Pre-Race
Apr 12- Summit Racing Equipment is Newest Sponsor of Midwest Junior Super Series