Thu, 14 Dec 2017, 13:39 PM



Street Car Super Nationals Wrap Up



Courtesy of PSCA Racing



LAS VEGAS --
Mike Bowman came full circle at The Strip at Las Vegas Motor Speedway, earning his second-straight Precision Turbo Pro Mod victory at the Nitrous Outlet Street Car Super Nationals 13 Presented by Speed Society in a span that also saw him earn the win at the Drag Illustrated World Series of Pro Mod earlier this year.

Mike Bowman
Tom Bailey in the SKRC Blown Olds 442 all the way from Orion, Mich. earned the class #1 qualifier with an ET of 5.750 seconds, but Bowman's speed of 270 mph flat was an incredible benchmark that wouldn't be topped in Pro Mod. Bowman defeated Carl Stevens in the finals with a 5.789 at 260.91 mph over Stevens' 5.876 at 224.62 mph. The Oak Hill, Calif. resident earned the victory in the same '69 Chevelle he won with here last year.
In the Flying A Motorsports Outlaw Pro Mod field, the Camaro of Eric Dillard took the win with a 5.940 at 243.77 mph over John Stanley's 2015 Cadillac CTS-V after Stanley failed to make a clean pass in the finals. In one of the best side-by-side runs of the weekend, MagnaFuel Outlaw 10.5 champion and No. 5 qualifier Steve Nicholson edged past Giuseppe Gentile, qualifying #11 with a 3.946 at 183.72 mph over Gentile's 3.973 at 224.62 mph. Nicholson ran the quickest nitrous assisted 10.5 pass in the world on his way to the victory. "We had another incredible weekend with some of the fastest and quickest cars in the world," said SCSN Promoter Mel Roth. "Seeing a guy like Bowman wrap up a year like he's had with another win is just incredible, seeing the Q80 car of Eric Dillard almost hit 276 mph during qualifying was just unbelievable and the Outlaw 10.5 which I believe is the quickest Side-By-Side 10.5 pass in the world was mind numbing! Every year we say it and every year it comes true: the Street Car Super Nationals are where records are shattered! "And obviously, we couldn't do this without our great staff, the incredible LVMS crew led by Jeff Foster, Mike Rice & Randy Clickner, the racers, our sponsors, and of course, the fans who come here from everywhere and stick around until the very end."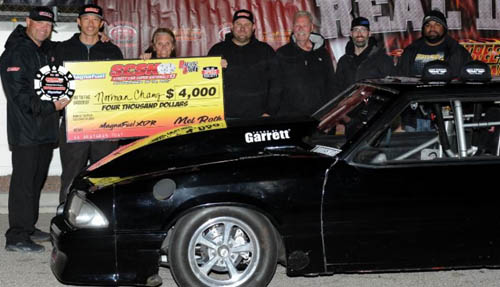 Norman Chang
In MagnaFuel XDR presented by TurboSmart, Norman Chang of Atherton, Calif. also went back-to-back piloting his twin turbo small block Ford Mustang. Chang swept the class by qualifying number 1, set top speed and low ET of the meet (4.207 at 179.23 mph) then took out fellow Californian Ryan "Toaster" Jones in the final round.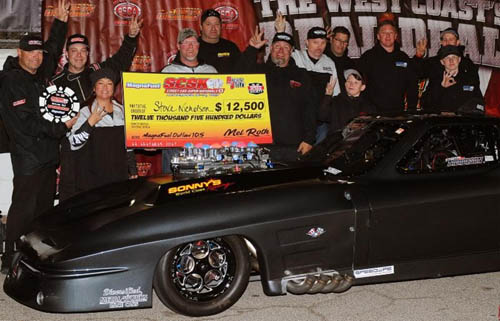 Steve Nicholson
Steve Nicholson took the SCSN MagnaFuel Outlaw 10.5 Championship presented by TurboSmart for the 3rd time and recorded the Quickest ET on a 10.5w tire by a nitrous assisted car in an epic final round against Giuseppe Gentile (3.946 to a 3.973)
Eric Dillard
Eric Dillard not only won the Thursday Night Pro Mod Shootout Sponsored by Extreme Racing Oil, Starting Line Motorsports, ComSyncEFI.com and TurboSmart but also took home a cool 20-Grand in the Flying A MotorSports Outlaw Pro Mod Class!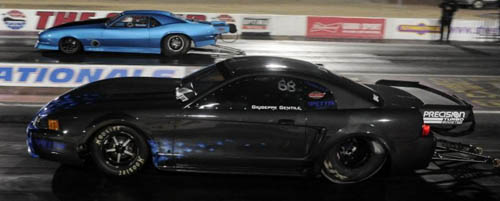 Giuseppe Gentile & Troy Baugh
Giuseppe Gentile & Troy Baugh battled their way through 28 of the baddest Hughes Performance No-Time cars in the Country and in the end, the Twin Turbo Mustang of Gentile took the win and the $7000.00!

Manny Figueroa
Manny Figueroa, a 3-Time SCSN Runner-Up finally took home the Big Check & Winners Trophy in the Vortech Outlaw 8.5 class where he also re-set the ET Record with a blistering 4.668!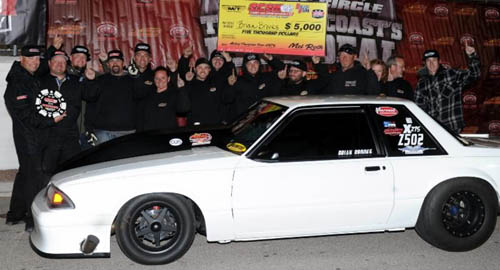 Brian Brooks
Brian Brooks has had such a run of bad luck at past Street Car Super Nationals Events and his Team literally worked day and night just getting his Vortech Powered LSX Mustang done in time to make the trek to Vegas you'd think his tradition would continue? Well..... Brian, Jason McLean and the Team from Atlas Performance went 4.47, 4.48, 4.47, 4.44 and topped off the 5-round win with a 4.482/161.00 in the final against last years Champion Greg Henscell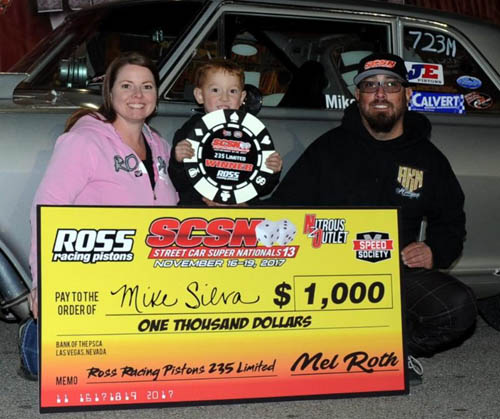 Mike Silva
Mike Silva not only was the #1 Qualifier (5.454) and Set Low ET of the event (5.427) in Ross Racing Pistons 235 Limited but he also took home the WIN, BIG CHECK & POKER CHIP TROPHY!
SCSN 13 Final-Round Results:
Flying A Motorsports Outlaw Pro Mod presented by HPL Oil
Eric Dillard (5.940 at 243.77 mph) over John Stanley (10.658 at 83.87 mph)
Precision Turbo Pro Modified presented by Energy Manufacturing
Mike Bowman (5.789 at 260.91 mph) over Carl Stevens Jr. (5.876 at 224.62 mph)
MagnaFuel Outlaw 10.5 presented by TurboSmart
Steve Nicholson (3.946 at 183.72 mph) over Giuseppe Gentile (3.973 at 203.03 mph)
Hughes Performance Big Tire / No-Time
Giuseppe Gentile over Troy Baugh
Mickey Thompson Tires X275 presented by Unlimited Products
Brian Brooks (4.482 at 161.00 mph) over Greg Henschell (10.648 at 55.84 mph)
Ross Racing Pistons 235 Limited
Mike Silva (5.480 at 130.85 mph) over Richard Shelly (11.025 at 67.12 mph)
Vortech Superchargers Outlaw 8.5 presented by MMR
Manny Figueroa (4.678 at 157.28 mph) over Anthony Smith (6.865 at 123.33 mph)
MagnaFuel XDR presented by TurboSmart
Norman Chang (4.402 at 173.65 mph) over Ryan Jones (8.339 at 62.56 mph)
MMR Open Comp
Michael Hadtrath (9.463 at 151.51 mph) over Kevin Stokesberry (9.595 at 136.00 mph)
Accufab Mustang Maddness
Susan McClenaghan (9.563 at 132.17 mph) over Brent Calvert (8.812 at 150.15 mph)
Extreme Racing Oil Triple Index
Marcus Hoffmann (11.551 at 114.48) over Dave Meigide (10.533 at 130.43 mph)
Edelbrock Super Index
Hank Pramov (9.690 at 139.08 mph) over Kevin Stokesberry (9.653 at 135.63 mph)
Calvert Racing Non-Electronics
Manfred Ketterer (10.301 at 128.48 mph) over Brandon Umberger (8.895 at 141.65)
Unlimited Products Electronics
(Racers split in the Semi's Phillip Garrison, Brandon Umberger & Jeremy Wilson)
Mark your calendars, reserve your flight and room as the Street Car Super Nationals returns for the 14th edition November 15-18, 2018 at the Strip at Las Vegas Motor Speedway




Drag News: 10 Most Recent Entries [ top ]

Apr 24- NHRA Heritage Series Heads To Wild Horse Pass
Apr 22- K&N Spring Fling Million Final Day Results
Apr 21- K&N Spring Fling Million Friday Results
Apr 20- K&N Spring Fling Million– Thursday Results
Apr 19- K&N Spring Fling Million- Wednesday Results
Apr 18- Buckeye S/SS @ National Trail April 28th
Apr 18- Don "the Snake" Prudhomme Returns To Baja Competition After 50 Years
Apr 18- K&N Spring Fling Million Tuesday Results
Apr 17- K&N Spring Fling Million Pre-Race
Apr 12- Summit Racing Equipment is Newest Sponsor of Midwest Junior Super Series