Sat, 09 Dec 2017, 15:00 PM



Brayden Davis Makes History



Courtesy of Lisa Collier


Photo: Gary Rowe / RaceWorks.com / PDRA660.com





PITTSBORO, N.C. --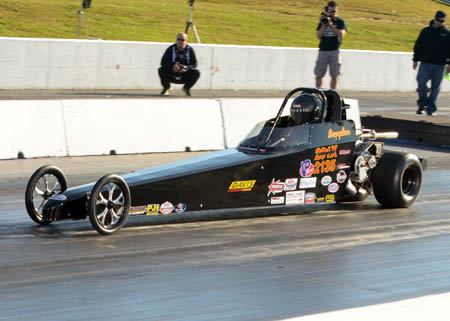 Brayden Davis
The MegaCorp Top Junior Dragster World Champion, Brayden Davis, won his championship alongside his father, Travis, making them the first PDRA son/father championships won in the same year. Now, just days after turning 12 years old, Brayden is ready to make his acceptance speech at the PDRA Awards Banquet, held this Saturday in Indianapolis, Indiana.
The sixth grader from Georgia is well-rounded, an accomplished racer who also devotes time to soccer, baseball, hunting and fishing. He talks proudly about the buck and doe he's brought in this hunting season, and in addition to his PDRA championship, he got down to four cars at Bristol's Eastern Conference, one of the biggest Junior races in the country.
This wasn't a season of fireworks for Brayden with big wins and major victories. Rather, it was a season of consistency, a slow and steady course that won the championship. Brayden avoided first round losses, leaning on his father's advice to focus on going rounds, which ultimately led to the biggest payoff.
"The biggest struggle this year was Darlington," Brayden remembered. "The car started out running good, 8.90s, when we were finishing up the GALOT race at Darlington. I was .20 or .30 on the tree. Then the Darlington race started and my car fell down to 9.60s."
Despite issues with the car, Brayden still made it past first round. He kept plugging along and made the greatest push during the last half of the season, getting final rounds in both Indy and Virginia.
"Indy was the most exciting race this year," he added. "Me and my dad both got to the finals. Then we left Indy and went to the Eastern Conference at Bristol. We raced all week in Bristol. I made it down to four cars in the biggest race."
As only the young and young at heart can, Brayden found silver linings at every race throughout the year, counting the rained out Tulsa event as one of his favorites, not because of the racing, but because of the good times he was able to have with friends, which, as most racers will say, is one of the best things about racing anyway. "Tulsa was fun, even though it got rained out. I got to ride around on the golf cart and Judy [Franklin] took us all bowling.
"I want to thank my dad and mom for this championship, as well as Scott McKinney who is like a grandfather to me, Timblin Chassis, MegaCorp, Blossom Racing Engines, Shotgun Graphics, and the PDRA for bringing in Juniors and letting them run with them. Everybody that helps me and got me where I am today, I just appreciate it. We look forward to next year."
Brayden and the rest of the PDRA champions will be celebrated at the PDRA Awards Banquet this Saturday. The event will be broadcast live onhttp://www.speedvideo.com.




: 10 Most Recent Entries [ top ]

Apr 11- Cox, Leggett, Ray, Morton and Williford Claim PDRA East Coast Spring Nationals Victories
Apr 11- Franklin, Scruggs, D'Aprile, Dobbins and Schwiegert Claim Top Spots at PDRA Season Opener
Apr 04- Records Expected to Fall at Season-Opening PDRA East Coast Spring Nationals
Apr 04- Musi Strengthens Relationship with Edelbrock in 2018
Apr 04- Gilbert Motorsports Recognizes Value of Starting Young
Apr 04- Racing Junk Joins PDRA Family as Official Classifieds
Mar 28- Edelbrock Brings Bracket Bash into 2018 Season
Mar 28- CoolShirt Systems Pro Junior Dragster Gears Up for 2018 Season
Mar 28- Atomizer Racing Injectors Outlaw 10.5 will run at four PDRA events in 2018
Mar 21- VP Racing Fuels Expands PDRA Sponsorship