Wed, 06 Dec 2017, 10:22 AM



Pro Stock Motorcycle Champ Eddie Krawiec Summarizes Unique, Uplifting Tour of Champions



Courtesy of Kelly Topolinski



U.S. FLEET ACTIVITIES SASEBO, Japan -
The final day of the 2017 Operation Appreciation tour concluded with a visit to the USS Bonhomme Richard, an amphibious assault ship that is the Expeditionary Strike Group's main battle platform. The great ship was forward-deployed to U.S. Fleet Activities, Sasebo Japan, during the Tour of Champions that included Summit Racing NHRA Pro Stock drivers Greg Anderson and Jason Line, Harley-Davidson Vance & Hines Pro Stock Motorcycle riders Eddie Krawiec and Andrew Hines, and Summit Racing BIGFOOT® 4x4 Monster Truck drivers Dan Runte and Larry Swim.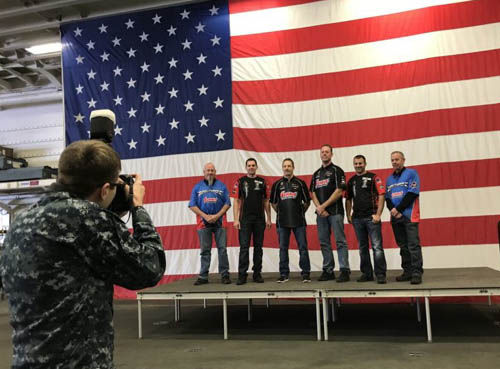 The group was invited to take a photo on
the stage being set up for an up-coming promotion ceremony.
Krawiec sealed the deal on the 2017 NHRA Pro Stock Motorcycle championship just a few days before embarking on his sixth Operation Appreciation tour to visit with troops stationed overseas.
"This probably sounds strange, but I think I enjoy Operation Appreciation just as much or even more than winning the championship. Before I was invited to join Operation Appreciation and visit with our troops, I never really thought about our military and what they're doing overseas and how they're fighting for us. Now that I understand a little bit better, I'm really grateful that I am part of this and have the opportunity to thank them in a small way for all that they do. It isn't about who we are or what we've accomplished, these men and women show us a lot of appreciation for bringing a little bit of home to them, and that makes you feel really good, especially during the holidays when they are so far away from the United States.
For complete story go to www.onallcylinders.com




NHRA: 10 Most Recent Entries [ top ]

Jun 20- NORWALK - Event Preview
Jun 20- NORWALK - Tim Wilkerson Knows Summit Racing Equipment NHRA Nationals Ideal Place for Turnaround
Jun 20- NORWALK - Thursday Schedule
Jun 20- Summit Racing Equipment Continues Sponsorship of NHRA Summit Racing Jr. Drag Racing League
Jun 20- NHRA Summit National Championship Drawing To Be Held In Norwalk
Jun 19- NORWALK - Steve Torrence Hopes to Go Back-to-Back at Summit Racing Equipment NHRA Nationals
Jun 19- NORWALK - Fact Sheet
Jun 19- BRISTOL - Mickey Thompson Top Fuel Harley Series Championship Points
Jun 18- Farewell to the Mongoose Part III
Jun 18- BRISTOL - Lucas Oil Drag Racing Series Wrap Up