Tue, 05 Dec 2017, 15:56 PM



BIGFOOT® Pilot Dan Runte Shares Experience as Tour Takes Him to New Heights



Courtesy of Kelly Topolinski



MCAS IWAKUNI, Japan -
With just two days left to experience the 2017 Operation Appreciation tour, the group of Motorsports champions was eager to get to MCAS Iwakuni so that they could tour the facility and meet as many members of our Armed Forces as possible.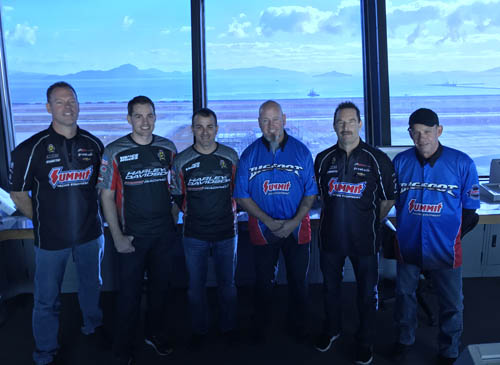 The air traffic control tower gave Team Summit a
whole different perspective of MCAS Iwakuni.
Marine Corps Air Station Iwakuni is located in the Nishiki River delta and mainly houses the U.S. Marine Corps but is also home base for some members of the Navy, Air Force, and Japan Maritime Self-Defense Force.
Summit Racing BIGFOOT® 4×4 Monster Truck driver Dan Runte walked us through the day's festivities.
"Today we started at the air traffic control tower, and that was something I'd never experienced before. There is so much more to it than just planes going in and planes going out – they don't just control the air strip; those guys up there control the whole air field. The tower at Iwakuni is the tallest that the military has in Japan, and it's 214 feet tall. That was neat, and then they let us go out on the catwalk just below the main tower and take some pictures and watch planes take off and come in. One of the planes that was taking off was a Japanese sea plane that they go do rescue with, and that was something to see.
For complete story go to www.onallcylinders.com




NHRA: 10 Most Recent Entries [ top ]

May 24- BOWLING GREEN - Edmond Richardson Still Finds Major Thrill Racing at JEGS NHRA SPORTSnationals
May 24- NHRA Expands Leadership Team with Two Executive Hires and Two Promotions
May 24- TOPEKA - Lucas Oil Drag Racing Series Wrap Up
May 24- TOPEKA - Special Awards
May 21- TOPEKA - Pro Mod Championship Points
May 21- TOPEKA - Monday Video
May 21- TOPEKA - Monday Pro Mod Wrap Up
May 21- TOPEKA - Monday Wrap Up
May 21- TOPEKA - Championship Points
May 21- TOPEKA - Summary of Eliminations in Top Fuel