Fri, 01 Dec 2017, 11:01 AM



Jason Line Kicks Off 10th Consecutive Troop Tour with Visit to Japan



Courtesy of Kelly Topolinski



YOKOSUKA, Japan -
The 2017 Operation Appreciation tour is off and running as the team visits military installations in Japan for the first time. Summit Racing Equipment and Armed Forces Entertainment have banded together once again to bring a bit of home to those on post by sending a roster of Motorsports champions to meet the troops. The group once again includes Summit Racing NHRA Pro Stock world champions Greg Anderson and Jason Line; recently crowned 2017 Harley-Davidson Vance & Hines NHRA Pro Stock motorcycle champion Eddie Krawiec and his teammate, five-time NHRA series titlist Andrew Hines, and champion BIGFOOT 4x4® Monster Truck drivers Dan Runte and Larry Swim.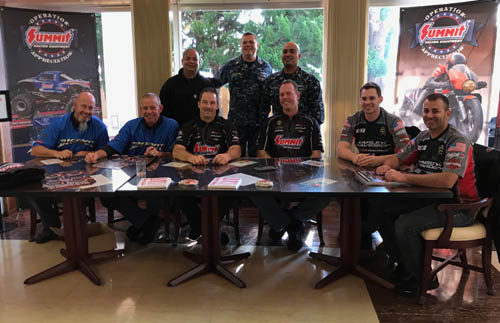 In their first visit with troops in Japan, Team Summit started with a meet
and greet at the Jewel of the East Galley on Yokosuka Naval Base.
On the first day of the trip, the group visited Yokosuka Naval Base, a historic installation that was built in 1870 and fosters strong partnerships between fleet activities, the city of Yokosuka, and the Japanese community.
This year's journey overseas to connect with members of the U.S. Armed Forces in a show of gratitude marks the 10th consecutive tour for Line, who served in the Air Force prior to his career as a professional NHRA drag racer.
For complete story go to www.onallcylinders.com




NHRA: 10 Most Recent Entries [ top ]

Jun 19- NORWALK - Fact Sheet
Jun 19- BRISTOL - Mickey Thompson Top Fuel Harley Series Championship Points
Jun 18- Farewell to the Mongoose Part III
Jun 18- BRISTOL - Lucas Oil Drag Racing Series Wrap Up
Jun 18- Mark Oswald Named 2018 Legend of Thunder Valley
Jun 18- BRISTOL - Sunday Pro Mod Wrap Up
Jun 18- BRISTOL - Special Awards
Jun 18- BRISTOL - Pro Mod Championship Points
Jun 18- BRISTOL - Sunday Video
Jun 18- BRISTOL - Championship Points