Tue, 28 Nov 2017, 11:19 AM



Travis Davis Scores First PDRA Championship Alongside Son



Courtesy of Lisa Collier


Photo copyright 2017 Roger Richards and Gary Rowe





PITTSBORO, N.C. --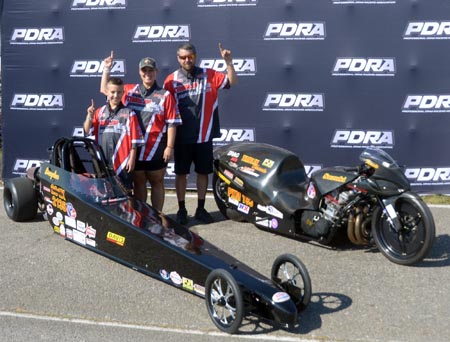 Brayden, Brandy and Travis Davis
There's a new king in Drag 965 Pro Extreme Motorcycle. Since the PDRA's inception, Eric McKinney has sat upon the proverbial throne. He started out 2017 winning the first event and it looked that his vanquishing trend would continue. That was until Travis Davis. This season he was ready to give a championship run serious focus, as he quickly illustrated. He stepped up and won the next four events, subsequently ending McKinney's three year domination in PDRA.
"It feels great," Davis relayed. "The McKinneys have been on top of the pack ever since the beginning. If you're gonna win a championship, you got to do your homework and put the time and effort in. It all worked out for us in the end."
Although beating his friend and competitor out for the 2017 Pro Extreme Motorcycle World Championship was certainly a cause for celebration, it wasn't the best thing that happened for Davis and his family this year. His son, Brayden, won the MegaCorp Top Junior Dragster World Championship, as well, making them the first father and son to win PDRA championships in the same season.
"For him to win was more important to me and Brandy than me winning the championship," Davis confessed. "Them junior dragster kids are tough. It's bracket racing. There's a lot of skill involved in what they have to do. He eats, sleeps drag racing. That's all he does. Him winning the championship was icing on the cake for us."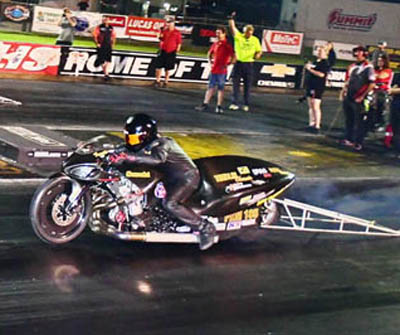 Travis Davis
It was certainly a good year for the Davis family, one that will go down in the history books. While this is not Davis' first bike championship, making history with his son makes this one that much more memorable. That wasn't the only significant marker for Davis this year, however. Davis made some pretty incredible runs en route to his championship, including a first-ever sub four second side-by-side pass with Eric McKinney.
"It's hard to run a 3.99. I tried for years and years and I finally done it. One race in the final I went a 3.98. Then the next race I went a 3.99 and then a 3.98 in the final against Eric's 3.99. So we both run side-by-side 3s and that's a major accomplishment on both our parts."
While Davis has been a strong contender for years, he recognizes that his focus was more intent this year, playing a major part in his triumph.
"I made a few changes on the setup that I run, but the main difference was that I had time to really focus this year. Not that I don't take it serious every time I go, but I found something that worked and I worked around it the rest of the season. You're racing the track and the weather. And that was the biggest thing - I paid attention. I got some car guys in Pro Nitrous and Top Sportsman that race real fast and I listened to them a lot about what they do and tried to learn off that, too. It's basically just paying attention to what I'm doing and really focusing on my riding and tuning skills."
As with most successful race teams, Davis had a host of people behind him, pushing him forward.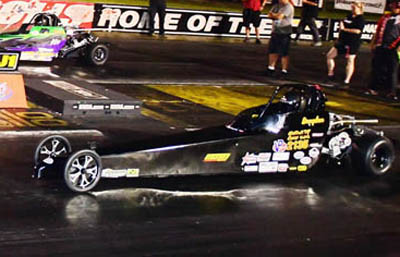 Brayden Davis
"The first one I'd like to thank is my wife, Brandy. She helps me out a bunch. Also, my son, Brayden, my mom and dad, Brandy's mom and dad, Walt Timblin with Timblin Chassis, ProFab for the exhaust systems we run, Vance & Hines crankshafts for their involvement with the class, Falicon Crankshafts, Fast by Gast, McKinney Motorsports for sponsoring the class. They're a big help and real good friends with us. And Drag 965 for sponsoring the class. The sheik also helps me personally some, so a big thanks to him. MTC Engineering, Dan and Kathy with DTM. If I forgot anybody, I apologize. There's a big crowd behind me that helps me."
The PDRA recently announced major rule changes for PXM, including opening the category to turbo powered applications. Davis is excited for the changes coming. He owns the current turbo bike quarter-mile ET record and is also the fastest unofficial turbo bike in the eighth-mile.
"I started professional drag bike racing back in '99. I mostly raced what we are fixing to see now - injected turbo bikes. Then I changed up to Pro Mod bikes when the ADRL started. I've been racing Pro Mod and turbo bikes ever since then.
"The turbo bike that we run is competitive with the Pro Mods. My dad might ride it at a few of the races next year. I really think turbos coming in there is a good thing to get the bike count up. I've been to car races where there's turbo, nitrous, blower cars all in the same class. It really gets the people on their feet with the diversity. I hope it plays out the same way with the motorcycles. There's a lot of those old bikes around and I think they're going to come out and race with us."
Davis got into motorcycles, thanks to his dad, who, as Davis mentioned, races himself and also owns a motorcycle/ATV shop. With the family patriarch riding the turbo in PXM next season, it's likely the Davis family isn't done making history yet.
Travis, Brayden and the other PDRA World Champions will celebrate their victories at the PDRA Awards Banquet December 9 in Indianapolis, Indiana. Tickets and more information can be found at www.pdra660.com.




: 10 Most Recent Entries [ top ]

Apr 11- Cox, Leggett, Ray, Morton and Williford Claim PDRA East Coast Spring Nationals Victories
Apr 11- Franklin, Scruggs, D'Aprile, Dobbins and Schwiegert Claim Top Spots at PDRA Season Opener
Apr 04- Records Expected to Fall at Season-Opening PDRA East Coast Spring Nationals
Apr 04- Musi Strengthens Relationship with Edelbrock in 2018
Apr 04- Gilbert Motorsports Recognizes Value of Starting Young
Apr 04- Racing Junk Joins PDRA Family as Official Classifieds
Mar 28- Edelbrock Brings Bracket Bash into 2018 Season
Mar 28- CoolShirt Systems Pro Junior Dragster Gears Up for 2018 Season
Mar 28- Atomizer Racing Injectors Outlaw 10.5 will run at four PDRA events in 2018
Mar 21- VP Racing Fuels Expands PDRA Sponsorship