Fri, 24 Nov 2017, 10:51 AM



NHRA Mello Yello Drag Racing Series Champion Transcript Brittany Force



Courtesy of NHRA Communications


Photo copyright 2017 Auto Imagery, Inc.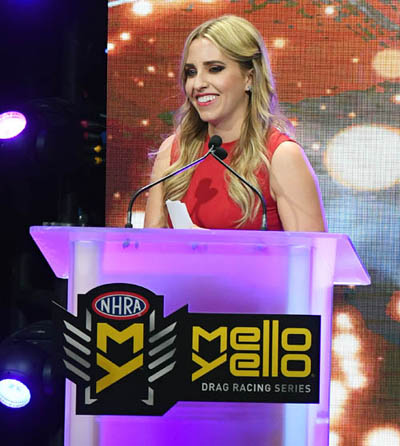 Brittany Force celebrates
Championship at Awards Ceremony
Photo copyright 2017 Gary Nastase Photography
For the first time since 1982, a female has captured a NHRA Mello Yello Drag Racing Series Top Fuel world championship. Brittany Force clinched the category crown in the quarterfinals of eliminations Sunday at the Auto Club NHRA Finals at Auto Club Raceway at Pomona.
Force, daughter of 16-time Funny Car world champion John Force, became just the second female to win a Top Fuel world championship by piloting her dragster to a 3.679-second pass at 328.22 mph defeating Richie Crampton and his 3.757 pass at 323.81 in the quarterfinals. The other female to win a championship in the category was legendary racer Shirley Muldowney. Steve Torrence, who entered the race as the Top Fuel points leader, fell to 2016 world champion Antron Brown's 3.691 pass at 323.81 to guarantee the title crown to Force.
"I can't believe we are here, it seems like a dream," Force said. "The reason we are here is because of that Monster team and all the support I have and all the sponsors. Everyone at JFR and that is the reason we are here. We struggled, we had our ups and downs, but we pulled it together when it mattered most. I give all of it up to my crew chiefs, Alan Johnson and Brian Husen, they are the ones that made this possible. They always had my back and they kept pushing me that is what my Monster team did, they never gave up on me, pushing and fighting and never gave up. I can't believe we are here. I have to thank my dad, my family, they always had my back no matter what. This is a very proud moment. I can't believe we are here. It is the support system you have around you and that is why we are here."
Force, who was also the No. 1 qualifier, raced to victory at three events in her 2017 championship season the first coming at the New England Nationals in Epping, N.H. Force went on to win two events in the NHRA Mello Yello Drag Racing Series Countdown to the Championship, the Dodge NHRA Nationals in Reading, Pa. and the AAA Texas NHRA FallNationals. She has two runner-up finishes and two No. 1 qualifiers.
The following are excerpts from a teleconference and select quotes from 2017 NHRA Mello Yello Drag Racing Series Top Fuel World Champions Brittany Force.
Q.: Brittany, Sunday was obviously a tremendous day, quite a whirlwind. You go straight into the banquet on Monday evening. Has it all sunk in yet that you're the Top Fuel world champion?
BRITTANY FORCE: You know, I think it's finally starting to settle in because I finally slowed down a little bit. I mean, Sunday was just a whirlwind. Locking down that championship was just huge. Then we went on and won the Pomona race, that's my home track, so it's a big one for me. It's the final race of the season. When you stop and think about it, take it all in, I'm so proud of my Monster Energy team, Alan Johnson, Brian Husen. We really pulled it off as a team. I'm so proud of that.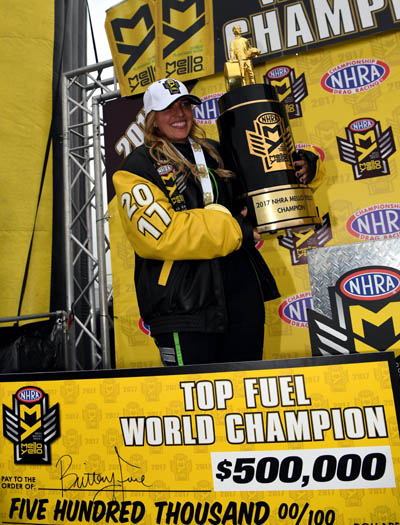 Brittany Force celebrates winning first Championship.
Q.: You mentioned Brian and Alan. With Alan's success at Pomona, some of the historic moments the team has had there, we've talked about your nerves. How much of a calming influence had Alan been that weekend and then the past year, year and a half with you?
BRITTANY FORCE: Yeah, Alan has been great to work with, both Alan and Brian, just all season long. They really worked with me, they've really been patient. They've really helped me improve as a driver. There's weekends where I really struggled, got beat on hole shots. The hardest was coming off that out of Vegas with the red light in the final. That was really tough because I felt like I just let everything slip through my fingers. We were right there trying to get as close as we could in points to Torrence before going into Pomona. That was a tough one. But my team, my entire team, they always have my back. For me, when I left Vegas, I had to put that red light behind me. I couldn't focus on that. I couldn't carry that into Pomona with where we were sitting, number two in points, if we really wanted to lock down on this thing. Had a handful of conversations with both Alan and Brian. Knew what our approach was, what our plan was to win Pomona. I'm so thankful to have a team like them. They've been amazing to work with.
THE MODERATOR: We'll go to questions for Brittany.
Q.: Going into the race, what went through your mind when you realized that this was in your grasp right now, all you had to do was get through the round and have the championship sewn up?
BRITTANY FORCE: Honestly, going into Pomona Sunday morning, first round was way worse for me than the second round. I don't know what it was. If I thought any race weekend, for some reason, there's something about first round that just really gets at you. I was sick to my stomach over first round. I tried to get rid of everything that happened in Vegas. But heading up there, it popped in my head a few times, the thought of a red light. If that were to happen first round, it would just... I wouldn't have been able to deal with that. It would just be over for my whole team right there in the first round. For me, once we got past that first round, I had a little more confidence, I was ready. I wanted to get back to my car because I knew we'd get past second round. I didn't know what was going to go on with Torrence. That team has been strong all year long. Honestly I thought it would come down to up meeting in the semifinals. So sitting in my car, Torrence was running right in front of me. While I was sitting in there, I couldn't focus on what he was doing in his car. Obviously, I mean, I just kind of looked down. I wasn't really paying attention. I could see the excitement going on. But my focus, I couldn't bring it to myself that he was out, and if I won this we'd be the champion. That was too much pressure. Yeah, I knew it in the back of my head, it got me hyped, motivated. It got me pumped up a little bit. If that was my focus, I don't know, it may have changed my driving. So for me it was, Okay, it's just this round. Let's get past that round and we'll go from there. That's always how I've been, one round at a time. If I look at the bigger picture, I'm worried I'll get too distracted, focusing in the wrong area. That's how I had to go into the whole thing.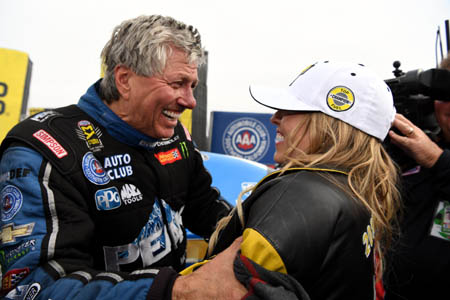 John and Brittany Force
Q.: After winning the championship, you realize that you were winning the round, realized that you won the championship, talked about how big a support your dad was, what were the emotions when you got to give your dad a hug at the top end?
BRITTANY FORCE: Climbing out of my car, I remember driving down to the end of the racetrack, I remember keeping asking myself, 'Did this really just happen?' There is no way this just happened. It couldn't grasp it all. It seemed too much, too big. I started to get emotional thinking about it all. Then Courtney (Force, sister) got out on the top end. She had tears in her eyes. My dad got out, same thing. He hugged me. It was cool to share that moment with them. Both of them had just gotten out of their cars. You could just see they were so excited, so proud. It was so cool that we shared that moment at the end of the racetrack.
Q.: I remember speaking to your mother approximately three years ago, and her talking about how you didn't really want to get in and test a Top Fuel dragster, but that's what your dad wanted you to do. You just didn't really want to do it. She convinced you to do it, to take the step. According to her, she told you, If you don't like it, just get out. What did it mean for you to see your mother after you won the championship?
BRITTANY FORCE: You know, she's just my biggest supporter. She's had my back through everything. I mean, she watches us every single time I'm on the racetrack. She's always right there. She always takes our side when it comes to battles between my dad and I, so that's always very nice. But she's just the greatest supporter. She watches us do it all. She even got in a Super Comp car and got licensed years ago, because she wanted to feel like she understood where we were coming from. I mean, the fact she went out and got licensed just so she could have deeper conversations with us, really get into what we were talking about, really understand what we go through, it's pretty incredible. She's just the most amazing woman. Having her out there, having her there to celebrate was just so great. She's the best mom out there.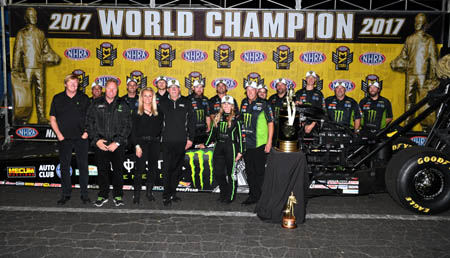 Brittany Force and team celebrate win and Championship.
Q.: What does it mean to you to be the first of his daughters to win a championship? All of you have tried. You are the first.
BRITTANY FORCE: It's pretty big. But for me, people always want to put my sisters and I, compare everything we've done. For me, it's not about trying to do it first or beat them at it. I always have their back. You know, it was huge, a championship. I mean, Ashley has won Indy, Courtney won tons of races. It took me longer to get the ball rolling on things. But to bring home a championship, I never imagined that. It seemed too big an accomplishment to ever do it. Not that my team couldn't do it, it's one of those things that is a dream. You never know if you're going to get there. I watched my dad do it. He's been such a help through this whole thing. Having my sisters out there, having their support, very lucky, very blessed.
Q.: If I remember properly, you still enjoy seeing young kids in schools because you were going to be a teacher. Is there a class you're looking forward to going to and seeing those faces?
BRITTANY FORCE: You know, I mean, yeah, I went to school to be a teacher, I mean, years ago. When you're younger, you change your mind a hundred times what you want to do career-wise. When I finally got to a Top Fuel car, made my first full pass down the racetrack, that's when I knew what I wanted to do career-wise. I fell in love with the car. I was absolutely hooked. But actually 10 years ago if you said I would have been driving a Top Fuel car, I would have said, There's no way. I drove Super Comp, I drove A Fuel. For me, I loved A Fuel. I thought that's where I would stay. Guys going 300 miles per hours, I just thought they were absolutely nuts. I got the bug. I fell in love with it. Obviously when I was younger, I went to school, I wanted to be a teacher. I ended up getting my credential. I love working with kids. One of the cool parts about my job is that we have so many kids that come up to the ropes, ask for autographs, ask for pictures, a bunch of them ask for advice on how to get into drag racing. That's pretty cool. As much as we can, my sisters and I, my dad as well, we do career days. Anything where I can go back to a school that I used to teach at or a school I was involved with, you know, we have a free day, and we're not out on the road, I'm always down for that. That's so much fun.
Q.: Now your name will go in the history books next to Shirley Muldowney, Angelle Sampey, Erica Enders, being the fourth overall female to win an NHRA title professional ranked. When you're in it looking at rankings history, it's hard. Has that part of it also kind of given you pause where your name will be right up against all of those others?
BRITTANY FORCE: Again, I don't think it's settled in. I feel like I haven't had a moment to really even go to my phone and look on social media, look at all the photos. I haven't even watched the show yet. My parents and I are going to sit down and watch the show in the next few nights. I feel like it still hasn't sunk in. Once I finally do that, relive it all, rewatch it all, I think it will settle in. To take home that title of championship, again, I never thought we'd make it here. It's so big of an accomplishment. I mean, it's what every team fights for. But the competition out there is so tough. I mean, it's like how do you get around those other cars, those other teams. To have my name up there, to share a title like that with my dad, Robert, so many people that I've looked up to my entire life, that's a huge accomplishment, something I'm very proud of. I still can't believe it all.
Q.: You mentioned social media. Were there any interesting tweets that you got from other drivers in other series or people that you were a little bit surprised? Have you been able to catch up with all of that?
BRITTANY FORCE: No, I really haven't. I've kind of scrolled through Instagram, seen some photos. I haven't even posted anything myself since Sunday. We literally have not stopped. Monday, let's see, it was the banquet. Yesterday my team and I drove up to Santa Barbara area to get together with the whole team, Alan Johnson, kind of celebrate everything. I'll be heading home later today. But, again, we haven't stopped. I can't wait to go through it and look at everything, see everything. Finally I want to post some stuff. I'm so excited. So proud of my team. I can't wait to put that out there.




NHRA: 10 Most Recent Entries [ top ]

Jun 18- BRISTOL - Lucas Oil Drag Racing Series Wrap Up
Jun 18- Mark Oswald Named 2018 Legend of Thunder Valley
Jun 18- BRISTOL - Sunday Pro Mod Wrap Up
Jun 18- BRISTOL - Special Awards
Jun 18- BRISTOL - Pro Mod Championship Points
Jun 18- BRISTOL - Sunday Video
Jun 18- BRISTOL - Championship Points
Jun 18- BRISTOL - Sunday Wrap Up
Jun 18- BRISTOL - Summary of Eliminations in Factory Stock Showdown
Jun 18- BRISTOL - Summary of Eliminations in Super Gas