Thu, 23 Nov 2017, 10:26 AM



NHRA Mello Yello Drag Racing Series Champion Transcript Robert Hight



Courtesy of NHRA Communications


Photo copyright 2017 Auto Imagery, Inc.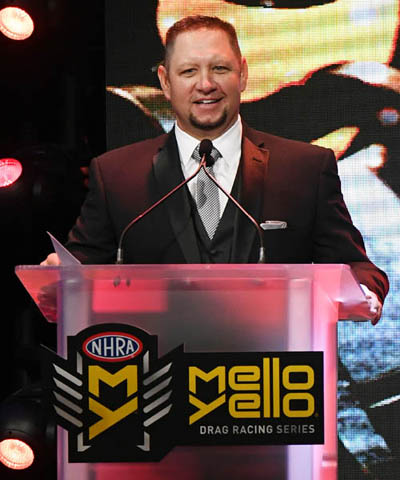 Robert Hight celebrates
Championship at Awards Ceremony
Photo copyright 2017 Gary Nastase Photography
Robert Hight clinched his second NHRA Mello Yello Drag Racing Series Funny Car world championship in the first round of eliminations Sunday at the Auto Club NHRA Finals at Auto Club Raceway at Pomona.
Hight powered his Chevrolet Camaro Funny Car to a 3.839-second pass at 332.51 mph to defeat Tim Wilkerson who smoked the tires at the starting line. Ron Capps, who was Hight's nearest championship contender, smoked the tires and lost to Del Worsham ensuring Hight the world title.
"Everybody worked their tail off and was quiet and knew they had a job to do," Hight said. "This is just huge for John Force Racing. For a couple of years, we have struggled but it is such a great group. We signed a long-term deal with Auto Club and they deserve better than what we were giving them. Jimmy Prock, Chris Cunningham (co-crew chief) they got us back in the game. It's been a long time and you want it so bad."
Hight's championship season had four race victories including two wins in the famed Western Swing and two victories during the NHRA Mello Yello Drag Racing Series Countdown to the Championship. He earned eight No. 1 qualifiers and had two runner-up finishes. At the event in Brainerd, Minn. Hight set the Funny Car national elapsed-time record with a 3.793 pass and in Sonoma, Calif. Hight went on to set the national speed record with a pass at 339.87.
The following are excerpts from a teleconference and select quotes from 2017 NHRA Mello Yello Drag Racing Series Funny Car World Champions Robert Hight.
Q.: Has it sunk it yet that you're the champion again?
ROBERT HIGHT: Yeah, it has. The way it all unfolded, and the way the weekend went, it took a long time for it to settle in. There were so many emotions from just trying to get qualified and then barely squeaking in, having a tough race against Wilkerson first round, then getting my car back on track first round – and then Capps losing. It was too much to process in one day.
Q.: How was it to win one eight years after the first one?
ROBERT HIGHT: I honestly thought the second one would come a lot quicker. But that shows how tough this is, how hard it is to win. I think it also means a lot when you do get another one. It's pretty special. These are not that easy to come by.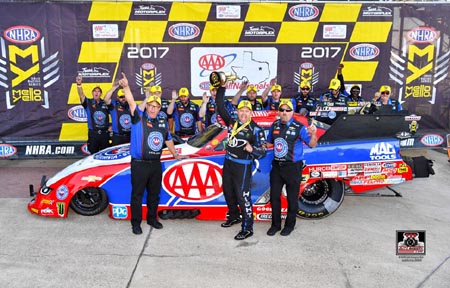 Robert Hight and team celebrate Dallas win.
Q.: What is it like to win the championship with the struggles JFR has had the past 2-4 years.
ROBERT HIGHT: That's probably the most gratifying thing with all the hard work we've had, all the sponsorship work and everything else to get back on track. Winning a championship is really about putting the right people together. That's what John's been so successful with all these years. There are a lot of talented people in this industry, but you've got to put the right ones together who can work together and work with each other. Talent only goes so far. You have to have teamwork, and I think we really shined and proved that this year with all of our cars working together and getting it done. All of our cars ran well, and on the last day of the season we had three cars with a chance to win the championship. That shows that we're strong. With a lot more hard work and keeping the people we have together, we're going to be strong for a long time.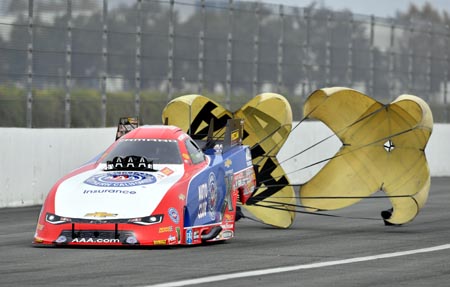 Robert Hight
Q.: How key was Jimmy Prock in this title run?
ROBERT HIGHT: We wouldn't be here without Jimmy Prock. It just wouldn't have happened. He made a lot of changes. The worst season I ever had was last year, only winning one race. I've always won multiple races every year of my career. Jimmy Prock is definitely the main ingredient of getting the Funny Cars back on track and in championship form, setting records, the way he races. Jimmy Prock never sits still; he's always going to keep working to get better and make the car better. With Jimmy, we're going to be good for a lot of years. But we also have all of our other crew chiefs work well with Jimmy. There are no egos, and they're all happy to work with Jimmy, happy to have him back. Jimmy is a better crew chief than when I worked him before because of Chris Cunningham. Chris is not a 'yes man.' Chris Cunningham makes a lot of these calls, a lot of last-second calls up there that got us into the position we're in. Pretty cool having him on our team. I'd never worked with him before. He's been out here 34 years. Chris Cunningham could've stayed where he was at and run that car over there. He wanted to go with Jimmy Prock; they're a team. I like that about him.
Q.: What does it say about your team that you performed so well in the Countdown, under all that pressure?
ROBERT HIGHT: We all knew what we had to do all year long. We had performance hit and miss, we weren't racing well, we weren't consistent. In June, Jimmy Prock said, 'When we go out west for the Western Swing, we better have our act together. If not, it's going to be a long rest of the year.' We did that. I don't think anybody can argue that since the beginning of July, we've had the best car hands down. These guys just kept their focus, kept their heads down, worked hard. They've won championships. They won a championship with me in '09, they won again with John in '13, so this team knows how to win. When I really noticed it the most was this weekend at Pomona. We were not qualified, had all these problems, there was zero negativity. Everyone kept their head down and worked hard. Nobody got down, there were no emotions. But you could just tell everybody believed in each other, believed in Jimmy Prock and Chris to get this thing right. They believed in each other to make the car perfect, they believed in me to get it down there, and I believed in all of them. That's when you could really see when you test a team like this, that's how they performed. They performed flawlessly. This team is going to be around a long time. It doesn't get any better than this. What they proved to me this weekend is how bad they wanted this.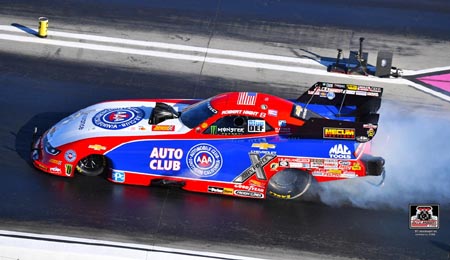 Q.: As president of JFR what is that feeling of pride and accomplishment like?
ROBERT HIGHT: It's huge because I get to deal with a lot of our sponsors on Monday morning. All year long, you're telling them, 'Hey, we're getting closer, it's coming.' Then there are days where two or three weeks go by and you struggle, but you still believe in all the people, all the teams. You keep telling the sponsors the same thing. And it did turn. We made the right call, and now you walk into an event as champions, you've got a little different walk about you and you've got some confidence. And they believe in you. Getting Chevrolet a championship after 10 years was huge. They're very happy. We've got a lot more confidence as a team and I think that will help us with sponsorship in the future.
Q.: How cool was it for Auto Club's Tom McKernan to win the Don Prudhomme Award at the NHRA Awards Ceremony?
ROBERT HIGHT: It's well-deserved. In fact, I think maybe there out to be a Tom McKernan Award. The guy loves cars, he loves racing. He sees a need for it, as far as marketing. There's not a guy who does more for racing communities. He spends a lot of his own personal time and money to help others. He got his own suite at Pomona – that shows you how much he loves NHRA drag racing. It's a well-deserved honor, and I think there should be a Tom McKernan Award.
Q.: You've known Brittany long time. What it is like to see win her a championship?
ROBERT HIGHT: Amazing, shocking actually. When she needed to step her game up, she did. No matter how good your car is, if you don't perform as a driver, you can't win. When the chips were on the table, she stepped and did what she had to do. This is only going to make her better. She knows now she can win races, she knows now she can win a championship. She's only going to grow and get better as a driver. It was pretty special because I've been watching her since she raced Super Comp. It's pretty special, and nobody loves her team more than she does.




NHRA: 10 Most Recent Entries [ top ]

Jun 21- NORWALK - Greg Anderson Only Focusing on Wins Approaching Summit Racing Equipment NHRA Nationals
Jun 21- NORWALK - Competition Eliminator Qualifying, Session #2 Order
Jun 21- NORWALK - Super Gas Eliminations Ladder
Jun 21- NORWALK - Competition Eliminator Qualifying Notes, Session #2
Jun 21- NORWALK - Super Gas Round 1 Winners
Jun 21- NORWALK - Super Stock Round 1 Winners
Jun 21- NORWALK - Competition Eliminator Qualifying, Session #1 Order
Jun 21- NORWALK - Top Sportsman presented by RacingRVs.com Qualifying, Session #2 Order
Jun 21- NORWALK - Super Stock Round 1 Eliminations
Jun 21- NORWALK - Super Comp Eliminations Ladder