Sat, 18 Nov 2017, 19:09 PM



NHRA Mello Yello Drag Racing Series Champion Bo Butner



Courtesy of NHRA Communications


Photo copyright 2017 Auto Imagery, Inc.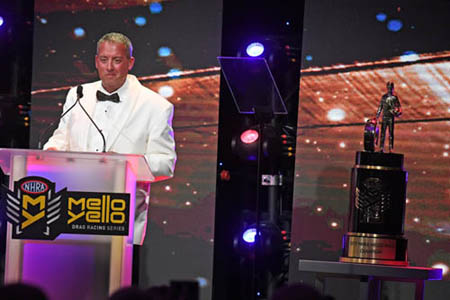 Bo Butner celebrates Championship
at Awards Ceremony.
Photo copyright 2017 Gary Nastase Photography
Bo Butner claimed his first NHRA Mello Yello Drag Racing Series Pro Stock world championship by winning the season ending Auto Club NHRA Finals Sunday at Auto Club Raceway at Pomona.
Butner drove his Chevrolet Camaro to a 6.594 pass at 210.70 mph to defeat Tanner Gray's 6.653 run at 208.62 in the final round of the Auto Club NHRA Finals. Bunter earned his first career victory at the NHRA SpringNationals in Houston earlier this year and ends the season with five event wins and six runner-up finishes.
"Just never give up. I have a great crew; it's amazing," Butner said. "They don't give up on me. But the KB team, what does that say about them? Honestly, I rent a car and a motor and they put me in a championship. It's just unbelievable. Thank the Lord for everything; He shined on me."
Butner took fate into his own hands when he defeated teammate Greg Anderson in the semifinals with a 6.551 pass at 210.05. Had Butner lost in the finals, Anderson would have won the world championship.
The following are select quotes from 2017 NHRA Mello Yello Drag Racing Series Pro Stock World Champion Bo Butner.
BO BUTNER: It was a long season, and it was a very tough season. We were all bunched together all year long, but I'll say this about the KB Racing team: they gave me the best. I probably didn't drive the best on Sunday in Pomona, but when it's your day, it's your day. I had the same stuff as Greg (Anderson) and Jason (Line), same car, same motors, same tuners, so to me this isn't a surprise. It was just about who went the furthest out of us three.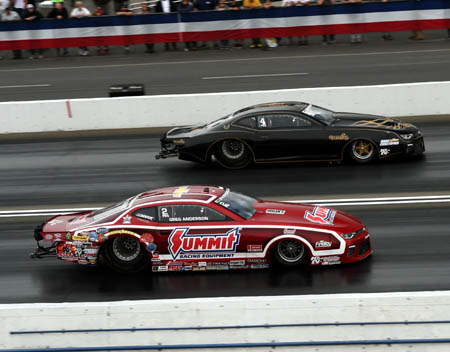 Bo Butner defeated Greg Anderson
in the semifinals.
BO BUTNER:
The semifinals in Pomona, that was the way it should have been. Me and Greg racing each other. You have to put your destiny in your own hands, and I didn't want to watch somebody else have to win for me. I had some butterflies going into that round, but we made a good run against Greg. Then you have to get your game face back on for the final. I screwed that up in every way possible, and I don't know what happened to Tanner's car, but he's tough. He's going to be a champion one day. But this year, it's outs. This year it belongs to KB Racing, and I'm very proud of that.
BO BUTNER: Greg [Anderson] was one of the first ones to meet me down there at the top end. He is the most competitive guy, and he's like a big brother to me. He actually told me, you deserve it this year. That's big coming from Greg. He's an animal, and he is so tough to beat. I wish people could see this team from the inside. It's a different group of people than you could ever imagine. They took me in like family, and I would do anything for Ken Black and those guys. Me, Jason, and Greg, we're like three brothers. Jason and I are the ones that pick on each other. He won't root for you, but he's happy when you win. Greg is exactly the same way. Everyone at KB Racing has been awesome, and so have the guys at Summit Racing. What a great year, and what a great team.
BO BUTNER: Jason's son, Jack Line, is an amazing kid. He's 11 years old, but he's way ahead of his time. He's been helping us on the car a lot this year, as often as we can get him, and we went to the final every race he attended but one. Jason kept texting me all weekend that Jack was going to go work for him, and I told him that I was going to ruin him - after I was done, he wouldn't be able to afford Jack anymore. His value sure went up over the course of this season, and he's a great kid. I hope I get him back with us next year, because he is a hard worker, and this matters a lot to him. If you could see his emotions after every round on Sunday. When we beat Greg in the semifinals, Jack came up to meet me at the finish line and said, 'This is so exciting, but it's so scary.' The boy loves racing. He'll be in the seat someday.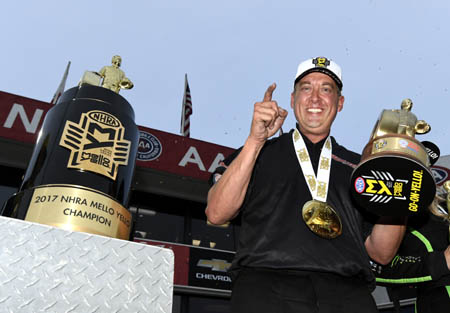 Bo Butner celebrates win and Championship.
BO BUTNER:
I'm a Sportsman racer and always will be. I'm still a Stocker racer, I run Super Stock and Comp. I had the whole world of Sportsman and bracket racers behind me for this deal, and I feel like that brought new life to Pro Stock this year. I think this could make a big impact, that you'll see more fans following Pro Stock because a Sportsman racer could come in here and win this deal. I felt like I had the whole nation behind me, and I want to thank each and every one of those guys and girls. It was a great year, and having so much support from the Sportsman racers was something I felt all year long.
BO BUTNER: Larry Morgan texted me on Sunday morning and said, 'You need to do this. Pro Stock needs you to win.' That was pretty amazing coming from Larry. Billy Glidden, Bob Glidden, they were all texting me. That meant a lot to me; those are the guys I grew up watching or couldn't wait to run up there and watch them make a hit. To have the support from the old-school guys is huge. But we've got a great team, and Greg and Jason deserved to win just as much as I did. We're happy it landed in our shoes, but either way, it was going to be a win for us.
BO BUTNER: When I finally won the national event in Houston, I got out of the car and was like, 'give me that! Give me that trophy! It had been right there dangling for so long, and you think to yourself - it's just four rounds on Sunday. When you race Stock, you have to go seven rounds in three days. But for some reason we just couldn't get it done. But that day in Houston, we did, and then we just kept clicking them off. We won the main season by quite a few points, and we had to give them up going into the Countdown, but I thought we could do this from day one. It worked our way.
BO BUTNER: This hasn't even really set in yet. This is the biggest honor, and to see the return of the fans and the Sportsman guys has been great. This is amazing. Dan Fletcher was screaming for me, and that guy is the man. It's awesome, and I feel very fortunate and blessed.




NHRA: 10 Most Recent Entries [ top ]

Jun 17- BRISTOL - Summary of Eliminations in Top Fuel
Jun 17- BRISTOL - Summary of Eliminations in Funny Car
Jun 17- BRISTOL - Summary of Eliminations in Pro Stock
Jun 17- BRISTOL - Summary of Eliminations in Pro Modified
Jun 17- BRISTOL - Summary of Eliminations in Super Comp
Jun 17- BRISTOL - Summary of Eliminations in Stock Eliminator
Jun 17- BRISTOL - Summary of Eliminations in Top Sportsman presented by RacingRVs.com
Jun 17- BRISTOL - Summary of Eliminations in Super Stock
Jun 17- BRISTOL - Top Fuel Final, Round 4 Eliminations
Jun 17- BRISTOL - Funny Car Final, Round 4 Eliminations