Fri, 17 Nov 2017, 18:02 PM



NHRA Mello Yello Drag Racing Series Champion Transcript Eddie Krawiec



Courtesy of NHRA Communications


Photo copyright 2017 Auto Imagery, Inc.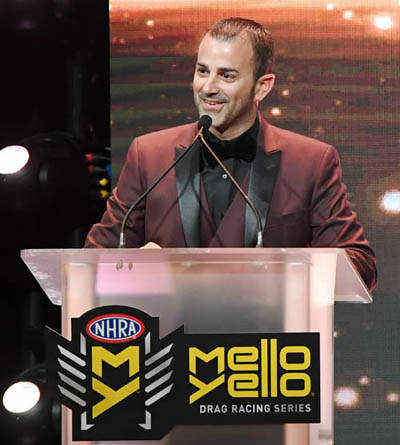 Eddie Krawiec celebrates
Championship at Awards Ceremony
Photo copyright 2017 Gary Nastase Photography
Eddie Krawiec clinched his fourth NHRA Mello Yello Drag Racing Series Pro Stock Motorcycle world championship, and first since 2012, by qualifying last Saturday at the season ending Auto Club NHRA Finals at Auto Club Raceway at Pomona.
En route to the world title Krawiec rode to seven victories including the first race of the season for the two-wheeled category at the Gatornationals in Gainesville, Fla. and his second Chevrolet Performance U.S. Nationals win in Indianapolis. In the NHRA Mello Yello Drag Racing Series Countdown to the Championship, Krawiec cemented his fourth crown with four wins in the first five races and took the points lead when the team left the NHRA Carolina Nationals in Charlotte, N.C.
"I have to give this to teamwork," Krawiec said. "All the guys that stand behind me when I'm on my motorcycle and make it go up and down the dragstrip as fast as it does. Everybody at Vance & Hines and NHRA for giving me a great place to race. I just couldn't do it without my team. What makes it really special is I have my father, my wife and my little girl Kayden at home. This is something special."
Krawiec powered his Harley Davidson to a 6.781-second pass at 197.68 mph to earn his sixth No. 1 of the season and 29th of his career. Krawiec will face Lance Bonham in the first round of eliminations beginning at 11 a.m. at the 53rd annual Auto Club NHRA Finals.
The following excerpt is from a teleconference and select quotes from 2017 NHRA Mello Yello Drag Racing Series Pro Stock Motorcycle World Champion Eddie Krawiec.
Q.: Eddie, I think you talked a little bit about it Saturday night, that each championship is a little different, different meanings, different reasons why they're special. What does this fourth championship mean to you?
EDDIE KRAWIEC: Well, the first thing is, it was great to only have to do it in qualifying because for me, that was a lot better than the past years where there were so many different scenarios of what could happen. I would take having to qualify any day to secure it. But this championship, one of the most unique things about it, and yes I've talked about it, was the fact that I think our team was a little more united, had a greater effort to get there. What I mean by that is, we switched motorcycles after the third race of the year, going into the fourth race of the year. We made the big change. We basically introduced a whole new motorcycle, being the Harley-Davidson Street Rod. During the release of that, we also figured because we were debuting a new body, it would be smart of us to debut with a new chassis. We put a whole new chassis together. We figured this was going to be the newest, state-of-the-art Pro Stock Motorcycle, and I believe it was. The big struggle was, the chassis didn't quite work out the way we wanted it to. We struggled as a team. Through the middle part of the season I would say we struggled obviously to win the championship. But the great thing about the way that the Countdown is, you kind of can afford to let's just say have a slow part of the year or a less successful time in the middle part of the year and still have that opportunity to race for a championship. We knew all that going into the beginning of the year. That is why we chose to do what we did. It really made us dig deep and look at areas of our motorcycle when we were struggling with the chassis setup, made us dig deep and look for areas of the motorcycle that we usually wouldn't look at because we've had good success. Then when we actually switched back because our chassis that we were using didn't work, we switched back to our old chassis with the new Street Rod bodywork on it. It really showed us how to refine what we had and made us just that much better. Andrew (Hines) kind of took over tuning roles, Matt (Hines) took over the chassis role, I was a floater guy in between, working on motorcycles to get stuff done. Man, it just made us so much better. I really do believe that's going to only make us better down the road and continue to grow.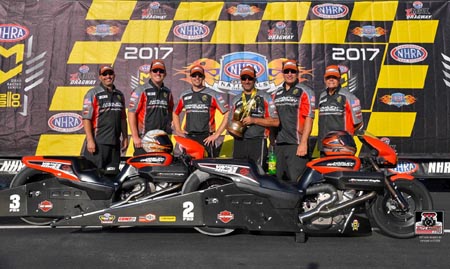 Eddie Krawiec and crew
celebrate win at Charlotte 2.
Q.: But how big of a leap of faith is that to bring out a new chassis, then be able to cut the cord on it, if you will, and go back to a different style? That's got to be pretty nerve-wracking for you guys.
EDDIE KRAWIEC: Absolutely. I mean, to be quite honest, we thought it was going to be easy. We're going to build this new bike, we're going to go race it, we're going to have great success. Well, it proved us wrong. It humbles you is probably the best way to say it. Don't get me wrong, we had a great year. We had good success with that motorcycle. We just didn't have the success that we wanted. It won a race. It actually won Denver, which is one of the hardest races to go and compete at. But it also takes a different level running up there. You have to have a different understanding of how to tune the motorcycle and a way different approach. But I think the greatest thing about it is, it made us a little more humble here because we realized we don't know everything. There's no such time that you should ever think you know it all. We have great resources and a lot of good people behind us and in our shop that work here. It showed all of us that we made a mistake. The chassis was not correct. We had to go back and correct those changes. Unfortunately for us, we didn't have the right amount of time to do it, so we reverted back to our old bike. But something that I do want to mention that I think is worth mentioning, although we were running our old bikes, we were working on developing another chassis. We went through, got that chassis finished, we tested right after Las Vegas this year, the bike ran well. We figured, well, it was a great opportunity to run it in Pomona. The way that we ran it in Pomona, we actually brought aboard a third rider, Chip Ellis. It was kind of perfect timing. Unfortunately Chip was racing for Junior Pippin who just passed away. We wanted to bring Chip aboard for two reasons, one to gain some data and information, and the other to do a little bit of a tribute to the Junior Pippin Racing, because his program had to stop and get put on the side while they tended to Junior's health conditions. Really we wanted to try to end the year and put a smile on his face. We went to Pomona and qualified all three motorcycles 1-2-3, something that's never happened. To have a Harley in all three top positions meant a lot to us. Chip was right there. It proves that our new rendition of chassis, which we'll probably phase into for next year, is going to work. So we were excited about that. Really it was one of the top in 60 foots and incrementals going down the track. We're excited, what we have is already proven, so we're going to continue to work on it over the winter.
Q.: Eddie, speak about the fact that you have two first-timers this year who are sharing the podium with you. Do you take a look at what everyone else is doing? Do you even have the time to do that?
EDDIE KRAWIEC: I mean, for us, yeah, it's good to know your surroundings, it's good to know what's going on. To be quite honest, we try to stay focused with everything in our trailer. It's the best way to say it. If we start looking on the outside, then you get distracted. You kind of got to keep your head down and keep moving forward. I would say as a whole, in the Pro Stock Motorcycle category, when you look at it, there's some great racing happening. There's a bunch of good individuals. There were some new people in the Countdown, Joey Gladstone, Andy Smith, others. For me, the championship side of it for this year, something that I didn't mention, it's very gratifying because the competition being very close. We won, yes, eight races and had really good results all season long, but when you look at the level of competition and how we're going against it, I feel for the Countdown. I've had my handful of lucky rounds, rounds that I flat out should never have won. Either they were given to me by a red light, somebody else made a mistake. Man, things just rolled my way. It's awesome and it makes me smile, but more important with the level of competition, 15 years ago in the category where there was what I'd like to say is pure dominance, where you'd have two or three bikes that were light-years ahead, a tenth of a second ahead of everybody. Now when you're qualifying hundredths or even thousandths apart from each other, when you look at the top four or five usually at every race, we're all within a hundredth. That makes for great racing on Sunday.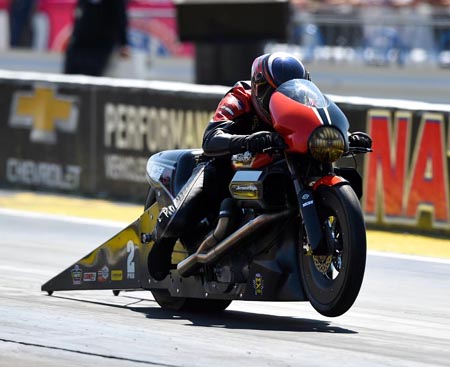 Eddie Krawiec
Q.: What was the one moment this year when you thought, This is the luckiest I have ever been?
EDDIE KRAWIEC: I'm going to tell you that. The exact moment that that was, it was actually Las Vegas when Angelle Sampey went red to me. I had a broke motorcycle in the other lane pretty much. Popped the clutch, left the starting line, and my tire rattled. It hurt the transmission. It wouldn't shift gears. My win light was on. That round there was the round LE (Tonglet) went out right in front of me. LE won, I'm sorry. By that happening, it gave me the opportunity to at least maintain my points. I went up there, raced Scotty Pollacheck. I watched LE go out in front of me. I was like, Wow. Good thing I got by this round because that just saved me 20 points. So no matter what happens from this point forward, I'm going to Pomona with 110 points lead, with possibly only 120 available in eliminations, not counting the 16 or so qualifying points. I figured we could at least battle it back and forth, I would only have to go one or two rounds in Pomona to solidify the championship. I liked my odds with having to go at least one round. I was able to capitalize on that after he went out, go on and win the race, which pretty much locked it up. I went to Pomona knowing that our championship was pretty much locked up in that final round when I turned the corner and saw the win light from beating Hector Jr. in Las Vegas. I knew it, all I have to do is qualify. Not that I'm counting points as I'm going down the track. All I have to do is qualify and this is awesome. That would be my luckiest race I'll tell you all year long.
Q. Right now you're third on the all-time Pro Stock Motorcycle win list. Behind your teammate Andrew and Dave Schultz. You're one of only a few drivers to win four championships, joining names like Don Prudhomme and Gary Scelzi, Greg Anderson and Lee Shepherd. Where do you think that puts you within history or are you still kind of amazed to hear your name up against some of those other drivers?
EDDIE KRAWIEC: To be totally honest about that, you're talking to a guy that when I came aboard to the Vance & Hines Harley-Davidson team back in 2007, I had a goal. My goal was to win one Wally. Really my inspiration for Pro Stock Motorcycles started in 2005 when I met Dave Schultz in Englishtown. Sorry, 1995, I should say. At the Summer Nationals. I delivered a package to him. I came to his trailer, dropped off a package, because I used to work at the racetrack there at Raceway Park. When I wasn't racing or when I wasn't there hanging around, I would help out at the Summernationals. I helped guys delivering packages because I knew who a lot of the drivers were. I brought a package to Dave, spoke with him for a little while. Became a huge fan of Pro Stock Motorcycle. Actually after that weekend I went out and bought a street bike and turned it into a race bike. That's when I started my racing career on motorcycles. But Dave went on, won that race. When Dave passed away, I actually became a family friend of Dave's wife Meredith and his son at the time. When Dave passed away, I got a box delivered to Englishtown, didn't know what it was. I opened it up. It was Dave's 1995 Summernationals win Wally. His wife sent that because she knew it meant something. I always had it on my desk. It always sat in my room, on my desk, it was a reminder. I eventually phased into trying to run Pro Stock Motorcycle on my own. I did it with Dave's son Brian until he unfortunately lost his life in a traffic accident. That kind of put a hold on the whole thing. But it gave me more drive to go out there and succeed. I wanted to do it not just for myself, but Dave, his son Brian. I had this Wally. I just wanted to have one of my own. When I came aboard the Harley-Davidson team, I did great the first year. Went out the second year, started running really well. Never won a Wally, but won a championship. It kind of blew my mind because here I am standing here with a championship trophy, but no Wally yet. I really just wanted a Wally. Now coming back at the end of it, to say you have 43 fighting to be one of top finishers ever with Wallys in Pro Stock Motorcycle, four championships later, 43 race wins, it just blows my mind. To be on a list of individuals like you said just a few minutes ago, it's very humbling. Honestly, I never have forgotten my past and I've haven't forgotten where I come from. I think that is the most, let's say, important thing to making your past part of your future. If you're so focused on what's going on, you'll never remember all those wins and how you got there.




NHRA: 10 Most Recent Entries [ top ]

Jun 20- NORWALK - Event Preview
Jun 20- NORWALK - Tim Wilkerson Knows Summit Racing Equipment NHRA Nationals Ideal Place for Turnaround
Jun 20- NORWALK - Thursday Schedule
Jun 20- Summit Racing Equipment Continues Sponsorship of NHRA Summit Racing Jr. Drag Racing League
Jun 20- NHRA Summit National Championship Drawing To Be Held In Norwalk
Jun 19- NORWALK - Steve Torrence Hopes to Go Back-to-Back at Summit Racing Equipment NHRA Nationals
Jun 19- NORWALK - Fact Sheet
Jun 19- BRISTOL - Mickey Thompson Top Fuel Harley Series Championship Points
Jun 18- Farewell to the Mongoose Part III
Jun 18- BRISTOL - Lucas Oil Drag Racing Series Wrap Up