Sat, 04 Nov 2017, 21:53 PM



Harvischak, the IHRA World Champion from Champion



Courtesy of IHRA Communications



Rob Harvischak is truly at the right place, at the right time.
Billed from his hometown of Warren, Ohio, the actual community where Harvischak lives is named Champion. That's certainly appropriate since Harvischak is the new International Hot Rod Association (IHRA) Top Sportsman World Champion.
The 48-year-old driver, who has been racing for nearly three decades, wrapped up the championship by winning the final IHRA Summit Sportsman National Championship race of the season at Dragway 42 in West Salem, Ohio.
"Saturday, I lost first round," he recalled. "I had the guy at the tree, but I goosed it one too many times before the finish line. For this to happen, I was looking how this guy had to win, this guy had to lose. My hopes were weak, so I just had to drive like it was a regular weekend.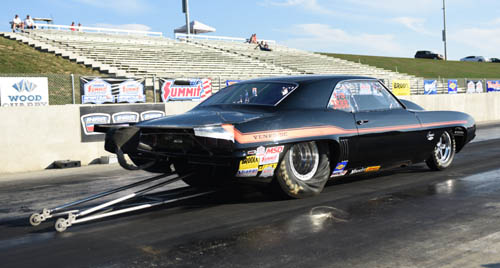 Rob Harvischak
"We started going rounds and we really weren't talking about it at that point. We got towards the end and they said, 'You win this race and you will be World Champ.' We put down a good lap against a guy I race with on a regular basis, John Hoschstedler. He's a heckuva a racer, but we beat him on the tree, came up with the win and were pretty excited."
Harvischak, who overtook Texas driver Marlon Goates on the final day, had his share of ups and downs over the season. It was his first win in 2017, but his sixth final-round appearance. Those first two final rounds at Martin, Mich., came after he had an oil pan leaking on his 1969 Camaro and had considered pulling out of the race.
He earned 176 points for the weekend, but his problems weren't over. He didn't have the car repaired in time to race at the next event at Keystone Raceway Park near Pittsburgh. But, a friend came to his aid and kept the championship hopes alive.
"I sold my car to Brian Werner last year," Harvischak said. "He volunteered for me to run his car, which was my old car. I jumped in that car and went to a final round at Pittsburgh. It was like putting on an old pair of shoes."
Rob Harvischak
That car was a 1968 Camaro with the Pro Mod body and the big wings built into it. Harvischak and crew put his own 598 cubic-inch motor in the car before going back to his current car, a Davis Race Car chassis.
Harvischak had more mechanical issues with his current car, like a broken transmission at Empire Dragway in New York, but he and the crew which includes crew chiefs Willard Lutz and Todd Laughtner kept focused on one race at a time.
Besides his crew, Harvischak thanked his girlfriend and his family for the sacrifice of time. Another family member, his father died in 2011, but Harvischak said he had the feeling he was still a part of it, watching from above.
If so, he saw quite a show with the championship decided by the final race.
"It all came down to Sunday, but that's what a championship run-off should be," Harvischak said. "What better scenario than to go to the final round at the final race of the year, and you have to win it to win the championship."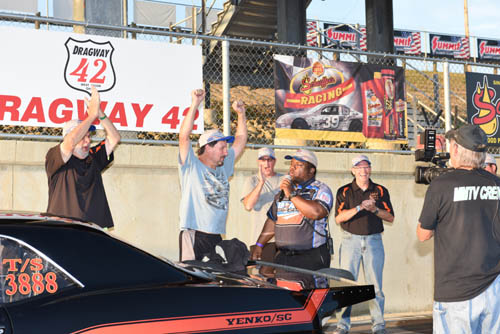 Rob Harvischak celebrates Championship
Once the race was over, Harvischak was flooded with congratulations from the guys he competes against at Quaker City Motorsports Park as well as friends he made racing on the Summit Sportsman National Championship tour.
"People talk about this IHRA family, and it's like, 'Yeah, there are a bunch of guys racing and we enjoy it.' But after I won this big race, everyone from all over the country is calling and sending text messages," he said. "Nathan (Vanbeek) and I were in the final in Carolina and I'm traveling down there to race, he's traveling up here and we've become friends. You travel to these races and think I'm not going to know anybody. By the time you leave, you have 10 more friends who are calling and saying congrats. It's awesome."




IHRA: 10 Most Recent Entries [ top ]

Oct 08- Beacon Dragway Chosen as IHRA Division 2 Track of the Year
Oct 08- London Dragway Emerges With Win at IHRA Division 2 Summit Team Finals
Oct 08- Xtreme Raceway Park Named IHRA Division 4 Track of the Year
Oct 07- Pine Valley Raceway Captures IHRA Division 4 Summit Team Finals Win
Oct 03- Beaver Springs Dragway Named IHRA Division 3 (North Stars) Track of the Year
Oct 03- Dragway 42 Repeats as IHRA Division 3 (North Stars) Champions
Sep 19- Muncie Ends US 131 Winning Streak at IHRA Division 5 Summit Team Finals
Sep 19- Greer Dragway Captures IHRA Division 9 Summit Team Finals
Sep 19- South Carolina Motorplex Named IHRA Division 9 Track of the Year
Sep 19- Great Lakes Dragaway Named IHRA Division 5 Track of the Year